News
Killing Eve Season 1 Recap
With Killing Eve Season 2 arriving this week, here's everything fans need to remember about the first season.
Warning: Contains major spoilers for Killing Eve Season 1
Darkly comic spy thriller Killing Eve is soon to return for a second season in the U.S.
All eight episodes of the first series are currently available to stream on Hulu, but if you don't have time for a full rewatch, then here's all the key info to remember from last time. Major spoilers ahead…
Which books is it adapted from?
Luke Jennings' four-part novella series Codename Villanelle. Season 1 was written by Fleabag's Phoebe Waller-Bridge, while The Crown's Emerald Fennell is head writer on Killing Eve Season 2.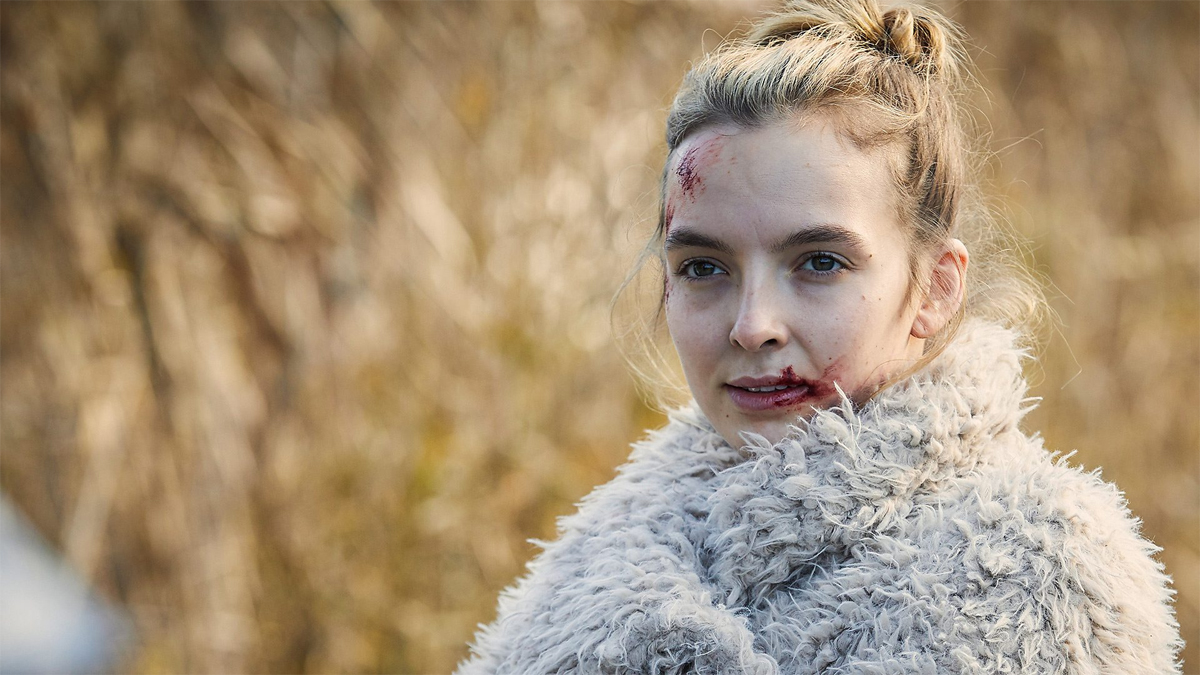 Who is Villanelle?
A psychopathic polyglot international assassin who, between kills, lives a life of casual hook-ups, expensive champagne, and playing pranks on her handler in her chic Parisian apartment.
further reading: Killing Eve: A Spy Drama From the Female Gaze
Played by Jodie Comer, Villanelle (the name inspired by a perfume) is clever, mercurial, very dangerous, loves watching her victims draw their final breath, and has a habit of developing sexual obsessions with older women with amazing hair. She started life as Russian Oksana Astankova, a talented linguist sent to a Moscow prison for castrating and murdering the husband of her lover and language teacher, Anna.
Who is Eve?
When we first meet her, Eve Polastri (played by Sandra Oh) is a desk-bound MI5 agent with an obsessive and macabre interest in female assassins. When she hypothesizes that the recent murder of a Russian politician was carried out by a woman, Eve attracts the attention of MI6 and is given a job in an underground unit set up to investigate Villanelle.
further reading: Killing Eve — A Spy Drama For Late-Stage Capitalism
Eve is married to Polish teacher Niko (Owen McDonnall), to whom she has to lie about her intelligence job and with whom she had a major falling out in Season 1 because of the lies she was forced to tell and the danger she was so obviously putting herself in.
As her investigation into Villanelle deepened, so did Eve's obsession with the assassin, which turned out to be mutual. After stealing Eve's luggage in Berlin and using her clothes to roleplay with another older female lover she pretended was her, Villanelle bought Eve a load of designer gear. She also broke into Eve's house in England, and the pair had a very tense discussion over a reheated shepherd's pie. 
Who else is important?
Bill Pargrave (David Haig), Eve's best friend and former MI5 boss who follows her to MI6 after they're both fired for disobeying orders and calling their boss Frank a "dick-swab". On an op tracking Villanelle in Berlin, Bill is lured by her onto a club dancefloor and stabbed to death. His family (he leaves behind a wife and son) in England is told his death is the result of a mugging because of the clandestine nature of the work.
further reading: Killing Eve is the Perfect Show For Our Cultural Moment
Frank Haleton (Darren Boyd), the aforementioned "dick-swab" and everyone's former boss at MI5. Before Villanelle killed him, under orders, Frank was discovered to be receiving bribes from the mysterious organization that runs Villanelle: The Twelve.
Elena Felton (Kirby Howell-Baptiste), Eve's clever assistant who also followed her from MI5 to MI6. A straight-talking smartie who has a flirtation going on with…
Kenny Stowton (Sean Delaney), a highly skilled hacker who also works for the undercover unit and is the son of…
Carolyn Martens (Fiona Shaw), MI6 agent on the Russian desk, and the boss of Eve's underground Villanelle-tracking unit. In her personal safe, Carolyn's son discovers love letters written to his mother by Konstantin (see below) in the 1970s, proving that she historically colluded with Russia on state matters. They later find CCTV footage of Carolyn meeting secretly with Villanelle in prison. We know Carolyn is, in their words, "dodgy", but is she lying to them for their own good? 
read more: Fiona Shaw on Killing Eve Season 2's Return Home
Konstantin Vasiliev (Kim Bodnia), Russian intelligence agent and Villanelle's secret handler. Married with a young daughter, Konstantin works for The Twelve, and is the one who broke Oksana out from prison and trained her to be an assassin. He acts as a kind of father figure to Villanelle, disciplining her when she's "naughty," and has never tried to pursue her sexually, which surprises her. When Villanelle was instructed by The Twelve to murder Konstantin after he disobeyed their orders to try to save Villanelle from a life in prison, he escaped but, using his daughter as bait, Villanelle eventually lured him to a public location and shot him in the stomach.
further reading: Killing Eve is a New Breed of Spy Thriller
Anna Aanmokoba (Susan Lynch), a Russian teacher who was instrumental in Oksana's origin story. Anna had an affair with her student, who, obsessed with Anna and bestowing love letters and expensive gifts on her in the same way she did on Eve, jealously murdered Anna's husband and was sent to prison, where she was recruited by Konstantin to work for The Twelve. After Villanelle kidnapped Konstantin's daughter, she went to Anna's to retrieve a passport and money she'd hidden there in the lining of a coat, but finding it gone (taken by Eve) and threatened by Anna with a gun, she shot and (it very much looks like) killed her former lover.
Who are The Twelve?
The group for which Konstantin works, that assign Villanelle and other assassins her missions. Konstantin told Villanelle he didn't have their names as he wasn't a "keeper." According to Frank Haleton, who was being bribed by The Twelve, "There is a sequence, a pattern to these kills. They're destabilising from the ground up." The Twelve's end-goal, says Frank, is "chaos." Looking at the people they target – corrupt politicians, mafia bosses, military cyber hackers – could The Twelve be good guys?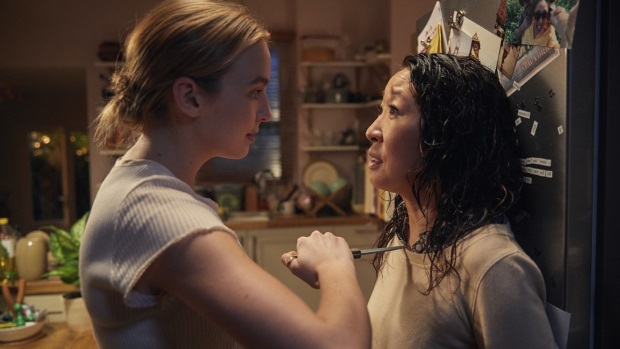 Who did Villanelle kill in Season 1?
A Russian sex-trafficking politician (Vienna, slashed his femoral artery with a scalpel), a mafioso (Tuscany, stabbed a hairpin through his eye), the Russian politician's girlfriend (slit her throat in her hospital bed) along with a roomful of hospital staff and police officers, a Bulgarian officer worker (shot), an asthmatic parfumier (poisoned with a bottle of homemade 'perfume'), her 'boyfriend' (accidentally died from the same perfume-poison), a Chinese military hacker (genital torture and suffocation), Bill Pargrave (stabbed), Frank Haleton (killed, then dressed his body in the dress she bought for Eve), fellow assassin for The Twelve and former prison girlfriend Nadia (reversed over in car, then stabbed in prison), and finally: Konstantin (well, she shot him).
Is Konstantin really dead?
We're led to believe so. At the Moscow airport, Carolyn receives a call and Kenny asks her "Konstantin?", she replies "I'm afraid so. There goes that lead." Was she telling the truth? The intelligence services, The Twelve, and for that matter, Carolyn herself, wouldn't be beyond lying.
Where was everybody left in the end?
Eve and Niko were on the verge of divorce. Villanelle had shot Anna and Konstantin, apparently leaving both dead. Carolyn had left Eve and Kenny at Moscow airport with orders to pack up the underground London office, saying she had to finish things herself.
read more: Killing Eve Season 1 Finale Review
Instead, Eve disobeyed her and tracked Villanelle down to her Parisian apartment, trashed the place, the pair confessed their mutual obsession and appeared to be about to have sex when Eve stabbed Villanelle in the stomach, then panicked and tried to help her. While Eve was looking for a way to stem the bleeding, Villanelle shot at her, missed, and disappeared. "She has gone," said Villanelle's neighbour, to which Eve replied, "Where?"
In Season 2, the search continues…
Killing Eve Season 2 starts on BBC America on Sunday, April 7th.