Features
Kesha's Paranormal Journey: How the Pop Star Became a Supernatural Seeker
Exclusive: pop icon and paranormal investigator Kesha sheds light on her experiences with the supernatural as well as why she loves Stephen King's The Shining so much.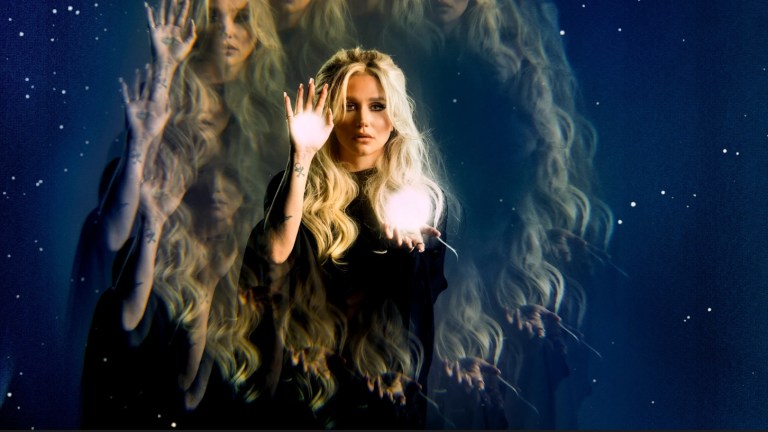 Kesha is a singer, songwriter, global pop superstar, paranormal investigator, and explorer of the unexplained. Though she is perhaps better known for her multiplatinum musical success, it is her fascination with the unknown that propels her pursuits these days. To put it simply, in her own words, Kesha is "totally addicted to ghosts." 
And in the Conjuring Kesha unscripted paranormal series, which she stars in and executive produces — currently airing on Travel Channel during the network's seasonal "Ghostober" event, following its premiere on the discovery+ streaming service last summer — the artist has found a "reinvigorated lust for life" in the afterlife.
In a recent interview for my Talking Strange paranormal pop culture podcast (available on Spotify, Apple Podcasts, and YouTube), Kesha spoke to me about her six-episode series, which is touted as a journey into haunted hospitals, prisons with a demonic force, secret societies, a sasquatch hunt, and a home potentially occupied by Harry Houdini's specter. You can listen to the full episode below:
Prior to making the series, she has gone on record to talk about her lifelong encounters with the paranormal (and to clarify, she said she didn't have sex with that ghost), and previously spoke about the topic on her Kesha and the Creepies podcast. But Conjuring Kesha was different for her, primarily because, as she says, "I walked in knowing good and well that I don't really know what I am doing."
"I came into this not really knowing what to expect, but I have had some experiences, so I thought maybe it will go a little bit like this or that," she says. "And my mind was completely fucking blown."
Some of the mind blowing came courtesy of scary experiences, such as at Trans-Allegheny Lunatic Asylum in West Virginia, famous for its purported haunted reputation. As she did with all episodes, Kesha was joined at the location by famous friends as well as noted paranormal personalities — rapper Big Freedia and psychic/medium Chip Coffey in this case, which was her final shoot for the season.
While filming for two days straight, she says nothing much was happening most of the time. On the final night, in the last 15 minutes of filming, she says she caught on camera a "creeping entity" moving up the body of her cameraman Jake, and it happened so fast she didn't have time to express what was taking place. Then, "he starts screaming."
"He has three layers of clothing on, and the back brace for the camera," she says. "He throws all the camera stuff off, lifts up his shirt, and has three scratch marks down the back of his spine. He had no words. I had no words. We just got the point, and got the message, and got the fuck out of there."
Another incident occurred in the same spot where she spread baby powder in a hallway, a traditional paranormal investigative tactic to track for both spectral interaction as well as human interference. She left the powder overnight, and when she returned the next day, "the entire 300-foot long hallway had baby powder all over it … and there were human footprints in the middle." 
On that note, Kesha stresses her role as a producer, and commitment to not taking advantage of her fans and viewers. She is Conjuring Kesha's editing process and receives notifications on her phone from motion-activated cameras at the haunted hotspots. Yet nothing was triggered to cause the footprints. At least nothing that registered on the cameras.
Being a producer has its benefits in addition to receiving real-time footage from a paranormal investigation. During the shoot at San Francisco's William Westerfeld House — where legend has it Harry Houdini once attempted to telepathically communicate with his wife Bess at another location — Kesha says she experienced so much activity she couldn't leave the location, even though the filming was done.
"I was like, 'Please, if you feel up to it, I just want to hang out longer.' So [cameraman Jake again] just hung out with me longer. We were done filming, and everybody wanted to go to sleep, but I was so excited and enthralled with the communication going back and forth. I felt it would be rude to leave this entity or spirit mid conversation."
She adds she feels the opportunity to explore these locations is a blessing because "I have the time, and cameras, and Travel Channel, and discovery+ helping me go on this spiritual journey." Rather than scary, she views it as a journey that is both "existential and beautiful."
"The thing I took away from filming this show is there is a lot of energy everywhere and a psychic footprint on everything that's been touched," says Kesha. "Everything you do in life informs potentially what you're doing in the afterlife. I only want to leave behind peaceful, beautiful, happy, positive energy. It starts in your waking life and treating people well."
Kesha feels "giddy" with every supernatural experience because it makes life more interesting. That extends to her Mount Shasta, California, investigation of Bigfoot with former Bachelorette star Jojo Fletcher and Ronny LeBlanc (of Expedition Bigfoot and Paranormal Caught on Camera — also starring this article's author *ehem*), which airs Oct. 22 on Travel Channel. Prior to the episode, she was dismissive of the legendary beast. 
"I was being a little pretentious in hindsight," she says. "I thought, 'I don't really believe it, how can that be real?' [But] I walked in like a lion and out like a lamb like, 'Wow, I don't know shit.' I love feeling in awe of this universe…There is so much more that we don't understand. It has really reinvigorated my lust for life."
Perhaps unsurprisingly, Kesha is not finished with her paranormal pursuits. If Conjuring Kesha receives a second season, she says she "wants to go all the way," even including topics like Mothman: "Let's go. The darkest, the deepest, the weirdest: Bring it at me."
Some of the locations she'd like to visit include the catacombs in Paris; the Rave/Eagles Ballroom in Milwaukee, Wisconsin ("I'm absolutely obsessed with the swimming pool in the basement"); the Red Onion Saloon in Skagway, Alaska ("I've heard it's incredibly active, and for some reason, I'm super drawn to it."); The Stanley Hotel in Estes Park, Colorado, which inspired Stephen King's Overlook Hotel in The Shining.
"My favorite movie since I was four was The Shining," Kesha admits. "I went as a kid with my mom, but I want to go back with all my equipment, and with some backup expert help, and really dive into it."
(As a curious aside, she adds the Stanley Kubrick-directed classic "informed a lot of the aesthetics of my album, and my makeup packaging [Kesha Rose Beauty] which I wanted to look like the interior.") 
For Kesha, the global pop superstar-turned-paranormal pop culture supernatural star, the mind blowing mission of exploration continues: "The paranormal and supernatural is a spiritual thing, and we all have our own relationship to it. I want to share it with everybody, and scream it from the mountain tops: We are not alone."
For more paranormal pop culture content, check out the Talking Strange paranormal pop culture show, hosted by Aaron Sagers, on Spotify, Apple Podcasts, and YouTube.