News
Kelly Marie Tran, Billy Dee Williams and Anthony Daniels Return for Disney+ LEGO Star Wars Holiday Special
Star Wars actors Kelly Marie Tran, Billy Dee Williams and Anthony Daniels come home for Life Day, via voice, for The LEGO Star Wars Holiday Special.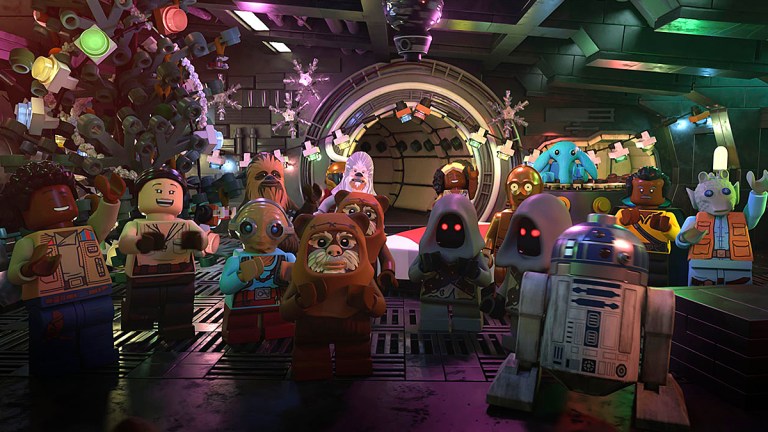 The LEGO Star Wars Holiday Special looks to simultaneously celebrate and lampoon the concept of holiday specials—specifically those notoriously tied to the Star Wars franchise—this November. However, the Disney+ designated event has been revealed to feature some returning cinematic alumni for its voice cast.
The voice cast lineup for the special reveals that Kelly Marie Tran will return to voice her Sequel Trilogy role as Rose Tico, joined by trilogy-crossing veterans Billy Dee Williams as Lando Calrissian and Anthony Daniels as C-3PO. Additionally, fans of the contemporary animated sphere of the franchise should be pleased to learn that it will be represented firmly with alumni from Star Wars: The Clone Wars with Matt Lanter (Anakin Skywalker), Tom Kane (Yoda and Qui-Gon Jinn), James Arnold Taylor (Obi-Wan Kenobi) and Dee Bradley Baker (Clone Troopers). As Josh Rimes, director of animation development at Lucasfilm, expresses of the cast in a statement:
"We're particularly thrilled that these great actors from the Star Wars family chose to reprise their roles and came to play in this LEGO sandbox."
The story of The LEGO Star Wars Holiday Special is set to have Rey and BB-8 sent through a time trip through which they will experience a mixed-up sampling of characters and concepts throughout the franchise's various eras—evidenced by one of the released photos (seen immediately below,) in which Rey is shown locking lightsabers with Darth Vader himself. Yet, while one should not expect strict canonical adherence from a novelty offering such as this, there does seem to be a semblance of continuity here regarding Rey's arc, having overcome the suddenly-resurgent Sith and her eventual declaration of being "Rey Skywalker" at the end of Star Wars: The Rise of Skywalker. Thus, as Rimes puts it, Rey is in store for "a nice It's a Wonderful Life moment as she reflects on her own mistakes, her own teachings, and what it means to be a mentor."
Of course, the special's return of Kelly Marie Tran as Rose is a consolation prize of sorts for Star Wars fans who felt cheated by how the character—a standout introduced in 2017's The Last Jedi—was controversially scaled-back in 2019 trilogy closer The Rise of Skywalker, in which she was reduced to a few lines with nothing significant to contribute to the plot. Consequently, Rose will figure prominently in the primary story of this holiday special, continuing the trajectory of the arc she was seemingly promised of going from a random, nameless Resistance mechanic to being an A-level hero in the mythos. As executive producer James Waugh, vice president of franchise content and strategy at Lucasfilm, explains to EW of Rose's presence in the special and Tran's voice work:
"She has a really prominent role throughout the story." He continues, "This story works in an A-B way. The 'A' story is on Kashyyyk where Rey, Poe, Rose and Finn are all trying to create the greatest Life Day party ever for Chewie and his family. Then the B story is Rey going off to seek knowledge at the Jedi Temple that takes her across the movies' history… Rose's role in this it to really takes charge she basically saves the day, in many ways. We wanted to make sure we got a lot of Kelly in as Rose was going to be an essential part of whatever [the Resistance heroes'] future was going to be after Episode IX [The Rise of Skywalker] and she was a blast to work with."
Additionally, Waugh reveals that the presence of the aforementioned Original Trilogy OGs in the voice cast was uplifting, lauding, "Williams had such great, positive energy around the whole project and, of course, we couldn't do C-3PO without Anthony Daniels and he brought his magic to the character."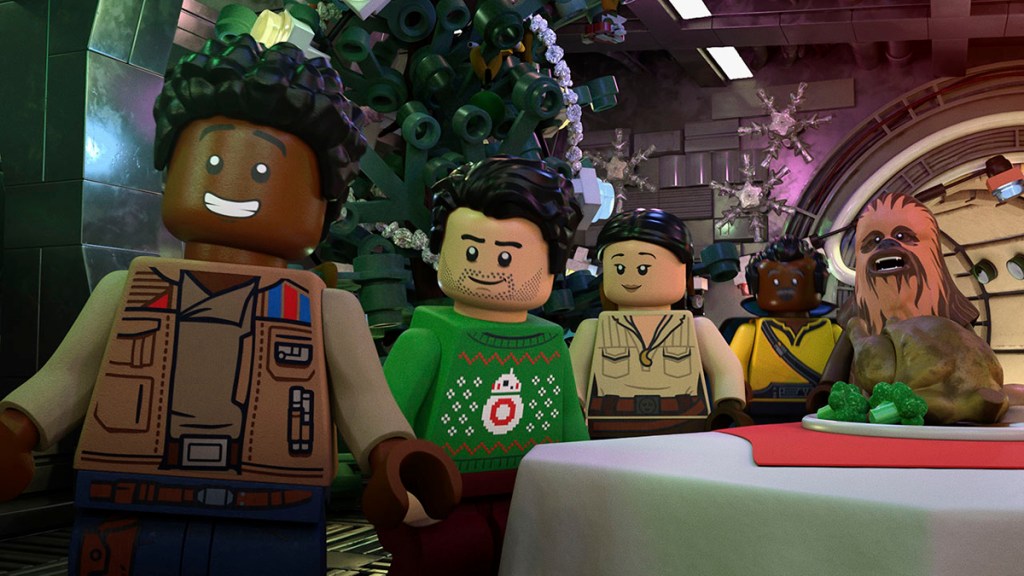 It will be interesting to see what The LEGO Star Wars Holiday Special brings to the table, even if, unlike its 1978 live-action/animated counterpart, it won't feature franchise-evoking personalities like Bea Arthur, Art Carney and Harvey Korman, nor be graced with random psychedelic performances from The Jefferson Starship. However, akin to the latter, it will nevertheless attempt to build a proverbial city of holiday cheer on the rock and roll of Star Wars. Thus, we seem to have an intrinsically cheeky offering that needn't be picked apart and over-theorized.
The LEGO Star Wars Holiday Special hits Disney+ on Tuesday, November 17, as the hilarious poster below reminds us.