News
Lego Star Wars Holiday Special Will Introduce Rey to a Young Luke Skywalker This November
The Lego Star Wars Holiday Special will teach Rey the meaning of Life Day and reunite her with Luke Skywalker but not in the way you think!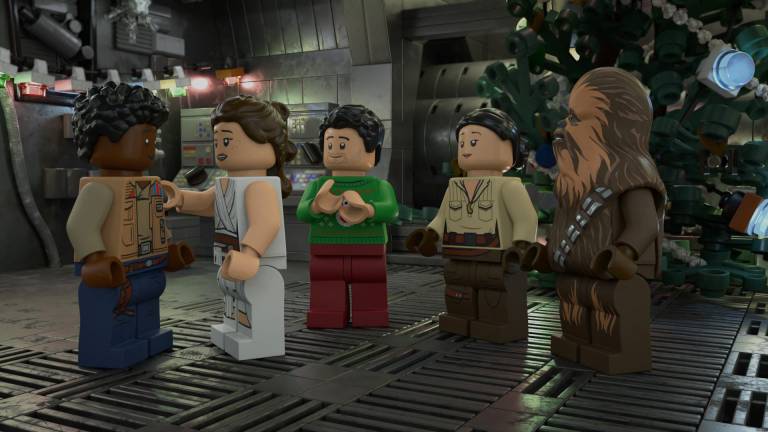 More than 40 years after the original, Star Wars is getting a new Holiday Special on Disney+. But there's a twist. Fans hoping for live-action Wookiee shenanigans will instead get a new adventure in LEGO animation.
As revealed by USA Today, the 45-minute Lego Star Wars Holiday Special will reunite Rey, Finn, Poe, and other characters for a new Life Day celebration that nods to the original Holiday Special from 1978. It will also feature appearances from Kylo Ren, Luke Skywalker, Darth Vader, Emperor Palpatine, Obi-Wan Kenobi, Yoda, and of course, Chewbacca himself. Executive producer Josh Rimes even teased that some of the actors from the movies will reprise their roles for the special.
Stream your Star Wars favorites right here!
The new Holiday Special sees Rey and BB-8 exploring a mysterious Jedi Temple on a quest to gain more knowledge about the Force. But when Rey and BB-8 are sent "careening through time and space," Rey has a chance to meet characters from the Original Trilogy, including a younger Luke Skywalker who is very different from the old Jedi Master she met on Ahch-To in The Last Jedi.
"It becomes a much different take on a teacher and apprentice with the more seasoned Rey and a younger Luke," Rimes said. "It's a celebration of the saga…A lot of characters will be interacting with different characters and perhaps even different versions of themselves at different ages."
Ultimately, Rey's adventure will lead her to Kashyyyk, homeplanet of the Wookiees, for a Life Day celebration with Chewie. Rimes has also teased that we'll get to see Lego versions of other Wookiee characters from the original special, but wouldn't say which of Chewie's friends will make a comeback. We're really crossing our fingers for Lego Lumpy.
"We wanted to give a wink and a nod to the original," Rimes told USA Today, revealing that the special is heavily inspired by It's a Wonderful Life, Planes, Trains and Automobiles, Christmas Vacation, and "old Burl Ives musical cheer."
For those who were lucky enough to miss The Star Wars Holiday Special the first time around, it's sort of become one of those "so bad, it's good" cult classics with a portion of Star Wars fans. The 1978 original saw Chewie and Han Solo racing against time to reach Kashyyyk for a Life Day celebration with the Wookiee's family while evading the Empire. Four decades later, it's Lego Rey's turn to discover the meaning of Life Day.
The special is directed by Ken Cunningham and written by David Shayne, who is also co-executive producer. Joining Rimes as executive producers are James Waugh, Jason Cosler, Jacqui Lopez, Jill Wilfert, and Keith Malone.
The Lego Star Wars Holiday Special is out on Nov. 17.