News
Kamp Koral: SpongeBob's Under Years Unveils First Look
The SpongeBob gang's all here (and in fun summer camp outfits!) in the first image from Nickelodeon's Kamp Koral.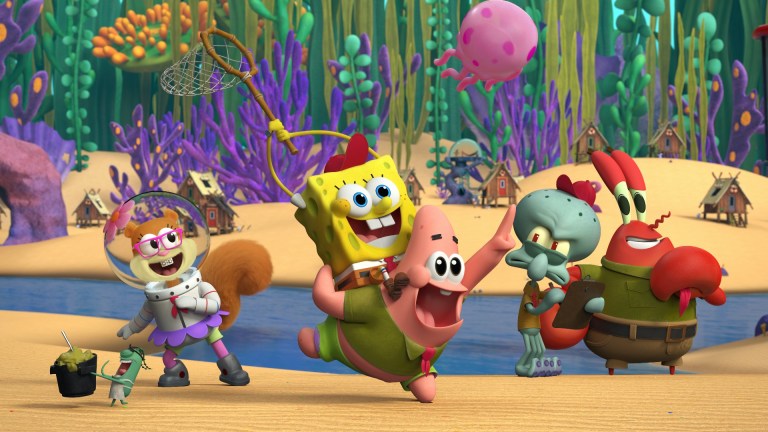 Are ya ready kids? We've known for a while now that Nickelodeon was aiming to expand the SpongeBob SquarePants brand with some spinoff series. We had our suggestions as for what those should be, but it appears that Kamp Koral: SpongeBob's Under Years will be the first project of the SpongeBob Extended Universe out of the gate. Today, we have our first image from the upcoming series.
Featuring a glimpse of 10-year-old SpongeBob SquarePants, pal Patrick Star (wearing a very fetching camp uniform) and brace-faced Sandy Cheeks, while also offering looks at younger versions of Squidward, Mr. Krabbs, and Plankton in what appear to be camp staff roles, this first image shows off the bright, CG-created underwater world that fans can expect when the series debuts in 2021.
Produced by Nickelodeon Animation Studio, Kamp Koral: SpongeBob's Under Years will showcase the first interactions between our beloved characters as they "spend their summer building underwater campfires, catching wild jellyfish, and swimming in Lake Yuckymuck at the craziest camp in the kelp forest, Kamp Koral. Never mind that this all directly interferes with established SpongeBob canon (SpongeBob and Sandy first met in the Season One episode "Tea at the Treedome, among other continuity errors that this new prequel series is sure to create), this is a fun chance to explore more youthful versions of these 20-year-old characters.
Kamp Koral: SpongeBob's Under Years will find Tom Kenny (SpongeBob), Bill Fagerbakke (Patrick), Rodger Bumpass (Squidward), Clancy Brown (Mr. Krabs), Carolyn Lawrence (Sandy) and Mr. Lawrence (Plankton) reprising their iconic roles. The series will also feature Carlos Alazraqui (The Casagrandes) and Kate Higgins (Blaze and the Monster Machines) joining the fun as new characters Nobby and Narlene, narwhal siblings who live in the woods surrounding the camp. No word yet if we can expect to meet younger versions of other Bikini Bottom residents.
The 13-episode series does not have a firm release date yet, but will be available for streaming sometime in 2021 exclusively on the newly rebranded Paramount+ streaming video on demand service. Once the season finishes its run on Paramount+, the series will then air on Nickelodeon later in the year at a date to-be-determined. As soon as we have a premiere date for Kamp Koral: SpongeBob's Under Years we will let you know.
What other SpongeBob Spinoff spinoff series would you like to see? Do you think the continuity errors could be explained by a SpongeBob Multiverse? Sound off in the comments and let us know your thoughts.