Features
Justified: City Primeval Ending Explained – Does Boyd Crowder Return?
Raylan Givens concludes his time in the Motor City but does Justified: City Primeval leave room for more?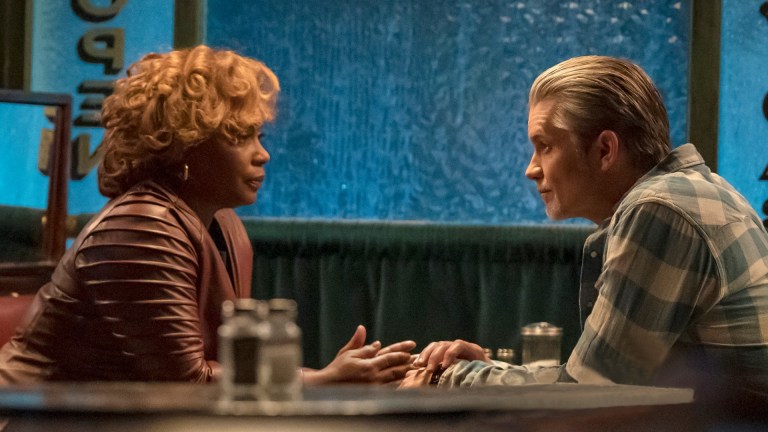 This article contains spoilers for Justified: City Primeval.
When FX announced a new limited series featuring Raylan Givens (Timothy Olyphant), fans of Justified were excited, but skeptical. The original run of Justified from 2010-2015 was some of the greatest television in recent memory, separating itself from the rest of the pack. Based on the works of Elmore Leonard, the series was equal parts country-fried charm and law-and-order procedural, where viewers could often find themselves cheering for the criminals as often as they did law enforcement. 
Justified also ended as powerfully as it began, with arguably one of the most satisfying finales which not only sewed everything up, but was downright touching as well. Which means that new showrunners Dave Andron and Michael Dinner were playing with Kentucky fire – if Justified: City Primeval was a let down, it could ruin the hard work the original series put in for six years. Would their gamble pay off? Would City Primeval be simply another great chapter in the television book of Givens? Or should the character have stayed retired? Allow Den of Geek to recap the show's ending, and outline some of its successes. 
How Does Raylan Defeat "Oklahoma Wildman" Clement Mansell? 
One major piece missing from the Primeval puzzle was that of fan-favorite rogue, Boyd Crowder (Walton Goggins). Goggins' performance was so encapsulating, his treachery was as much a part of the DNA of the show as Raylan Givens. Yet this time around, Raylan was nowhere near his home state of Kentucky. Taking place a decade and a half later since the conclusion of the events of Justified, Raylan found himself being trapped in a Detroit murder investigation for a shady judge (Keith David).
The murderer was the "Oklahoma Wildman" Clement Mansell (Boyd Holbrook), a contemporary of Crowder in almost every way. Mansell was extremely dangerous, motivated, unhinged, and more clever than he looked behind that shark-like grin (yes, Mansell even had a Crowder-esque smile to help audiences feel a sense of the familiar). More crucially, Mansell was just as slippery. His intelligence, much like Crowder's, allowed him to escape trouble more often than not, and it seemed that no matter what Raylan and the Detroit police department did, they couldn't make an arrest stick. Raylan undoubtedly recognized a familiar kind of foe in Mansell, and anyone who knows the character of Raylan knows, he's not going to let that slide.
In the season finale, it finally came down to Carolyn Wilder (Aunjanue Elllis-Taylor) who at one point was Mansell's lawyer to do what no one else was willing. Wilder made a deal with the Armenian mob. The Armenians forced Mansell into the same panic room where he savagely beat one of their own, and by Raylan's own hand, locked him in.
If it weren't for the victim, Skender's pride (played by Alexander Pobutsky), Mensell would have rotted in that room. Instead, the Armenian went after the Oklahoma Wildman to finish him off, only to have the tables expectedly turned on him again. Mansell beat Skender to death, escaped, and then exacted his revenge on the rest of the Armenians, all but wiping them out.
Which led to the inevitable faceoff between the two Southern Wild men. Mansell went to visit Wilder (undoubtedly to kill her because of her part in the deal to lock him away) but was met by the stoic Raylan who was in wait.

The two exchanged words, and cold beers, but the inevitable happened when Mansell told Raylan he wanted to leave him with something before leaving Detroit. Reaching into his jacket, Mansell was shot down by Givens without hesitation. As Mansell lay there dying, he revealed he wanted to simply give Raylan a mixed tape of his music. Raylan seemed just as perplexed by the offer as Mansell was at the outcome, but much like the brotherly relationship Givens had with Crowder, there seemed to be an uneasy respect between Givens and Mansell as well.
How Raylan Leaves Detroit Behind
It wouldn't be Justified if the miniseries didn't have characters who were supposed to be on the side of the law creating their own definitions of right and wrong. Judge Guy (Keith David) already paid the price for his own hubris, but in the back half of the season, Givens was betrayed by one of his closest Detroit allies. Maureen Downey (Marin Ireland) was given the murder weapon by Raylan in order to put Mansell away. Nothing about it was above board, as Raylan obtained the gun illegally, and really couldn't connect it to Mansell, but this seemed like the only way to stop the Oklahoma Wildman. Instead, Downey used it to frame a two-bit thug and drug user in order to close the Judge Guy murder case.

Raylan was obviously confused, but when he, Wilder, and the Armenians had Mansell cornered, Raylan was finally able to get his hands on Judge Guy's little black book of extortion – the book Mansell was using to blackmail major players in Detroit. To Raylan's surprise, Downey's name was in the book as well, and apparently she took payoffs in order to secure several guilty verdicts. It was never explicitly said what happened to her, but when Raylan left, she was being investigated by internal affairs, and could do more than to ask for her lawyer.
But not everyone was left worse off. Wilder, who held the book when all was said and done, was able to use her sense of right and wrong, leaning slightly more towards "right" to do some good. WIlder used her intelligence, and the strange sense of morality that she learned from Sweetie (Vondie Curtis-Hall) to work her way up the system and become a judge. Detroit lost a lot of major players on both sides of the coin of morality, but when Raylan left, it seemed that one major player was now in a position to make change for the better.
What's Next for Raylan?
The story picks up six weeks later, as Givens is back in Miami, where he's been stationed for the last decade and a half. His coworker Greg Sutter (in another great cameo by David Koechner) is giving a toast to their Chief Deputy, Dan Grant (Matt Craven), as Dan is about to retire. While it is amazing to see both Koechner and Craven reprise their small roles from the original series, this reunion goes in a very interesting direction.
Grant, having imbibed quite a bit at his own party, begins to tell Raylan that there's "something different" about him recently. As if Raylan has had an epiphany. Seeing this new side of Raylan, Grant even divulges that he'd be willing to put in a good word for Raylan to take his place, and finish his career as Chief Deputy. Raylan, taken aback by the news casually informs Grant that he had something he wanted to discuss, and then, suddenly, drops the bombshell that he is quitting the Marshals.
A week later, we see Raylan enjoying a slower pace, giving the exterior of his Miami home a fresh coat of paint. A brightly colored jeep tears around the corner and up onto his lawn, which years ago would have caused Raylan to immediately point his gun at the vehicle. Instead, it's merely his daughter Willa (Vivian Olyphant) who announces she got her learning permit.

Willa isn't alone, however, as Winona (Natalie Zea) also gives fans a cameo of a beloved character, as she drops off their daughter to Raylan. There, Raylan lets his girls know that he has finally retired, much to the shock of Winona who tried to get the lawman to lay down his gun for years. However, this time, it seems that everyone is seeing a different Raylan, as he and Willa make plans to repaint her room, spend some time together, and maybe even get a boat. The slower life, at least in the week he's been able to enjoy it, seems to be appealing to Raylan.
Does Boyd Crowder Return?
Winona could have easily been the final great cameo of this limited series, but Dinner and Andron ultimately opt for someone even bigger.
The finale takes us back to the hollers of Kentucky and Tramble Penitentiary, where Boyd Crowder has been peacefully serving his time for the last 15 years. Boyd, looking as sharp as ever once again preaches to a congregation of inmates, talking about reparations, showing them the scars where his white supremist tattoos once sat, and sermonizing about one word – love.
Yet something is amiss with Boyd. He also discusses that his health has not been great lately, and that he must leave his congregation to transfer to a hospital to determine what is wrong with him. On the way to the hospital, through the dirt roads and over the iconic suspension bridges of the state, Boyd starts pitching a fit. When the Correctional officers pull over, Boyd reveals to Officer Ramirez (Luis Guzman) that he's been had. Ramirez's counterpart is apparently Boyd's new lover, and she helps Boyd escape.
As Raylan lounges on a boat with his daughter, they begin to open up about things, and for the most part, Raylan does seem to have changed. The only thing that interrupts the discussion is an alert he gets on his phone that a Federal Inmate has escaped from Tramble. While Crowder is never mentioned by name, the look on Raylan's face is obvious. He knows it was Boyd. What remains a mystery is if Raylan will act on this, or let it slide. There will undoubtedly be mixed feelings about Boyd's return. Is the possibility of continuing the story, and adding one more chapter in the rivalry between Givens and Crowder exciting? Absolutely. Is it dangerous? Perhaps more so.
As mentioned, when City Primeval was announced, fans were tentative, and one thing the limited series did well is it proved that Raylan Givens and the property is actually more than the sum of its parts (even though those parts are often strong). In City Primeval they changed the locale, gave new supporting characters, a new rival, and barely even mentioned the life Raylan had 15 years ago, and the show worked brilliantly. Before this unexpected cameo and cliffhanger, it could have been argued that Raylan could have had several displaced cases around the country, and more importantly, the writers proved they can create a compelling cast of supporting characters to surround Raylan at any given point.
The world of television is simply a better place with more Justified in it, it is that simple, but taking the chance on tainting a perfect ending (twice, if you consider the ending to this limited series before Crowder's escape) quite frankly may not be all that justified.
All eight episodes of Justified: City Primeval are available to stream on Hulu now.