Sponsored
Jupiter's Legacy: Matt Lanter on Becoming Skyfox
Jupiter's Legacy star Matt Lanter on suiting up for Netflix's brand new superhero show as Skyfox.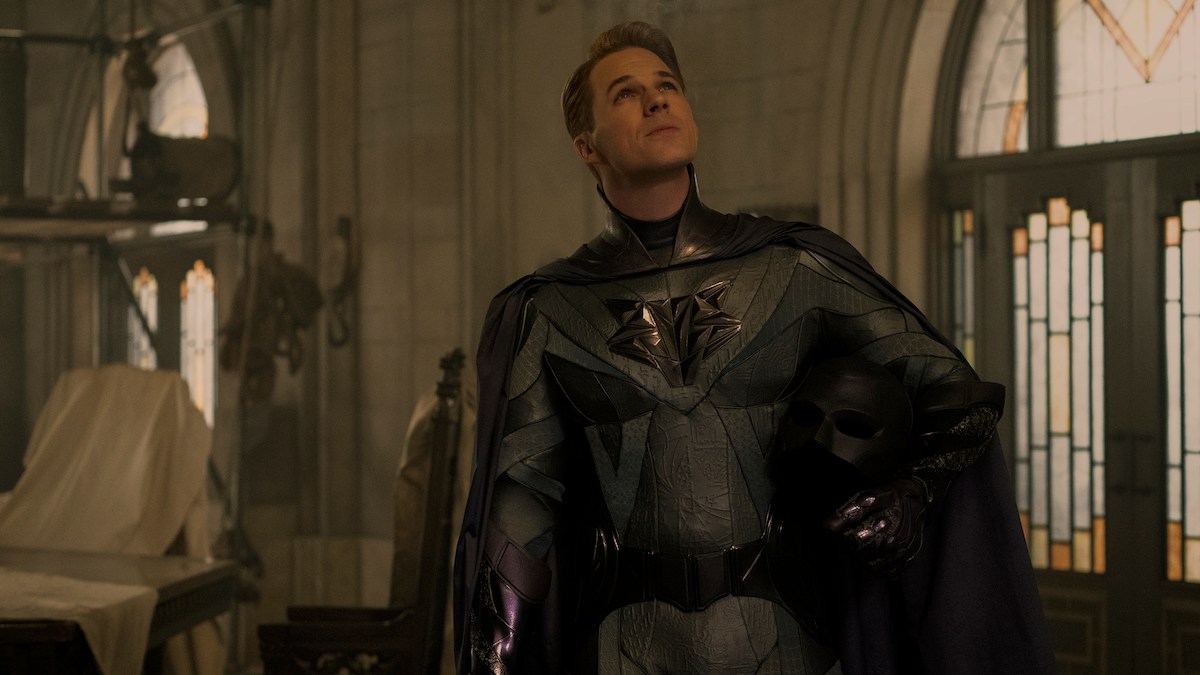 This article is presented by:
Failing to win the Manhunt: The Search for America's Most Gorgeous Male Model reality show competition in 2004 may have been the best thing that could have happened to Matt Lanter, because between that year and 2006 he had recurring or starring roles in the series Point Pleasant, Commander in Chief, Heroes, and Shark. Besides guest roles, he'd star in a number of films, voiced the character of Aquaman in a variety of animated productions from Warner Bros/DC Comics and was a series regular on the cult favorite Timeless.
All of that was eclipsed, however, by his voicing the character of Anakin Skywalker on the animated Star Wars: The Clone Wars, which he began doing in 2008 and continues to do periodically. Now he is taking on the role of George Hutchence, aka Skyfox, on Netflix's Jupiter's Legacy, which will elevate him even higher insofar as genre fans are concerned. That possibility, as well as his view of Hutchence as a character, are among the things discussed in the following exclusive interview.
Who is Skyfox?
NAME: George Hutchence
ALTER EGO: Skyfox
POWERS AND ABILITIES: Flight; super strength; can survive a mile above Earth; uses engineering skills to create tech to use against villains
NEED TO KNOW: Another founding member of The Union and Sheldon's former best friend before they had a falling out. Now considered the greatest supervillain in the world, George hasn't been seen for years—his whereabouts and loyalties remain a mystery.
Den of Geek: What appealed to you about George?
Matt Lanter: I remember seeing a bit of Robert Downey, Jr. as Tony Stark in that character. I also kind of saw a little bit of flair, like a Johnny Depp in Pirates of the Caribbean.
I also wanted a bit of Paul Newman, who's one of my favorites. Paul Newman to me always looks like he has a secret just in every movie. If you go back and watch, you'll see what I'm talking about. He just always feels like he has a secret and I really love that about him. I think it makes him interesting… It felt like I could be a part of something really huge that could be just loved by a lot of fans here in the next several years and just had a chance to be a part of an epic superhero show. Of course, to put on a superhero costume is not something that many of us get a chance to do. So, here I am.
This question would have come later, but I might as well ask it now since you brought it up. What is it like to be strutting around in a superhero costume?
It's amazing…. but the stylization of our suits are a little different. They're angular, a lot of straight lines versus kind of rounded pecs. But yeah, the suits are incredible. Lizz Wolf, the costume designer, did just an amazing job. There's been so much thought and so much detail put into these suits. It's really a wild thing to see and I think fans are really going to have a heyday with this because each costume has individual characteristics. The costumes have so much intricate detail in them. Every costume is made of different materials, different fabrics, different stitching… It's a really cool thing so kudos to the design of the suits. They are the highest of quality… they definitely did not shortchange us in that area at all.
You can't ignore the fact that you put the thing on and you're a superhero. It's meant to accentuate the physique that we've already been training to build at the gym, and it's very empowering. It's just a really cool experience that I feel so honored to be doing.
How do you view George as a person? I know the show jumps in and out of the past and present, but how would you chart his evolution through the course of this first season?
The course of the first season is really different from the overall arc that we see in the graphic novels. We don't hang with George very much in the "present day" of the first season [but] we see a lot of him during the origin.
George is such an interesting guy. He is sort of our Batman in a way. He's kind of our Bruce Wayne. He's this multimillionaire playboy. He appears to have everything. He's great with women, he's got tons of money in his pocket, he's got everything in the world.
But I think very quickly, we see as an audience that George is very empty inside. I think he's dealt with a lot of pain and loss in his life. I think because of that, George sees Sheldon [Sampson, the Utopian] and even maybe Walter [Sampson, Brainwave] as his family. They were buddies growing up.  George's loyalty is probably, I believe, one of his strongest assets. He's a great friend and family member. So in an emotional respect, I think that Sheldon and Walter and the acceptance into the Sampson family is everything to George. 
I think it's also fun to play him because everything is big and grand and a performance for George, because why not? What else does he have to do? There's a lot of layers there and I love that he has fun and he's sharp-tongued and quick-witted, but I think he feels deeply.
Given your success with The Clone Wars, you've had a taste of the scrutiny that fandom can put you under. Is that tough to cope with or have you gotten used to it at this point?
Well, it's funny you're asking that, because just a couple of days ago, I did a panel with my Clone Wars pals and I actually talked about the level of scrutiny I did not realize that came with the job when I had originally booked the job of Anakin, but that's one of the things that I've enjoyed most. Mostly, I feel like it's been positive from the fans on my portrayal of Anakin, so I've not really been hammered too hard, but there is a scrutiny there. I think, as long as you keep in check in your own head that scrutiny, whether it be positive or obviously negative, comes from a place of passion with the fans and it comes from a place of things wanting to be good. I mean, of course, you're going to have a couple of trolls here and there for anything you might do.
But I think sci-fi audiences are really, really smart. I think they want good storytelling. They want characters with depth, so that's going to come I think with whatever you're doing. But I can tell you, this is a character driven show first and foremost, and it's a relationship driven show and they happen to be superheroes with incredible powers. I think when your characters are there and your relationships are solid and established and you understand why people are doing what they're doing, I think it really helps the story overall.
This is such a great time for fans of superheroes, with the Justice League, Avengers, The Boys, and now, Jupiter's Legacy, and they're all so unique.
They are, and I think in a few years people are going to realize how big this actually is in terms of being the first show that's opening up "Millarworld." People are going to realize that it's DC, Marvel, and Millarworld, and it's exciting to be a part of that.How cool is it that I get to be the first guy to ever play George Hutchence, Skyfox? There's so much to fanboy about.
This show focuses on the relationship between the parents and their kids and the journeys they all go on.
Which is what makes this story so unique. We've seen the guy in the suit and he's saving the world, but this multi-generational family dynamic is so interesting that Mark Millar has created. And it's such a basic idea, in a way. What if Superman had a kid and he's a jerk and can't live up to being Superman? And the world Millar's built has the kids of these six superheroes signing contracts with big companies like modern day influencers.
It's just a wild, cool idea. It's something that seems so grounded. I think I heard Mark say this, that these guys can have everything and they can do everything and everything's perfect in their world if they want it to be, except for matters of the heart. It's just an extra level of detail on these characters that I don't think we've ever seen before in other shows or movies.
Jupiter's Legacy premieres on Netflix on May 7. Read more about the series in our special edition magazine!