Sponsored
Jupiter's Legacy: Leslie Bibb and the History of Lady Liberty
Leslie Bibb on playing The Union's First Lady in Netflix's Jupiter's Legacy.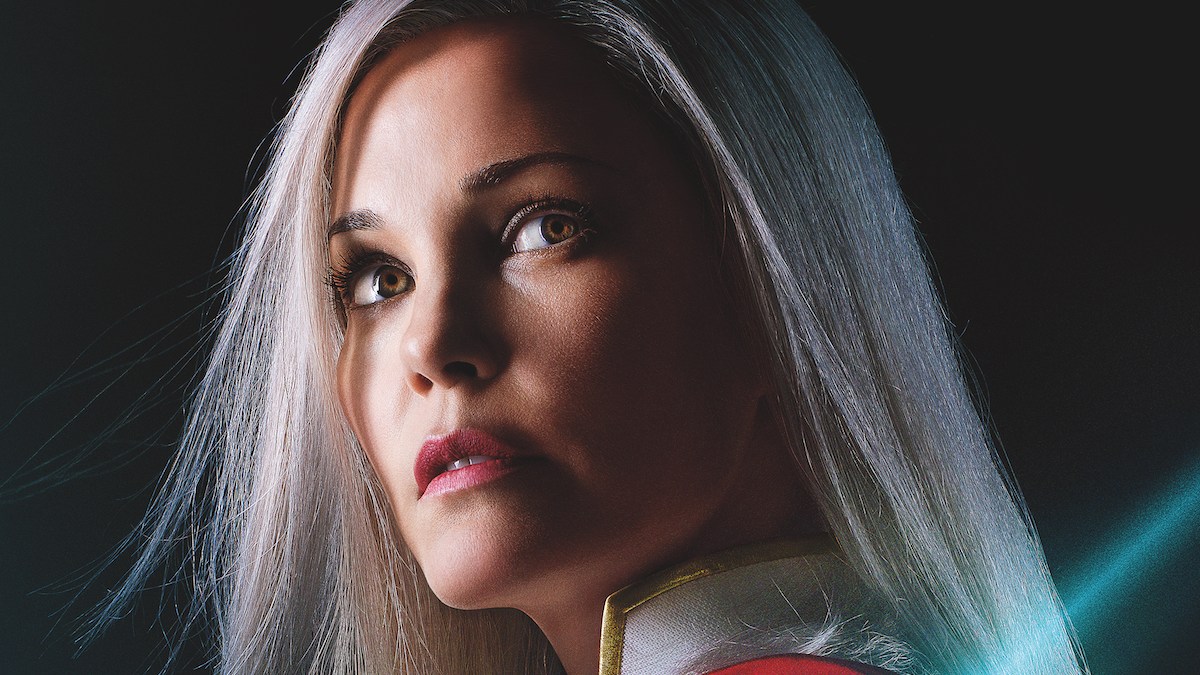 This article is presented by:
Leslie Bibb successfully made the transition from modeling to acting, making her television debut 25 years ago in the TV series Pacific Blue and on the big screen a year later in Howard Stern's Private Parts. Since then she's appeared in more than two dozen movies and a wide variety of TV shows, including the main cast of The Big Easy, Popular, Line of Fire, Crossing Jordan, GCB, Salem Rogers: Model of the Year 1998 and the forthcoming Home Movie The Princess Bride.
Fans of the superhero genre will undoubtedly recognize her as reporter Christine Everhart in Iron Man (2008) and Iron Man 2 (2010). Now she gets to don the superhero costume to fight evil as Grace Sampson/Lady Liberty in Netflix's Jupiter's Legacy, and in the following exclusive interview she details her road to discover who Grace is as a person and the experience of shooting the series.
VITAL STATISTICS
NAME: Grace Kennedy Sampson
ALTER EGO: Lady Liberty
POWERS AND ABILITIES: Super strength, speed, and sight; power of flight; some level of invulnerability; knows when people are lying.
NEED TO KNOW: Wife of Sheldon Sampson, mother to Brandon and Chloe, and founding member of The Union. She's the glue that holds the Sampson family together.
What's it like to wear a superhero costume?
When I put it on, I was, like, "This is pretty badass." Listen, I felt that maybe I'd missed that window to be a superhero, so to get to do it … well, I feel really lucky and excited. And to be able to do it on this level, because Netflix really wanted to do it right, is amazing.

What attracted you to the show?
I like just getting to kick ass and all that, because it's fun. But there has to be a story to it, otherwise who gives a shit and who's going to come back if there's not something that pulls you in to it? I remember when I read the first couple of scripts thinking, "Hmm, I've never read this sort of take on a superhero show." I mean, there was the family dynamic—it felt Shakespearean a little bit and it felt like a family drama. And then there was the aspect of all of us in the beginning of the story, in the 1920s, where it felt like Mad Men meets Justice League or something.
How did you find Grace?
My mom passed away unexpectedly a couple of years ago, and I remember being struck with how I saw her change; how fearful she got as she got older.
Was it fear of her own mortality?
Fear of mortality, how she changed ideals—I just watched her change drastically, and she was so different. To watch that change was heartbreaking and confusing and scary. Because I saw fear, I saw perhaps regret, I saw all of these things. I got the show right after she passed away and what struck me about it were these characters, especially The Union. You see them when they're bright-eyed and bushy-tailed in their 20s and so idealistic. And then, when they're older it is such a difference and you don't usually get that perspective.
It reminds me of what Coppola did with The Godfather and The Godfather Part II with the flashbacks. I'd never really seen a TV show do it, let alone a superhero show, but you get to see them change and how cool to create that moment where it starts to change.
One of my first big jobs I got was this movie called The Spouse and I had a picture of Natalie Portman that I cut out of Vanity Fair or something, and there was a quote with it that said, "Be the fearless girl your mother warned you about." That quote always stuck with me, and when I got this part, it really resonated with me, because Grace, as you're seeing her in the present day, has forgotten the fearless girl she was.
On this show, I really love that they created this character who, in 1929, works in a male-dominated world when women weren't working; they were getting married and having kids. But she was the captain of a wrestling team. She didn't have time for relationships. She was very career driven at a time when that wasn't common for women. And she was a truth seeker, and vibrant and alive and didn't take shit from anybody.
Did you tap into that fear?
What I incorporated, probably subconsciously, was the moxie she had when she was younger. Her fearlessness in a world that was very male-dominated. This is especially true for the first season, where it's so important to show the idealism they once had.
I always said my mom was like a cat on a hot tin roof; she always landed on her feet. Grace is that way, too. Even if she's scared, she's going to talk her way out of it or find a way out of it. She's going to figure it out. And looking at my mom led me to Grace's beginnings. Also inspiring were people like Katharine Hepburn, Rosalind Russell, and Amelia Earhart.
I always have a lot of photos of my friends around, so wherever I go, I feel like I have family and friends with me. My trailer always has loads of pictures of them, but also incorporated are characters and people like Amelia, Kathy Hepburn… everyone laughed that I had Harrison Ford as Indiana Jones up there. I just find it inspiring to see all of them around you and they give me those things I thought was important to set up in the first season. Again, the idealism of where they started.
Is this a world you'd been very familiar with?
Comic books are not my world and I didn't appreciate them, because I didn't realize the artistry, storytelling and depth that go into comics. Now watching people talk about comics, I get very excited. For normal folk like myself, if somebody just said, "Oh, it's like Game of Thrones or Boardwalk Empire," you see that it's all the same character breakdowns and it's the same drama happening in these little worlds.
As always, the script is the thing.
The most important thing!
How would you say Grace evolves?
What you see with Grace, especially in the present day, is a woman who has the weight of the world on her shoulders, which is becoming more difficult, because her husband is digging his heels in and there's no bend to him. But the world isn't the same as it used to be. We're bringing knives to a fight where people have drones. As a result, there's a ripping at the seams and, at the end, her not toeing the company line, not standing in a unified front with her husband. 
At the end of the day, they're a married couple, and they're a married couple who work together and live together. After a pandemic, everybody understands how hard it is to be with somebody 24/7, you know what I mean? It's like, this is what this woman and this man have been dealing with.
Which represents quite the change.
By the end, she's finding her voice and asking herself, "Where's the fearless girl I used to be? What have I given up for this that maybe I don't agree with anymore?" The set of rules that worked in 1929, just don't work anymore and she experiences an awakening.
And it's fascinating to see them questioning the beliefs they've always held, which is yet another reflection of where we've been in recent years.
That's the beauty of comic books. It's like Captain America coming in and saving the day or Lady Liberty coming in and taking the robbers away, making the world safe and it'll be okay. But what we're realizing is that you can be the strongest person in the world and be so weak when it comes to your children. You can be the smartest person in the world, but you can't figure out love. Nobody is infallible. We all have an Achilles heel and none of us have the answer. Yet we think that we do. We think we know the right way. And there's something interesting in that gray area with the show.
Any particular highlights for you of the filming?
The thing about the show is that it's constantly morphing and reinventing itself. I want people to stick with it, because when we get to the island where they get their powers, it will be impossible for you to not think it's the coolest shit you've ever seen. I just remember when we were filming it, it was weird, because the weather was really crazy. We were supposed to be on a little island. Puerto Rico had just been struck by a hurricane, so we lost that location.
Then we were going to shoot on an island in Toronto, but we ran over because of other things, so we couldn't do that. So we had to make an island out of Toronto—our production designer was amazing. Anyway, we were filming one day and it was 60 degrees, gorgeous, sunny. We were, like, "It's great that we're going to be here." And literally the next day there was a snowstorm. Our director, Mark Jobst, said, "We're using it. This is what the island would do." It was almost like suddenly art was imitating life.
When we were at a beach and we'd just landed, a rainstorm came in and then there was all this mud, so it was crazy. But the six of us truly felt so bonded during this whole experience that it just enhanced the chemistry. I know that we all felt like we'd been through a war together in this filming, because of the environment. It was just so out there.
So for an audience unfamiliar with the Jupiter's Legacy comic, what do you think the power of the show will be for them?
It's really this epic, Shakespearean family story. It's about human beings and power struggles. Plus, I think we're all kind of our own superheroes right now. Our doctors and nurses on the frontline are superheroes. Families who are losing their jobs and pivoting are superheroes. We're not going through a Great Depression, but that's where our show starts and with the idea of having to reinvent yourself when the world gets turned upside down. So I hope the human story of it translates, because that's really what we wanted people to see:  these human beings and what they're going through. And it just happens to be that their day job is that they wear capes and save the world, but they're going through the same things that we all are. 
Jupiter's Legacy premieres on Netflix on May 7. Read more about the series in our special edition magazine!