Sponsored
Jupiter's Legacy: Choreographing Superheroic Stunts
Supervising Stunt Coordinator Philip J. Silvera talks about bringing the gritty superhero action of Jupiter's Legacy to life.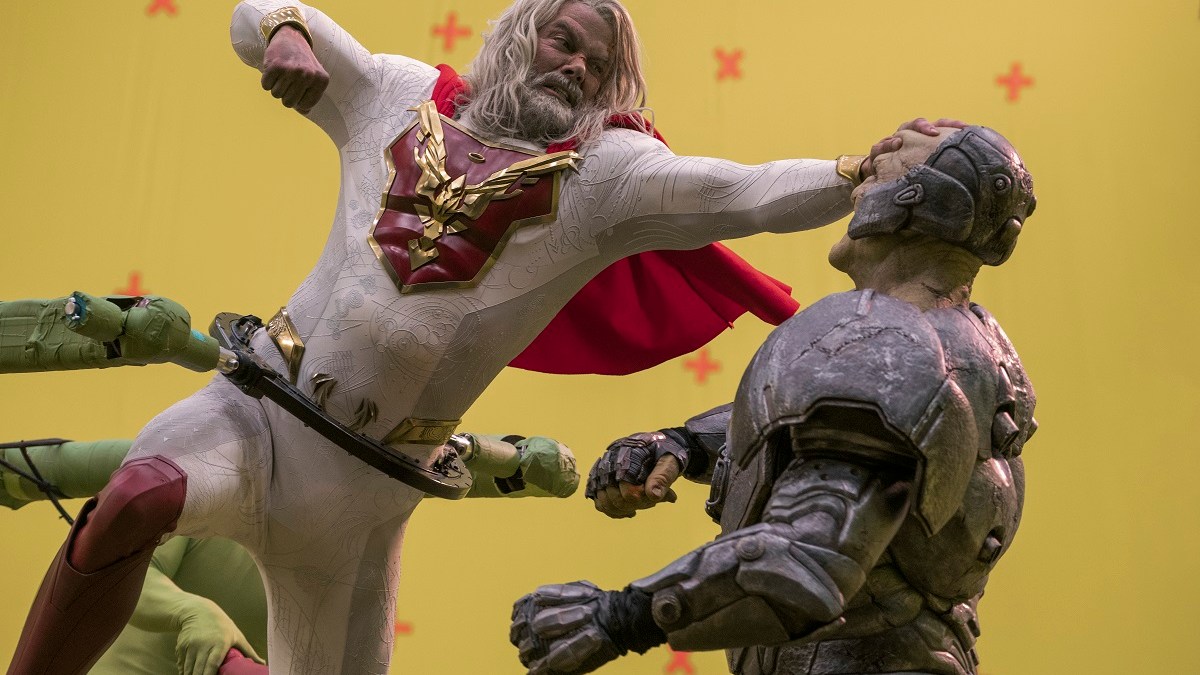 This article is presented by:
Stunt teams are some of the hardest working people in the industry. They literally put their lives on the line just to entertain us and yet there's so little acknowledgement of their contributions. There is no Oscar for stunt work, but there should be. Netflix's adaptation of Jupiter's Legacy has secured one of the industry's hottest stunt choreographers, one who is no stranger to superhero action, Philip J. Silvera.
If you've read Jupiter's Legacy already, you know Frank Quitely's artwork leaps off the page, splattered with intense moments of sanguineous bloodshed. Quitely's graphic style is a perfect fit for Silvera, who says he's always been inspired by the visceral violence of films like Goodfellas and The Godfather Part II.
"My action in the past has always had a bit of a lead pipe brutality to it," confesses Silvera with a grin. Who better to choreograph the huge superhero brawls of Jupiter's Legacy?
School of Hard Knocks
Stunt work has always been Silvera's destiny. "I always wanted to do stunts, since I was a kid." Silvera's father was a boxer who was just about to go pro, but his fortune took a bad turn after he broke his arm and leg. Nevertheless, Philip inherited his father's fighting spirit. After starting his martial arts training in Karate, Silvera switched over to a Shaolin-based system of Chinese Kung Fu, which he studied for about 20 years.
Silvera got his first break in 1997. He was competing in a martial arts tournament in New York City when he was approached to do an off-Broadway show called Voice of the Dragon: Once Upon a Time in Chinese America. It was a groundbreaking show from maverick playwright and noted jazz composer Fred Ho. Silvera describes it as "a bit of an urban Peking opera, really a martial arts ballet." The show demanded he play a character, do martial arts, fight, fall, and flip on stage in front of a live audience.
As Silvera got deeper into the stunt world, his training diversified to accommodate a wider variety of roles. He studied Kali stick fighting and even trained with Cecep Arif Rahman (The Raid 2, John Wick: Chapter 3 – Parabellum). Beyond his film work, Rahman is a genuine master of the Indonesian martial art called Pencak Silat. As a stunt coordinator, Silvera must keep pushing his training forward so he can meet the demands of his next project. "I just constantly want to keep learning different things and evolving."
Silvera began officially working as a stuntman in movies and TV in 2005. You must work your way up to that director's chair, and in the stunt industry, that means you've got to pay your dues and take a lot of hard knocks. By 2010, he got his first action and fight choreographer credit with Star Wars: The Force Unleashed II. That was followed by several coordinator roles on more video games like DC Universe Online, Batman: Arkham City, and Star Wars: The Old Republic. After an uncredited role assisting with the fight choreography in Iron Man 3, he received his first credited movie fight choreographer role for Thor: The Dark World.
Changing the Game
However, it was his work on Netflix's Daredevil that caught the attention of both action and superhero fans. Silvera served as the Fight and Stunt Coordinator for the first two seasons of the series, and for action connoisseurs, he built a choreographic trademark for the show: the one-take fight scene. In Daredevil's second episode, Silvera orchestrated a showstopping one-take hallway slugfest and every fan of fight choreography took notice. That scene propelled action in streaming TV to the cinematic level of big screen fight choreography. "I think most people would be surprised to hear that we designed that one-shot sequence in Daredevil in a day and a half," Silvera says. 
Silvera followed up that hallway fight with a one-take stairwell scrap in season two (an episode directed by Marc Jobst, who also directed two episodes of Jupiter's Legacy). Hallway and stairwell fights comprise two of the three most common settings for extended fight scenes (the third being warehouse fights – there's an innumerable amount of these in actioners because it's just easy and cheap to find warehouse locations). Hallways serve as a device to narrow the playing field when one person must take on several opponents. The width of the hallway restricts how many adversaries can come at the hero at a time. Silvera's Daredevil hallway fight is held in the same esteem as the epic hallway fight in Chan-wook Park's Oldboy and is considered by many to be the greatest TV fight scene to date. 
Stairway fights showcase technical expertise. The footwork must be precise because one misstep can result in a devastating ankle twist for any stunt person. Additionally, falling down stairwells isn't easy. It requires top notch stunt people to stage safely. 
For Silvera to deliver such high-level fight choreography for the small screen was groundbreaking. Until the rise of streaming, most TV shows were more reserved with their action because it is a longer haul. A feature-length movie might contain half a dozen fight scenes, at best. An action TV series might stage that many fights in just two or three episodes, with plenty more over the course of the season. This takes an incredible toll on the stunt team, which is why many martial arts-themed TV series gas out before the season finale. This is what made Silvera's work on Daredevil so revolutionary at the time. Now, a half decade later, many TV shows have upped their action game, but they owe a great debt to Silvera and his team. "I really enjoyed bringing Daredevil to life. Charlie Cox was amazing. That was a pleasure working with Steve DeKnight on that show." 
Since then, Silvera has tackled several super powered action icons for the silver screen, like Deadpool, Terminator: Dark Fate, and the Jaegers in Pacific Rim: Uprising. Silvera has fond memories of sitting down with director Tim Miller while working on Deadpool and Terminator: Dark Fate and setting the parameters of superpowers in combat. "It's always that they're really good at this, but what's their weakness?" The audience will accept superpowers if the film stays consistent within its constructs. For Silvera, it's about finding a new challenge in every sequence. "What I try and do is always make it super relative to the characters and then make it so that the audience can feel something when they watch it."
Super Fights
Spanning eight episodes in Season 1, Jupiter's Legacy allows Silvera the space to stretch his choreographic legs. "I believe the action on our show pushes the story and the characters forward, as much as it does on any of the other shows I've worked on in the past," Silvera says. "And I'm super excited to see what fans think of the storytelling, the nonverbal storytelling, that happens within our action sequences." 
Non-verbal storytelling lies at the very heart of every action choreographer. The fight scenes are the climax of the story and that unspoken dialogue of conflict must rise to that or else an actioner will fail. "Nonverbal communication," stresses Silvera, "like The Empire Strikes Back, the scene that happens between Luke and Vader." His passion for the Star Wars franchise led him to direct "Star Wars: Scene 38 ReImagined." It was a reworking of the first lightsaber battle we ever saw – Obi-Wan Kenobi versus Darth Vader. Silvera spliced together footage from Star Wars: A New Hope with new fight footage. Doubling for Obi-Wan was Dan Brown (Black Panther, Spider-Man: Far from Home). Vader was Richard Cetrone, who was Ben Affleck's stunt double in Batman v Superman: Dawn of Justice. "Both are seasoned stuntmen in this business and have been around for a while," adds Silvera.
"Scene 38 ReImagined" was a huge success with over 33.5 million views on YouTube. "That was a bit of a test for myself, as a second unit director and a first unit director," says Silvera. "I wanted to see if I could add the emotional content into a sequence, that you know the character's full story from beginning to end."
From Comics Panels to Movie Frames
Choreographing superheroes has its own unique rules. A still comic panel is one thing. Setting that action into motion is another thing altogether. While comics are akin to storyboarding, when it comes to fights, a few panels describe that action. It then becomes Silvera's job to unravel that into a fight with a dozen or more beats.
One of his favorite examples for Jupiter's Legacy is the "Hilltop" sequence. In the original comic, it's a ferocious battle told over only four panels. Silvera saw that raw brutality and constantly built on that mindset with his choreography. 
"Those four panels really set the tone of our show and you'll see that in the first episode." He's especially proud of this Hilltop sequence, as well as many other favorites. Two more sequences that he mentions with special pride he dubs "Tokyo Alley" and "The Vault," but Silvera won't elaborate on those cryptic titles just yet. "I don't want to give away too much." Fans who've already read the comic can probably guess what he's talking about. "It starts off big and it stays that way up to the very end."
And for those fans familiar with Frank Quitely's spectacular art, Silvera adds "We do our best to match those panels and the emotion that he puts into them. He really set the bar for us. And I think we met it."
Superhero Boot Camp
As with many casts, most of the Jupiter's Legacy actors have minimal background in martial arts or stunts. However, Silvera prefers it that way. "You get to figure out their characters and their movement in a different way." He'd have ideas for them and then see something natural come out of their body language, which he would cultivate into something new and exciting. 
The cast was put through vigorous training where Silvera says they all worked extremely hard. "Literally a month of bootcamp with the lead actors training every day with our fight team and fight coordinator." The cast would come in and work on basic movements and fight drills. "And then they would ride the wire for hours because there's a lot of flying in the show."
As Supervising Stunt Coordinator, Silvera is quick to credit his fight and stunt rigging team. Micah Karns is the fight coordinator and Jayson Dumenigo is the 2nd Unit Stunt Coordinator and Key Rigger, a critical role for a flying superhero show. The threesome has worked together since Daredevil and teamed up again for several successive projects including Deadpool, Terminator, Pacific Rim, and Love, Death & Robots. 
"We have such a tight workflow at this point, from the years of us working together, that we know how to expedite things," Silvera says. "We know how to keep up the pace. And we're definitely doing seven days a week on this show." The stunt team worked hand-in-hand with the cast for months to achieve the action that they wanted. "I'm super excited to see them and what they did come together on screen."