Features
Inside No. 9: the road to Dead Line's devilish deception
Inside No. 9's live Halloween episode showed that surprise remains the heart of this experimental series. Spoilers…
Warning: contains major spoilers for Dead Line
Devilment is to Inside No. 9 as the dark is to ghost stories. The anthology series ("apparently it's a BBC Two sort of comedy thing") has played all number of tricks on, and games with delighted viewers. There are the story twists, of course, expertly designed to wrongfoot and shock. But that's not all.
It's well known to Inside No. 9 fans, for instance, that each episode features a silver hare statue, tucked away somewhere on set or glimpsed momentarily on screen. Spotting it each time adds a sliver more fun for devoted viewers. Deepening the game, series four episode Tempting Fate was devoted to the statue's backstory, giving loyal fans another thrill.
Then there was the life-imitating-art day in February 2017 when The Guardian newspaper welcomed a new setter for its cryptic crossword: Sphinx. That wasn't only the pseudonym of the crossword setter played by Steve Pemberton in the episode airing that day; it was the very same crossword solved as a plot point during the episode. The clues, with guidance from setter Alan Connor, had been written by Pemberton himself.
Over twenty-five original episodes, Inside No. 9's creators have become masters of misdirection, a talent they demonstrated in style with live Halloween episode Dead Line, cleverly directed by Barbara Wiltshire. In an experimental half-hour that exploited all the potential of a live broadcast: they got us. They got us good.
It was a bold gambit. The episode began as we'd been led to expect, with Pemberton's character returning home to Flat No. 9. The lighting was high-key and soap-like, and all went as expected until 4:22 when the briefest of sound blips was heard. Forty seconds later, upon the entry of Shearsmith's character, the sound dropped out for a full half-minute.
It came back though. Phew. The audience (a million of us, according to Broadcast web editor Robin Parker) were given a minute and a half to relax once again into the story, the one we'd been promised in weeks of press releases—a man finds a mobile phone in a graveyard and tries to contact the owner, with chilling consequences. Ten seconds later, the sound dropped again. The episode seemed to stop, while a technical error plate was displayed and an announcer asked everyone to bear with them while some easy listening muzak played. Then the story came back with no sound, then disappeared again, and then the announcer gave the grave news that the live episode couldn't continue and a series one repeat would be on in its place.
Such a shame. All that hard work and the technology lets them down. As promised, A Quiet Night In started, and played as normal for a minute and a half. Of the one million people watching, a fifth switched off.
They missed something very special – a deftly constructed, intertextual barrage of scenes that went from playing a game of blink with its audience to self-satire ("I've got no interest in television have I?", "the ending is totally impenetrable") and classic on-screen horror. It was interactive, self-aware, and made experimental use of a mass of existing footage and rumours to tell its ghost story. (As well as elliptically telling the salient bits of the cover story, about Arthur, the vicar, the mobile phone and the head in the microwave. Ingenious.)
If you didn't watch live, you've sort of blown it. The episode is available on BBC iPlayer now, but more as testament to the experiment than as the thing itself. (Once legitimised on the streaming service, the breakdown conceit would be instantly revealed as a ploy.) It was pure mischief, and the devilment began long before broadcast.
Three weeks ago, the BBC held an Inside No. 9 press day at Abney Park Cemetery. Following a gravestone photoshoot for the live episode, Shearsmith and Pemberton met the press, kept a straight face, and didn't let on for an instant. They told us about their characters and the episode's premise, crossed their fingers that it would be alright on the night, and then left us to toddle off and unwittingly spread their cover story. Which, good little devotees, we duly did.
Where would the episode be filmed? The studio booking hadn't been finalised yet, they told us. Actors: never trust 'em.
It almost certainly had been finalised, but revealing that filming would take place at Maidstone Studios in Kent rather than where the episode turned out to have been set—Granada Studios in Manchester—would have spoiled the premise of one of TV's most audacious half-hours. The episode's secret setting was a major conceit.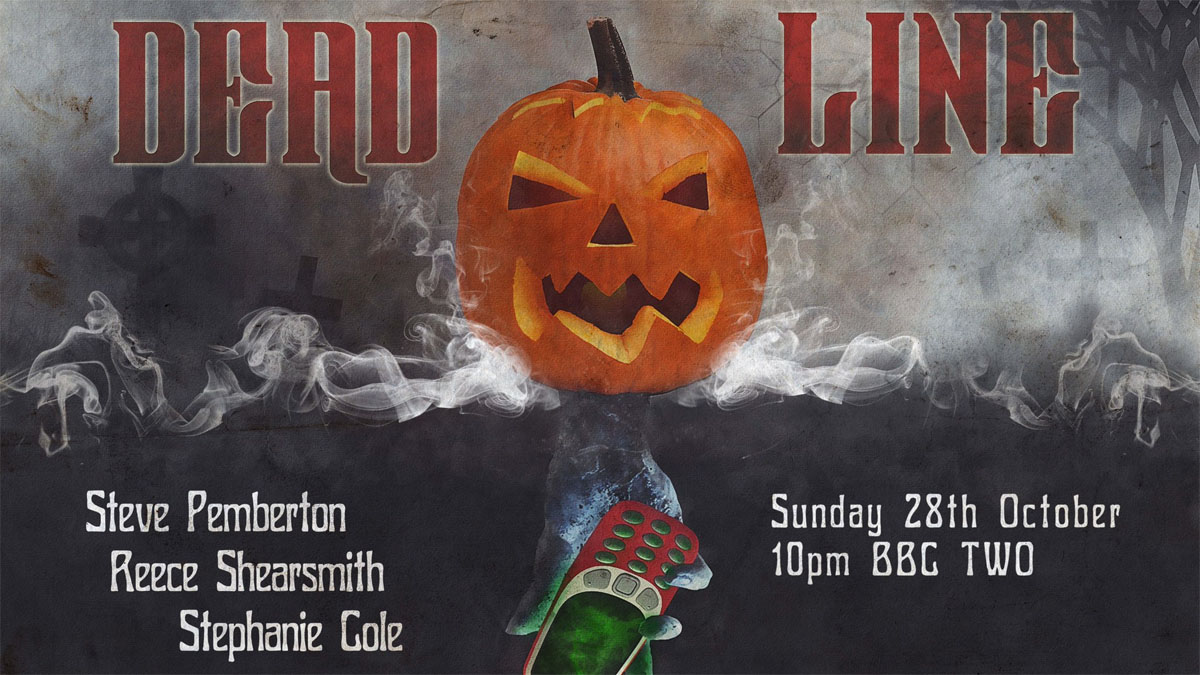 By spooky coincidence, in the days running up to this year's live Inside No. 9 episode, Granada Studios were once again the subject of a story in The Sun newspaper. Rumours that the studios were haunted, wrote The Sun last week, had caused Inside No. 9's creators to pull out from filming the live episode there.
"According to The Daily Star, stars of the comedy series Steve Pemberton and Reece Shearsmith have decided not to film their live Halloween special at the studio, after hearing it was haunted.
The actors were reportedly freaked out by rumours that Jean Alexander and Pat Phoenix, who played Hilda Ogden and Elsie Tanner on the soap, often visit the set as ghosts."
That could be the reason the Inside No. 9 live special wasn't filmed at Granada Studios. A better one might also be that the studios closed for broadcast in 2013.
Where did The Sun and their quoted source, The Daily Star, get the Inside No. 9 Granada Studios story? Is it possible they were fed it as part of the show's mischief…
More on that. Granada Studios in Manchester, the backdrop to years of Coronation Street and much more, has a reputation among believers for being cursed. In 2005, Living TV's Most Haunted filmed an episode there (clips of which were included in Dead Line) in which it was suggested that the studios were built on the set of a Victorian graveyard. A medium told Corrie actors Sue Cleaver and Simon Gregson that he could sense the ghost of a crew member who had died a decade earlier.
In 2014, when Granada Studios were reopened as a tourist attraction, the Daily Star had reported a tour guide as saying they had seen "visions of a child and a woman dressed in Victorian clothes" at the studio. The Liverpool Echo reported the story on the Studios' rumoured supernatural activities in April 2017. Just those 'ghosts' were spotted hidden half out of sight in several of Dead Line's post-technical breakdown scenes.
A bit of TV footage filmed at Granada Studios in 1992 and also edited in to Dead Line as 'proof' of the studio curse was the clip from Bobby Davro-hosted gameshow Public Enemy Number One. The clip, which was unaired at the time, showed a real on-set accident in which Davro narrowly escaped serious injury. With his head and hands in a pillory, Davro fell forward onto his face, unable to break his fall. Keith Chegwin tells Shortlist the whole story here.
The studio 'curse' continued with more real-life footage of the fire that ransacked the Botany Warehouse in which the costumes, props and scenery for ITV's pricy period drama The Jewel In The Crown were being stored.
A combination of truth, lies, expertise and sheer brass neck went into Dead Line. The secret was kept, and expert use was made of the press machine. See Pemberton and Shearsmith's appearance on BBC's The One Show on Thursday the 25th of October (available to see on BBC iPlayer, from about 18:45). In between giving out the donation numbers for Children In Need's Rickshaw Challenge and telling travel nightmare stories, the pair lay out the Dead Line cover story about Arthur and the mobile phone. They're asked, as we saw in the episode, if they believe in the supernatural, and deny it. Was the question a lucky moment for Inside No. 9's producers, or a deliberate plant to provide the ironic footage included in Dead Line's denouement?
While keeping the surprise under wraps, Pemberton told press that things going wrong on live episodes was "what people want to see". Inside No. 9's audacious Halloween special fulfilled exactly that urge, while showing us something going very, very right. Bravo to all involved.
Inside No. 9 returns to BBC Two for series five in 2019.