Reviews
Inside No. 9 Series 5 Episode 5 Review: Thinking Out Loud
Inside No. 9 gets bolder and more slippery by the week. Major spoilers in our latest series 5 review.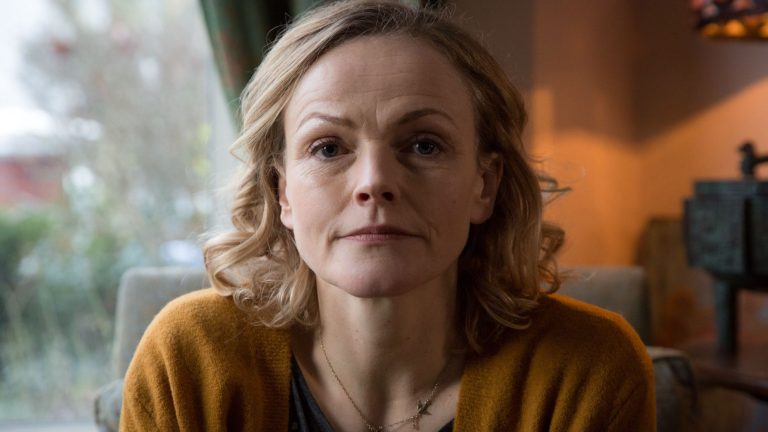 This Inside No. 9 review contains spoilers.
Inside No. 9 Series 5 Episode 5
If Inside No. 9 was a takeaway pizza company, it'd go bust inside a week; what's on the menu is so rarely what's delivered.
Take the opening to this episode. A sentimental piano score follows an old man to a front door. Surrounded by hearts, we watch him awkwardly record an online dating video that shows him to be unreconstructed and rough around the edges but – as the musical prompts tell us – endearingly so. A widower looking for a lady friend. Bless. All signs point to rom-com sweetness.
25 minutes later and we're watching that same man bleed to death from multiple stab wounds after one of Inside No. 9's most complicated and ambitious stories yet. The sweetness and Alan Bennett-isms were just a disguise. The real story is another murder-revenge played out in the most abstract location yet – the human mind.
"Thinking Out Loud"'s conclusion was the only option that wouldn't have broken Inside No. 9's number one rule. This show's fidelity to its single-location limit meant that Galen, Angel, Aidan, and Diana had to be products of Nadia's dissociative identity disorder in order for the story to meet the format requirements. If an Inside No. 9 opens in a suburban London semi-detached, it can't just trot over to Louisiana or pop out to a stately church. And this one didn't. The dating video wasn't filmed at a number nine, but it was watched in one – Nadia's, the front door Bill walked up to in the episode's flash-forward opening.  
Directed by Steve Pemberton (his first solo after jointly directing "Nana's Party" and "Cold Comfort") with his Whitechapel co-star Phil Davis alongside Maxine Peake, Ionna Kimbook, Sandra Gayer, and Sara Kestelman in the guest cast, for most of its runtime "Thinking Out Loud" was boldly obscure. Being kept in the dark as to what we're really watching until the end is an Inside No. 9 tradition, but most episodes at least adopt an alter-ego in the meantime. This one was difficult to pin down almost from first to last. So long, casual viewers.
A puzzle designed for careful study, a first watch will have sent viewers sniffing along scent trails after repeated words. The names "Doreen" and "Angel," references to parents and daughters… Try as you might to draw connections between the monologues, the links don't stick. Only on a second viewing does the scaffolding reveal itself. The script and staging contain a level of detail that relies on fans being the type of nerdy obsessives who like homework.
Well, as luck would have it….
In a ruled notebook, draw up a seven by seven grid listing the character names in the first column and heading the subsequent ones with "Doreen," "mother," "rabbit," "pig," "stained glass," and "head." Or don't bother, but definitely do rewatch to see how Galen and Angel's monologues mirror each other, despite one being full of mama and varmint and howdy-doody and the other being full of hashtags, affirmations, and uptalk. He mentions skinning a rabbit, she giggles about a rabbit vibrator. He feeds his parents to the pigs, she's called a pig by an online commenter. Variations on "mother" multiply throughout. Clues are everywhere, with references to domestic abuse and the subconscious, brains snapping, hearing voices, getting into folks' heads and giving people "a piece of my mind."
As well as the Galen/Angel, Nadia/Diana/Aidan anagrams, Galen's surname Landry is also an anagram of Bill's surname Ryland. We're told that Galen's mother's middle name was Grace, as in Diana's first song, "Amazing Grace." See too the recurrence of stained glass in Nadia's Tiffany lamp and front door, Diana's church windows, and what looks like a reflection on the study wall behind a dying Aidan in his final appearance (a movingly straight performance from Reece Shearsmith to contrast with the exaggeration elsewhere). That, and the psychology book visible behind Aidan. offer another clue as to what's really going on.
It's all there, is the point. First to confound and then to amuse. Devilishly constructed and crafted for your entertainment. Method in the madness!
Read Louisa's review of the previous episode, "Misdirection," here.