Reviews
Inside No. 9 Series 7 Episode 2 Review: Mr King
Inside No. 9 offers a modern take on a longstanding tradition in the delightfully sinister 'Mr King'. Spoilers.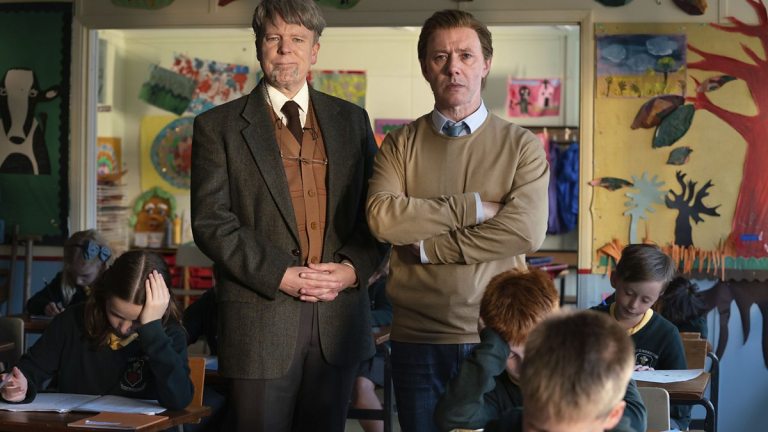 Warning: contains spoilers for Inside No. 9 episode 'Mr King'.
They didn't burn him! Drowned, strangled and dismembered, yes, but Class 9 of Man Sancta Ysgol stopped short of going full The Wicker Man on poor Mr Curtis – ex-primary teacher, current human bean. What a delightfully nasty ending that was, a human sacrifice in Pritt Stick, doilies and crepe paper, conducted by beaming cherubs dinging triangles in happy contemplation of bloodshed to come.
More surprising perhaps than this episode's denouement was that it's taken until now for Inside No. 9 to offer up an entry for the folk horror canon. Why the wait? Given its creators' previous work, this modern-day tribute to Robin Hardy's sinister seventies classic and the likes of The Blood on Satan's Claw felt overdue.
Was the idea of a local school for local people where the old ways die hard thought too close to The League of Gentlemen for comfort? If so, then like Mark Gatiss' appearance last episode, it's satisfying to see that barrier fall and the past allowed to rush back in. In this anthology, Reece Shearsmith and Steve Pemberton have long proved themselves to be ponies in possession of any number of tricks. There can be no accusing these two of repetition.
'Mr King' began with a waving field of corn and a classroom decorated with charming nature-themed artwork that becomes much less charming and much more ominous on a second viewing. It introduced us to Reece Shearsmith as new teacher Mr Curtis, an outsider in a remote and insular Welsh community untouched by the modern world. He's the straight man to Steve Pemberton's jovial bumbler Mr Edwards, a character whose clumsiness with words and technology mark him out as a harmless clown. More fool us.
Initially, it's Curtis who seems to be the potential threat to this rural idyll. His angry outbursts, pill-popping and doctor-mandated gentler pace of life hint at unpredictable malevolence. As the half-hour progresses, Shearsmith's character goes from threat to hero -tackling head-on what he thinks is a child abuse cover-up – and then finally, from hero to victim.
Not that the pupils of Class 9 see it as such. The role of Corn King in their harvest festival is clearly a position of honour. Being sent back to the goddess' womb tomb to reinvigorate the soil is only a happy privilege – just look at their smiling faces! That shift in register as their assembly rehearsal switched from cutesy eco-consciousness to rarefied Pagan talk of sacred rites was priceless. And then the John Barleycorn rendition. Talk about children of the corn.
Annette Badland's school cleaner went through a similar transformation, from comedy simpleton to shimmying priestess of evil. Great work from costume designer Yves Barre in that final procession. (I wonder if that corn king head-dress is currently in the home of either creator ready for this Halloween?)
Airing on the cusp of May Day, the date of Summerisle's own ancient rite, this episode also couldn't have been better timed. It'll still be fresh in the minds of anybody who hears the jangle of a Morris dancer's bell or the squeeze of an accordion next week. All that's left to say: Inside No. 9, you did it beautifully.
Inside No. 9 continues on Wednesday the 11th of May on BBC Two at 10pm.