Features
How The Superman & Lois Season 2 Finale Sets Up Season 3
The big season finale also dropped a bombshell about what's coming in Superman & Lois season 3!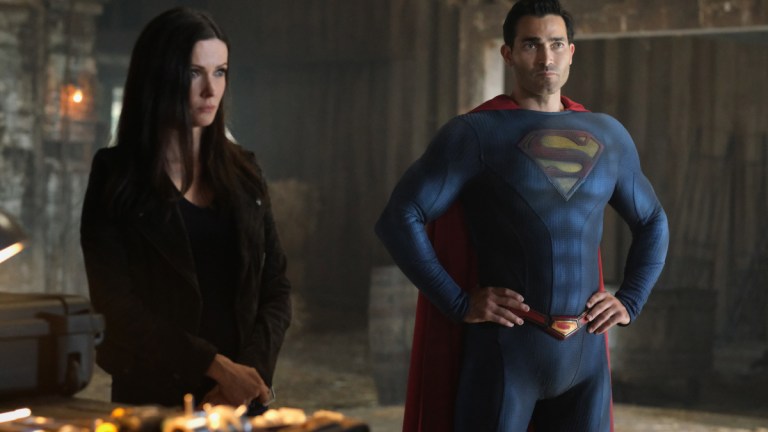 This article contains Superman & Lois spoilers.
Superman & Lois Season 2 Episode 15
The Superman & Lois season finale is so jam-packed that it has multiple post-scripts for nearly every major character on the show, just to wrap up everyone's emotional journeys. But in the case of John Henry Irons, his story takes a new turn, one that will have major implications for Superman & Lois season 3.
We see Irons meet up with a surprise guest star: David Ramsey's triumphant return to Smallville as John Diggle. Diggle is still working for ARGUS (although, as it turns out, this isn't quite the Diggle of Arrow fame…we wrote more about that here), and he hands Irons a folder with information on a notorious criminal named Bruno Mannheim. And why is Mannheim so important that Diggle sought out Irons? Because he's the man who killed this world's version of John Henry Irons. Essentially, Diggle is enlisting Irons to help solve his own murder in Superman & Lois season 3.
Who is Bruno Mannheim?
Bruno Mannheim may not sound like an inspiring supervillain codename, but this is a character with an impressive pedigree, and ties to one of the greatest villains in all of DC Comics history. Mannheim was created by Jack Kirby during his incredible reinvention of the Superman's Pal, Jimmy Olsen comic series in the early 1970s, which was conceived as part of his wider "Fourth World" epic for DC. Kirby also created Intergang, a Metropolis-based organized crime outfit who have their weapons supplied by Darkseid and the denizens of the planet Apokolips.
Fans of Superman: The Animated Series will definitely be familiar with Mannheim and Intergang, as they were a running theme in much of that Kirby-influenced show. Bruno Mannheim has never really been given a high profile shot in live action, other than a single episode of Smallville which didn't really do him, or Intergang, justice. But we've heard Intergang's name mentioned on Superman & Lois before, notably in the season one episode, "Haywire."
So how did showrunner Todd Helbing decide to make Bruno Mannheim a central piece of Superman & Lois season 3?
"Every year, at some point, I talk to DC, and there's a deck that's created that tells us which are the characters that we can explore" Helbing says. "I put in requests [and] there are roads that I can go down, sometimes fully, sometimes half, sometimes not at all. If it's not at all, then we just come up with a different version of it."
But of course, if Bruno Mannheim and Intergang are going to factor into Superman & Lois season 3, then surely it means we'll be introduced to the concept of the New Gods, Apokolips, and other Kirby Fourth World concepts, right? Well…Helbing is understandably a little cagey.
"Bruno is going to be a huge part of season three and is going to be huge impact on multiple characters," he says. "And if you watch season one and season two…there are a lot of pieces in place that could take us to a certain spot. But you know, we always have to weigh that against the fact that we want the show to look cool. So there's an affordability with certain characters. If they're not going to look cool, then why do it. So I don't know, it's yet to be seen. But there's some some crumbs that have been laid that could lead to cool places."
And in fairness to Helbing, Superman & Lois has been adept at subverting audience expectations and remixing characters and concepts in unexpected ways. Nobody expected this season to feature Bizarro World and the Parasite twins, for example. Knowing Superman & Lois, the third season will find even more ways to surprise us.
Superman & Lois season 3 will arrive in 2023. We'll have more from Todd Helbing about the secrets of Superman & Lois season 2 soon, here and on our DC Standom podcast!