Features
How Star Trek: Picard Lured Back The Next Generation Stars
Next Generation vets Brent Spiner and Marina Sirtis return for Star Trek: Picard.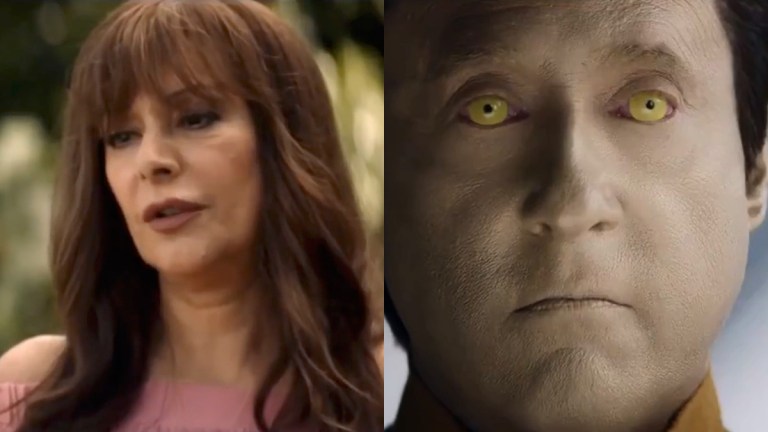 The minute that Brent Spiner and Marina Sirtis enter a room, the place lights up with the chemistry and rapport that they developed some 33 years ago and have maintained ever since. The two actors first struck up their friendship as the android Data and ship's counselor Deanna Troi on Star Trek: The Next Generation, spending seven seasons on the air before the TNG cast graduated to the big screen, where their four-movie run concluded in 2002 with Star Trek: Nemesis.
But now Spiner and Sirtis — along with fellow TNG star Jonathan Frakes (Commander Will Riker) and a handful of other Trek veterans — are back in the Trek universe for the first time in 18 years on Star Trek: Picard, the new CBS All Access series revolving around the captain of the Enterprise-D, Jean-Luc Picard (Patrick Stewart). As of this writing, Data has only appeared in a series of vivid dreams/visions experienced by Picard, while Troi and Riker — still together after getting married in Nemesis — have yet to make their debut.
read more: The Next Generation Episodes to Watch Before Picard
"I was surprised, but pleased," says Spiner about getting the call to appear in the series. "And convinced by the pedigree of the people we were going to work with, or potentially going to work with, that maybe it was a good idea to come."
Both fan favorites, Spiner and Sirtis are ensconced at a hotel in Pasadena, California to speak with the press about Picard, while fully aware that little is known yet about how their roles in the show pan out. "We find out a little bit," says Sirtis when asked what Troi has been up to for these 18 years. "We don't find out everything. The thing that I was most thrilled about was that I didn't have to wear a space suit."
read more: Short Treks — How Children of Mars Sets Up Picard
Sirtis jokes that the rest of the TNG cast found out about the show from Stewart himself, who "put his hand in his pocket for the second time in 30 years to buy us all dinner" as a way to "apologize" that none of them (at first) were asked to appear on the show.
"It was his guilt," riffs Sirtis as Spiner nods and laughs beside her. "I think he really felt bad that he was doing Picard and we weren't part of it. Because we were an ensemble, you know? I remember talking to Michael Dorn (TNG's Worf) about it and saying, 'He felt guilty. He bought us dinner to make up for it.' And Dorn was like, 'I don't think so.' I was like, 'Well, you're not English. You don't know.'"
But Sirtis admits that when the offer did come to suit up as Troi once again, she jumped on it eagerly. "I remember seeing Carrie Fisher, God rest her soul, on the Today Show and the interviewer asked, 'Was it a difficult choice to return as Princess Leia?'" Sirtis recalls. "And Carrie said, 'I'm a 60 year old actress in Hollywood. People aren't exactly throwing scripts at me.' Which is kind of the place that I'm in. I think it's different for boys, but for women, it's very different. So yeah, it's not like I'm ducking scripts that are coming my way. So it's a job as well as being fantastic to work with my pals again."
Surprisingly, Sirtis remembers being nearly dropped from TNG in its first season, explaining, "I was this psychologist/empath on the bridge and they didn't know what to do with me. I got written out of shows: 'Oh God, if she's on the bridge when that happens, she can sense what's happening. So we better get rid of her. Just write her out of the episode.'
"There was a point in the first season where Gene (Roddenberry, ST: TNG creator) felt there was one too many women on the show. Never one too many men. Have you noticed how it's one too many women? Don't get me started. Basically, there were three, and Gene went home one day and said to Majel (Roddenberry), 'We've got one too many girls, we're going to have to get rid of one.' They're not going to get rid of the security chief and they're not going to get rid of the doctor, so the psychologist was going to go. It wasn't that important to him, let's be honest."
read more: Where Star Trek: Picard Fits in Federation History
It was the departure at the end of the first season of Denise Crosby, who played security chief Tasha Yar, which shifted the balance back in Sirtis' favor: "It was Denise quitting that saved my job," she reveals. "She quit and solved their problem."
Both Spiner and Sirtis are impressed with the production values on Picard, as television and streaming have ramped up the quality of their offerings to compete much more directly with movies. "God knows they're spending a lot more money than we used to," says Spiner. "Really, it's like budgets are incredible. If we had these budgets, we'd still be on the air. But I love what they're doing with the show and how it's going to look."
That doesn't mean, however, that even a shiny new product like Picard can't reach back into the closet for a shortcut or two. "I got the call (about the show) and then I didn't hear anything," says Sirtis. "So I called and I said, 'You do know that I wore a wig and black contact lenses.' And they went, 'What? What do you mean you wore a wig?' And I was like, 'You know what? I think I stole them and have them. Let's just get the contact lenses cleaned because they've been sitting in a lens case for 15 years or whatever it is.'  So (I wore the same contacts and wig) that I wore in Nemesis."
Star Trek: Picard premieres this Thursday (January 23) on CBS All Access.
Don Kaye is a Los Angeles-based entertainment journalist and associate editor of Den of Geek. Other current and past outlets include Syfy, United Stations Radio Networks, Fandango, MSN, RollingStone.com and many more. Read more of his work here. Follow him on Twitter @donkaye