News
The How I Met Your Father Idea is Good, Actually
Hulu has announced a How I Met Your Mother sequel starring Hilary Duff. Here's why How I Met Your Father just might work.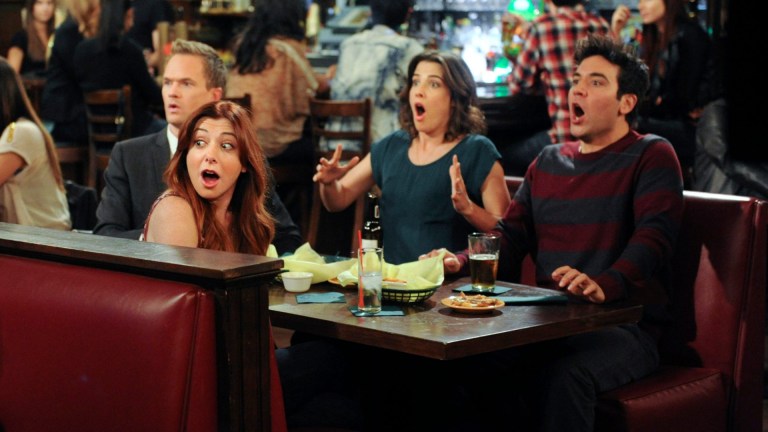 At first, it admittedly seems like a bad late April Fool's prank. Alas, it is not.
Per Deadline, Hulu today announced that it had commissioned a full-season, 10-episode order for a sequel to the hit CBS comedy How I Met Your Mother. To switch things up a bit, this iteration will be called How I Met Your Father and will star Hilary Duff (Lizzie McGuire) as Sophie, a woman in the future who is telling her son the story of how she met his father. 
The new series comes from This Is Us showrunners and Love, Victor creators Isaac Aptaker and Elizabeth Berger. HIMYM creators Carter Bays and Craig Thomas are onboard as producers, as is Duff in addition to holding down the starring role. 
"I've been incredibly lucky in my career to play some wonderful characters and I'm looking forward to taking on the role of Sophie," Duff said in a statement. "As a huge fan of How I Met Your Mother, I'm honored and even a little nervous that Carter and Craig would trust me with the sequel of their baby. Isaac and Elizabeth are brilliant, and I can't wait to work alongside them and all of their genius. Just fangirling over here getting to join the Hulu Originals and 20th families. I realize these are big shoes to fill and I'm excited to slip my 6 ½'s in there!"
One could be forgiven for reacting to this news with annoyance or even outright horror. It has all the hallmarks of only the most creatively bankrupt decisions. A studio has taken a well-liked property, changed precisely one noun in the title, and tried to repackage it to you as new. That's not even to mention the fact that HIMYM has a toxic legacy thanks to a deservedly loathed series finale.
But if we try to put aside all the baggage for a moment, maybe we can appreciate that this idea might actually be…good?
Or at least I think it might be. And so too did American actress, director, visionary, celestial being Greta Gerwig. Real terminally online TV heads will recall that this isn't the first time a studio has attempted to grab the low-hanging fruit of "How I Met Your (Insert Parent Here)." Back in 2014, just as the original show was wrapping up, CBS commissioned a frustratingly titled spinoff called How I Met Your Dad (why they chose "Dad" other "Father" in that title will never make sense) with Gerwig set to write and star.
Though How I Met Your Dad came before Gerwig wrote and directed 2017's Lady Bird or 2019's Little Women, she was already an indie cinema darling with an iconic role in 2012's Frances Ha under her belt. To put it simply, even in 2014, Greta Gerwig was very comfortably above this material. But she signed up for it anyway and the show actually made it pretty far into production! Look at this footage from the actual pilot:
And get a load of this amazing DVD screener box art, highlighting a surprisingly excellent cast:
Despite being a transparent money and zeitgeist grab and premiering so soon after HIMYM's terrible finale, How I Met Your Dad made it pretty far all things considered. And I suspect it made it so far for the same reason that the project has popped up once again: it's a good idea.
Before losing steam at the end, How I Met Your Mother was really a charming sitcom. That is largely due to the talent of its cast and appeal of its characters (yes, even Ted Mosby) but it's also due to the strength of its core premise. How I Met Your Mother was a show about the present (roughly 2005 through 2014) told from the perspective of the future.
By narrating his own story years in the future (2030, which is scarily now only nine years away), Ted Mosby (voiced by Bob Saget) got to edit and tailor his story to his will. This meant cutting out some less savory aspects for children to hear (sandwiches instead of marijuana) or casting himself as the hero when he was the villain.
How I Met Your Mother's main narrative of five young friends finding themselves in the big city was often relatable and entertaining, but it was that meta narrative of a story being told from a flawed memory that made it truly compelling. To a certain extent, we are merely the stories we tell about ourselves to other people. And that's what How I Met Your Mother was all about.
Shows about (usually white) friends in New York City are an inescapable part of the TV landscape. From Seinfeld to Friends to Girls, they are simply never going to go away as long as there is television and as long as there is New York City. If they're to be a fact of life, they might as well come along with narrative devices as creative and flexible as HIMYM's.
Now another group of talented folks will have the chance to pick up that narrative device and run with it. Aptaker and Berger are very capable television storytellers, as evidenced by their previous work. Duff is an appealing presence and has outlasted the stigma of Disney child stardom for a reason. Together, they've earned the opportunity to tell a new story with a familiar framing device.
And if none of that is convincing, just remember that if an idea is good enough for Greta Gerwig, it's good enough for all of us.