Reviews
Hoops Review (Spoiler-Free)
Netflix's new animated series Hoops, starring Jake Johnson, is a total brick.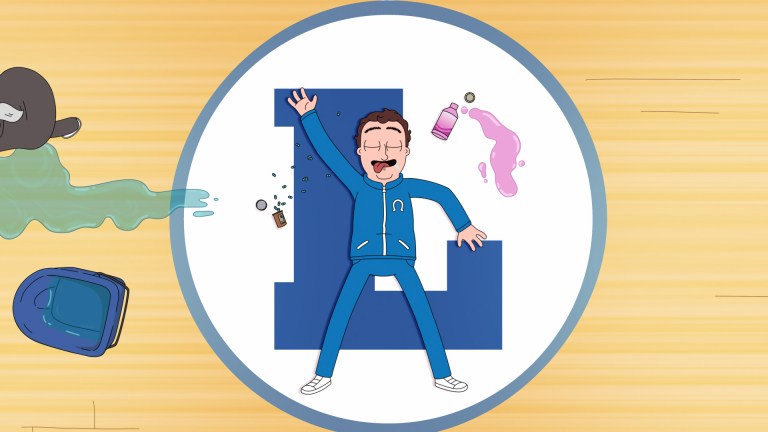 Coronavirus has halted production on many projects in Hollywood, but not animation. Animated series have been largely unaffected by shutdowns, with animators and voice artists alike being able to perform their duties from home. Though Netflix claims that their 2020 slate will go ahead uninhibited, it's fair to assume many other networks and streaming services will be turning toward animated projects to fill programing schedules. Many animated pilots that would have had an uphill battle to be picked up by a network may just find themselves in luck.
It's amazing that Hoops isn't one of those last-minute replacement animated series. The new adult cartoon from Netflix and creator Ben Hoffman (The Ben Show) is a low-brow, unfunny airball from the streaming service that typically delivers high-quality animated fare like Bojack Horseman and Big Mouth. A lazy, basketball rehash of The Bad News Bears, Hoops centers on Ben Hopkins (Jake Johnson), the loud-mouth, jerk-off coach of a Kentucky high school basketball team that's as bad as the comedy on display here. Ben is the son of a former NBA player (Rob Riggle) and desperate to get out of his shadow. He's also reeling from a pending divorce with his wife Shannon (Natasha Leggero) and the fact that she's been dating his best friend and assistant coach Ron (Ron Funches). The only hope for Ben is Matty (A.D. Miles), a 7-foot-tall high school student whom Ben tries to recruit to the team, get ready for this gut-buster, by using a prostitute.
"It's a comedy for comedy's sake. There's not a big message to this. I don't think you'll learn anything from watching this," is what star Jake Johnson said during the Comic-Con@Home 2020 panel to promote Hoops, and boy, was he not lying. Except for the comedy part. Hoops has absolutely zero to offer in terms of themes, messages, creativity or laughs. It is devoid of value. It's fitting that the show takes place in a school, because it drops the f-bomb like a sixth grader that just learned a new swear word.
Anyone unfortunate enough to fire up Hoops on a whim will be met with an unpleasant torrent of vulgarity and crass dick jokes. It's not that dick jokes can't be funny! Fellow Netflix series like the before-mentioned Big Mouth and American Vandal have shown that with the right intention and effort, crass material can be award-worthy. Hell, even Ben Hoffman has shown he can navigate "offensive" comedy to some chuckle-worthy results while inhabiting his country music persona Wheeler Walker Jr. Hoops just feels like warmed-over attempts to be shocking from South Park's early seasons. The only episode of worth is "Death," a late-season episode that uses a decent flashback device, but that should be considered faint praise.
If there's any kudos to be given, it's to the voice cast. Cleo King makes the most of her material as horned-up principal Opal and A.D. Miles adds a touch of authenticity and pathos to Matty. Sam Richardson, who once upon a time starred on Veep, a show that knew how to spin gold out of profanity, perhaps gets the only laughs as one of the few redeemable characters, a benchwarmer on Ben's team. New Girl fans will also get a brief spark of joy hearing Johnson interact with old castmates Max Greenfield, Hannah Simone, and Damon Wayans Jr., but trust, that joy is fleeting.
There's no character development, interesting plot decisions, or late-season revelations. Ben starts as a narcissistic shithead and ends that way. It's unclear why any of the characters, or audience for that matter, would put up with this guy. The best metaphor for the Hoops viewing experience is one of its recurring jokes. Ben is obsessed with the film Little Man Tate, Jodie Foster's schmaltzy directorial debut. The joke isn't very funny the first time we hear it, and becomes more grating and annoying the more that it reappears. Just like Hoops.