News
Homecoming Season 2 Trailer, Release Date, Cast, Story, and News
Janelle Monáe steps into Julia Roberts shoes as Homecoming season 2 is set to arrive on Amazon Prime in May.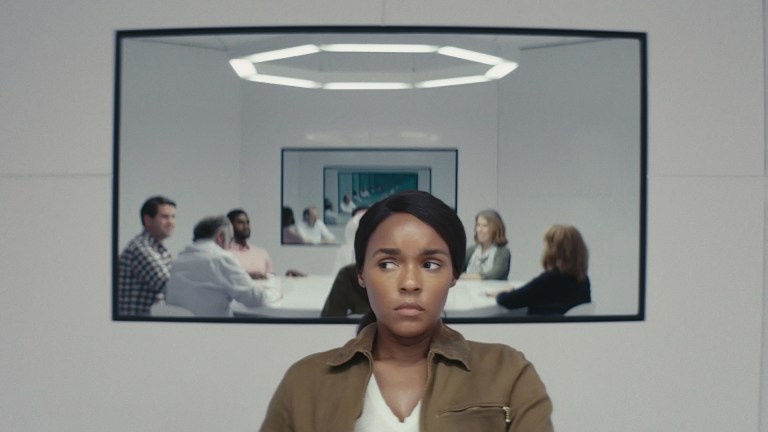 Homecoming season 2 is on the way for another year of mystery and pelicans.
Homecoming is based on a podcast of the same name and is produced by Mr. Robot creator Sam Esmail through his Anonymous Content production label. Season 1 of the show told the story of the Homecoming Transitional Support Center, a private facility working to treat veterans arriving home from war (and score a fat government contract in the process). Through caseworker Heidi Bergman's interviews and interactions with young veteran Walter Cruz (Stephan James), it is slowly revealed that Homecoming's mission seems more nefarious than previously realized.
Eli Horowitz and Micah Bloomberg will continue on as co-showrunners for Homecoming season 2. Kyle Patrick Alvarez will direct all episodes.
At first glance Homecoming Season 1 appeared to tell a very complete story, rendering any future seasons unnecessary. But a second season has always been in the cards for Homecoming. Amazon picked up the project as a two-season deal with Julia Roberts committing to only one of those seasons. The original podcast on which the show is based did indeed get a second season (though the episode numbers remain 1 through 12 thorugh two seasons). According to Esmail, the show has already deviated far past the podcast's original concept.
"We've deviated from very much of the podcast, so [season two of] the podcast doesn't really have anything to do with the way the show is going. We're working on a second season, but we have a very different trajectory for our show," Esmail told The Hollywood Reporter prior to season 1's debut.
Homecoming Season 2 Trailer
The first full trailer of Homecoming season 2 has now arrived and its in keeping with the first season's spooky mystery vibes.
Homecoming Season 2 Release Date
Homecoming season 2 will premiere all episodes on Amazon Prime on May 22, 2020.
Homecoming Season 2 Cast
The show that many knew in its infancy as "the Julia Roberts Amazon Prime show" will no longer feature Julia Roberts. The Hollywood Reporter has confirmed that Julia Roberts will not be returning to Homecoming Season 2. Roberts will remain on as an executive producer but will not reprise her role as Homecoming facility therapist Heidi Bergman. Stephan James, however, will return as recovering amnesiac Walter Cruz. Hong Chau, fresh off an appearance on Watchmen will return as well as Audrey Temple, suddenly a big part of the Geist corporate ladder.
The biggest addition for Homecoming season 2 is the casting of Janelle Monáe as the series new lead. Monáe will play a character who awakes in a rowboat, adrift in a lake with no memory of how she got there or even her name. Also joining the cast are Oscar-winner Chris Cooper as Leonard Geist and Joan Cusack as Francine Bunda.
Homecoming Season 2 Story
The plot description for Homecoming season 2 provided by Amazon Prime reads:
The critically-acclaimed series Homecoming returns for its second season with new twists and an exciting new star, Janelle Monáe. Her character wakes in a rowboat adrift a lake, with no memory of how she got there — or even who she is. Her ensuing search for identity will lead her into the heart of the Geist Group, the unconventional wellness company behind the Homecoming Initiative.