Reviews
His Dark Materials Season 2 Episode 5 Review: The Scholar
His Dark Materials knows it's onto a winner with Ruth Wilson's Mrs Coulter, so keeps inventing places for her to pop up...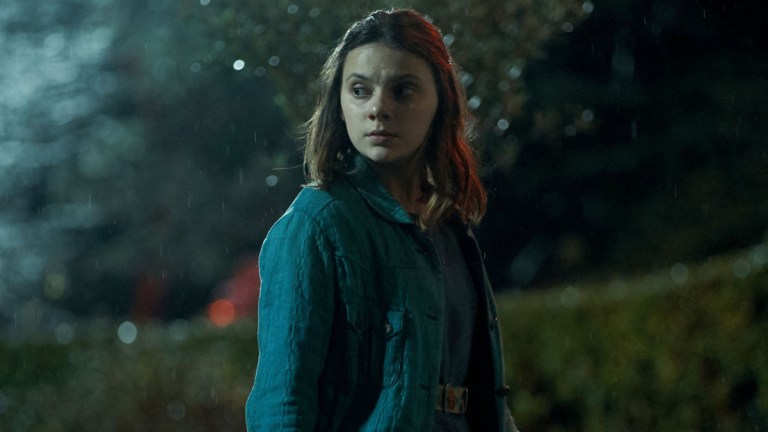 This His Dark Materials review contains spoilers.
By now, this series has firmly established the rule that if you put Mrs Coulter in a scene, you've got yourself a scene. It almost doesn't matter who she's paired with. Lee Scoresby, a Magisterium toady, a mirror… So long as Ruth Wilson is there, fizzing with barely concealed rage and oozing manipulative seduction, it works.
She doesn't even need to speak, as this episode's opening showed. Let Mrs Coulter watch a woman from our world tapping away at a laptop while rocking her baby and it's all we need to understand the character's fascination, frustration and regrets.
With that in mind, it makes sense that this adaptation keeps inventing new places for Mrs Coulter to appear. Much of 'The Scholar' was devoted to telling her story in our world, and did so with humour and empathy. It's a courtesy most fantasy stories don't afford their baddie; show me the Narnia chapter that delves into the psychology of the White Witch, or The Lord of the Rings book that explains what really makes Sauron tick. Products of a different time, neither attempts what this TV adaptation does.
That's also because Mrs Coulter, for all her tweezer-torture, child-murder and daemon-abuse, isn't the real villain of His Dark Materials. The real villain is the misogynistic theocracy that made her. That's what everybody's lining up to bring down.
In the Cardinal's council scene, episode five gave us a backstage pass to exactly what's being fought against. Nobody's safe in a reality-denying autocracy, even, as Father Graves discovered, the inner circle. Challenge the hierarchy and down you go with the rest of the heretics, dissidents and, heaven help us, women. Top marks to the casting team there, by the way. There's not been such a ghouls' gallery of anaemic creepiness in one place since the release of the Dominic Cummings 2021 Calendar.
In episode five, Marisa glimpsed the possibilities of a life outside that system ("What do you mean she runs a department?"). Her conversation with Mary ("Mrs Malone?" "Doctor") was almost as destabilising as the one she had with Lee Scoresby in that prison cell. She was shaken by the implications of Mary's impertinent, intelligent freedom. In this world, she too could have been a Doctor leading an academic team, like Mary. Just not in those jeans.
The jeans moment (what do you think Mrs Coulter feels more contempt for – denim or Lord Boreal?) was one of a few straight-up gags from writer Francesca Gardiner brightening this episode. First was the comedic sight of the golden monkey wearing a seatbelt. Then came Will and Lyra's tension-puncturing "Why are we whispering?". Next was Carlo being so basic that, having explored the entirety of our world's culture, he chose to show off his sound system with The Lighthouse Family's insipid and omnipresent-in-the-90s 'Lifted'. "The sound quality from these speakers is quite something," he told Marisa, really putting the bore in Boreal. We've all been there, Mrs. C.
By 'we' of course, I mean middle-aged women like me, Mrs Coulter and Mary. Selfishly, I'm obviously delighted at this family show going deep on those two, but how riveted a child might be by this focus I couldn't say.
Younger viewers have their own draw in Will and Lyra, now a proper double-act with a demonstrable bond. Even now, Will's kind words that Lee or Ma Costa would be lucky to be anything like Lyra bring a lump to the throat. Their growing intimacy in this show's quieter moments is satisfying to watch.
Unsatisfying, but begrudgingly understandable with such a crowded cast, is this week's total lack of Lee and Jopari. We waited four episodes for Andrew Scott to pitch up, and then as soon as he does, he's taken away. Let's hope that, now she has the alethiometer, Lyra makes good on her promise to do nothing else until she finds Will's dad.
It was hard won, the alethiometer. That fight between Pan and Mrs Coulter's abused daemon was unpleasant to watch – the emotion evoked all the more remarkable for the fight being between two bundles of pixels. A reprisal of the monkey's series one attack on Pan, it showed how far Lyra's come since then. Too far, by her own admission.
Things ended with another journey for our other scholar. Dr Malone 'deceived the guardian' (another gag fondly puncturing the heightened fantasy atmosphere of angels and coded missions) and passed through the sacred… roadworks tent to another dimension. Armed with a sleeping bag and a flask, Mary's embarked on her trip, somewhere further than Devon alright.