News
HBO to Make Watchmen Available For Free on Juneteenth
HBO is celebrating the Juneteenth holiday weekend by making all nine episodes of Watchmen available for free.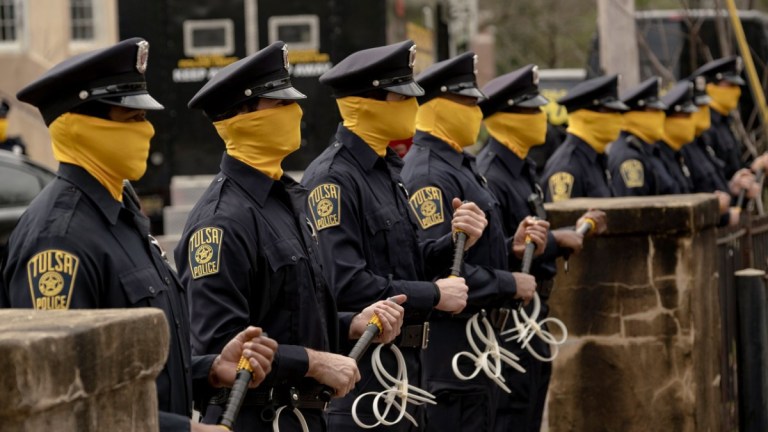 Who watches the Watchmen? Hopefully you, and for free.
HBO announced today that it is making all nine episodes of its landmark Watchmen reimaging available free to all starting on June 19 through June 21.
All episodes will be available to stream on HBO.com, and Free on Demand. The network is also set to air a marathon of the series on HBO and HBO Latino starting at 1 p.m. ET on June 19. The schedule for the marathon is as follows.
WATCHMEN 101 – 1:00PM
WATCHMEN 102 – 2:03PM
WATCHMEN 103 – 2:58PM
WATCHMEN 104 – 3:51PM
WATCHMEN 105 – 4:43PM
WATCHMEN 106 – 5:43PM
WATCHMEN 107 – 6:44PM
WATCHMEN 108 – 7:42PM
WATCHMEN 109 – 8:45PM
HBO is altering Watchmen's availability in observance with the Juneteenth holiday, which marks the ending of slavery in America. Though slavery was legally abolished in January of 1863, the holiday traces its origins to June 19, 1865 when Union soldiers arrived at Galveston, Texas with news that the war had ended and that the enslaved were now free.
Watchmen deals heavily with America's racist past and present. As developed by Damon Lindelof (Lost, The Leftovers), the series takes place in the Watchmen graphic novel universe created by Alan Moore and Dave Gibbons. The show follows the masked detectives in the Tulsa Police Department unraveling a global racist conspiracy. The show also derives much of its plot and inspiration from the real life Tulsa race massacre in 1921 in which the prosperous "Black Wall Street" neighborhood was razed to the ground by mobs of white citizens. Watchmen was the introduction to the Tulsa race massacre for many Americans, and the story is now set to receive its own mainstream documentary series produced by LeBron James.
In addition to Watchmen, HBO is making some other properties available for free from June 19 through July 2. Beginning on June 19, anyone will be able to stream Being Serena, Bessie, Whoopi Goldberg presents Moms Mabley, The Immortal Life of Henrietta Lacks, United Skates, Jerrod Carmicheal's Home Videos, Lil' Rel Live In Crenshaw, The Apollo, The No. 1 Ladies' Detective Agency S1/ E1, The Shop S2/E1 + S2/E6, Treme S1/E1, and True Detective S3/E1.
Previously HBO made some of its library available for free due to the coronavirus pandemic. These include titles like Ballers, Euphoria, A Black Lady Sketch Show, and The Wire.