News
LeBron James to Produce Black Wall Street Documentary
LeBron James's SpringHill Entertainment is producing a documentary about the Tulsa race massacre of 1921.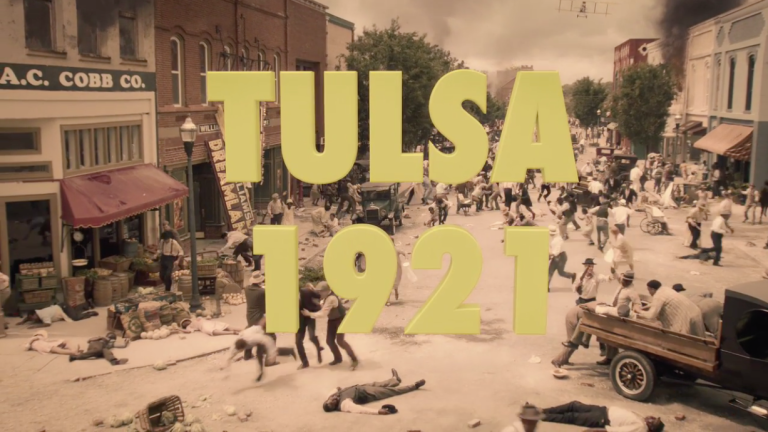 One of the darkest, and until recently, least publicized chapters of in American history will soon get the mainstream documentary it deserves. NBA star LeBron James' production company SpringHill Entertainment is developing a documentary about the destruction of Tulsa Oklahoma's Black Wall Street.
The documentary will be helmed by Salima Koroma, who announced the project on Twitter.
"The Tulsa Race Massacre is not just a black story but American history. The fabric of this country is soaked in racism and today 99 years later, we're still fighting for change," Koroma wrote. "That's why I'm partnering with SpringHill Entertainment to tell the story of Black Wall Street."
May 31 of this year marked the 99th anniversary of the Tulsa race massacre (once tellingly known as the "Tulsa race riots"). One summer day in 1921, mobs of white citizens, law enforcement, and Klansmen descended upon and destroyed the Greenwood district of Tulsa, Oklahoma. The district was known as "Black Wall Street" due to being the wealthiest black community in the United States at the time.
To this day, the massacre of Black Wall Street is generally regarded as the worst instance of mass racial violence in American history. All in all, the massacre killed between 55 and 400 people and caused $30 million in property damage. And yet until this past year, many Americans had never heard of it.
HBO's Watchmen used the Tulsa massacre as a jumping off point to tell its story of an alternate universe America. In speaking to Den of Geek prior to the premiere of the show, Watchmen showrunner Damon Lindelof said that he was astonished to learn of the event when reading the works of Ta-Nehisi Coates.
"When I first heard about the massacre of Black Wall Street in Tulsa of '21 I couldn't believe that I was a grown adult and I'd never ever heard about it before," Lindelof said. "The more I researched it, the more I was just shocked and embarrassed that I didn't know anything. At the same time as sort of like, 'Well, I'm in a position now to potentially put this in a piece of popular entertainment and inform people about this actual historical event, but I can't be exploitative about it. It needs to be important.'"
Now viewers will soon have a chance to delve further into the details of the tragic event. SpringHill's documentary does not yet have a name, release date, or distributor. According to SpringHill's Twitter account, the project came together pretty quickly with Koroma reaching out to James' imprint in April. It's a sad, yet predictable, twist of fate that the announcement arrives amid protests in all 50 states and across the world against a culture of police brutality that killed George Floyd.