Features
Harley Quinn Season 2 Episode 13 Review: The Runaway Bridesmaid
Harley Quinn sticks its season two ending.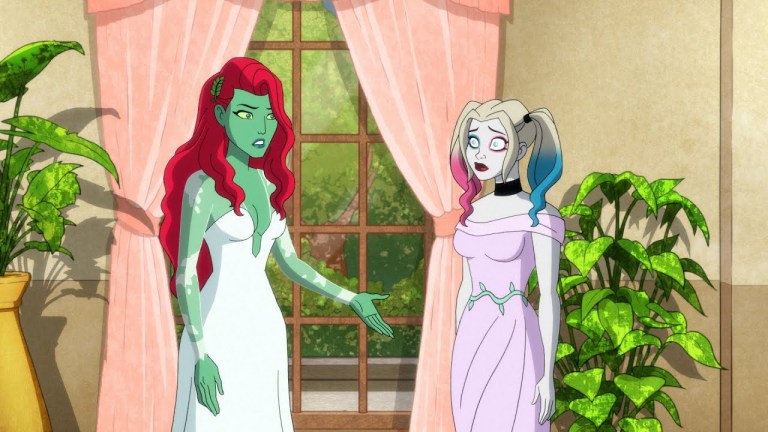 This review contains spoilers for the Season 2 finale of Harley Quinn.
It's hard to stick the landing on any two season arc, let alone one that has centered around a slow burn queer relationship set against the backdrop of one of comics' most famous cities. Yet as we stand in the shadow of Harley Quinn's season two finale, we can safely say that they have done it. Yep, Justin Halpern, Dean Lorey, Patrick Schumacker, and their team have delivered a hilariously funny, satisfyingly violent, and ultimately romantic final episode, which as much as it leaves us wanting more could also be the perfect ending to the brilliant series. 
The fates of Harley and Ivy have been intrinsically connected since the first episode of the very first season when the Clown Princess of Crime was saved from the grips of Arkham by the villainess formerly known as Dr. Isley. Though it's taken some comedic detours and expanded the world of Gotham, it really has at its heart been about two women falling in love and all that comes with it. This finale cements that in a way that feels authentic to both the series and the characters, and even gives one of my least favorite characters, Kite Man, his moment to shine.
With Ivy and her boring beau ready to walk up the aisle, Harley is back where she started: in Arkham Asylum, locked up and in mourning for another broken relationship. But this time it's not the Joker she's mooning over, but Ivy. Her best friend, confidante, and sometimes lover has apparently decided to make amends with her fiancé, leaving Harley in the cold. It's a nice nod to the beginnings of the show while also another reminder of just how lost our hot-panted hero gets when she doesn't have Ivy around to keep her on the straight and narrow.
Never fear, though, as even though all seems lost, an unexpected helping hand comes from The Riddler. Despite that he and Harley have been at odds this season, he wants to escape Arkham more than he wants to see his foe trapped so he concocts a truly inventive scheme. Lucky for this fan of Chris Meloni's bonkers Jim Gordon, it centers around Gordon's obsession with besting Batman. See, if Ivy and Kite Man are getting married then there's potentially going to be hundreds of villains sitting pretty in the old Gotham Corn Factory, just waiting for someone to bust them.
Meloni's Gordon has been a pleasure to watch throughout both seasons of Harley Quinn; he's a terrible cop and completely unhinged and it's likely the most realistic version of a cop who's consistently shown up by a man in a giant bat suit that we'll ever get. This is a smart way to play on those insecurities as well as setting up a killer showdown at Ivy and Kite Man's wedding. It's also a perfect inciting incident for Harley to make her break from Arkham to try and save her buddy. After all, as she states: "If I can't ruin my best friend's wedding then no one can."
In an interview with EW earlier this year, showrunner Halpern shared the team's feelings about the way they ultimately decided to deal with the relationship at the center of the show, explaining that they "wanted it to be messy, not clean, kind of painful, but ultimately getting to a good place." This episode is a great example of just how successful the show is at doing just that. Harley and Ivy do end this season on a high note, in a place where it seems that they might just get that happy ending, but it isn't easy and it isn't clean. It hurts people and it puts them in danger. And that feels right and real, and it makes the lead up feel completely and utterly worth it.
But before the pair can both figuratively and literally drive off into the sunset, Harley has to face down angry bridesmaids, Gordon in disguise, and even her own guilt around hurting Kite Man. If you've been reading these reviews you'll know I'm not the world's greatest Kite Man fan, which is why I'm giving this episode extra props for letting him have a really powerful moment of agency that highlights just how much he was hurt by Harley, Ivy, and their betrayal. After their vows are disturbed by Gordon and his goons, Harley tries to save the day by offering to marry the pair in the wreckage of the Corn Factory. To his credit, though, Kite Man finally sticks up for himself, realizing that Ivy has been using him to settle and that he deserves better. Not only is it a surprisingly moving moment but it also gives the lovers a clean break.
So as the episode comes to the end we get what we've all been waiting for as Harley and Ivy drive through a destroyed Gotham in a gorgeous car with a Just Married sign on the back. When "The End" rolls across the screen, it's easy to imagine this as the final episode of the show. Although this reviewer would love to see another season of Harley Quinn, this would be an ending that I am thoroughly satisfied with. But after such a stellar season it would be a shame if we didn't get to see what Harley Quinn can do next!
You can watch Harley Quinn season one and two on DC Universe now!