Reviews
Harley Quinn Season 2 Episode 11 Review: A Fight Worth Fighting For
Harley Quinn turns to an unlikely source to save the day as the series many overarching plots come together.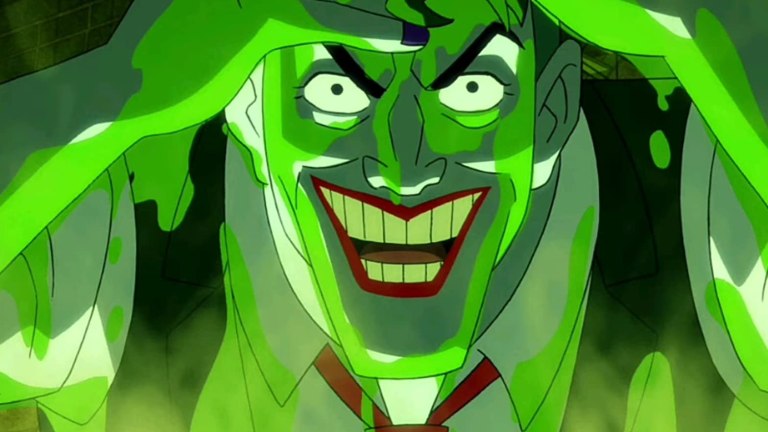 This Harley Quinn review contains spoilers.
Harley Quinn Season 2 Episode 11
…And he's back. Yep, after nearly a whole season with the Joker out of commission, Harley Quinn has resurrected the Clown Prince of Crime and put him in a position of true vulnerability. Now, thanks to Harley's quick thinking and a deadly bomb in his brain, he has to help save the day.
With the Fourth World's Parademons flying around the skies of Gotham and chomping on delectable citizen flesh, Harley and the Joker are doing their best to try and find the Book of Fables which contains the trapped Justice League. It's a thread that's been woven into the show since last season and it's nice to see it come to fruition here. Harley Quinn has really cemented itself as a worthy and potentially long-running addition to the adult animation canon and this episode does a great job of showing us why. Not only do we get satisfaction from a series of overarching plot lines coming together in a very thoughtful and fun way but it also surprises at almost every turn.
The return of the Joker seems like it could be a tired little rerun of the toxic story that we've seen before but instead Harley Quinn turns it on its head. Instead of the usual Harley and Joker nonsense we get a sweetly sentimental version of Batman's biggest bad who's been changed by the love he shared with his girlfriend Bethany. That's not to say he's not still committed to the mass murder life, but he's realized he can kill and spend nights on the sofa marathoning bad TV with the woman he loves. It's a funny and satisfying twist that also pushes Harley into the decision that she's been so afraid of making: being with Ivy no matter what the cost.
As much as fans might want to see that, there's currently a huge obstacle in the way; Ivy is getting married to Kite Man and she's doing it in spite of the Parademon plague in Gotham. But when Dr. Psycho and his flying menaces attack her $13,000 Vera Wang wedding dress, she finally gets involved. It's a credit to the writing staff that they've crafted the characters so well that we only need to see 30 seconds of Ivy explaining why she wants to get married to know that she doesn't really want to get married at all. Instead, she's using the wedding as a way of moving forward with her life and leaving Harley behind. Sadly, the fact that she hasn't been paying much attention to Dr. Psycho means that she doesn't realize he can mind-control anyone… including her.
This is a powerful episode in more ways than one. Not only do we get an unexpected turn from the Joker but we also get to see Batman have to reassess his expectations when he realizes his usual antagonists are actually on the right side for once. After years of being defined by her relationship with her evil ex, in this episode Harley uses Joker and his experiences to make a choice all of her own. Though we don't get to see the payoff, it does offer up a truly spectacular cliffhanger which sets up a great conflict for the penultimate episode as well as hinting at a potentially massive happy ending for Ivy and Harley.
With such a strong debut season it was hard to imagine a world where Harley Quinn's sophomore outing would top it and have fans just as excited as they had been. But the second season of the show has been funnier, deeper, and far more interested in the character arcs of everyone else as well as Harley. It's really exciting to imagine where the series could go next if it gets renewed for another season, especially with what the last two episodes seem to be setting up. There is so much more fun to be had in this world especially when the show is so great at introducing deep-cut characters whilst still telling an engaging story.
Whatever happens next, this is another great entry into an already strong season. With plenty of superhero action and even an appearance from Zatanna, there's magic and mayhem afoot in the world of Harley Quinn. One of the biggest strengths of the series has been its ability to balance the ridiculousness of Big Two comics with stories that wield emotional heft. Folding Darkseid and the Fourth World into the already expansive world whilst also making a queer love story pay off is no easy feat, but the crew behind Harley Quinn make it seem like child's play. With the Justice League now back in play alongside Batman and Harley, and maybe even the Joker, the stakes are higher than ever as the team heads to finish off the Parademons. But all we really want to know is whether Harley can save Ivy and live happily ever after…