News
Gangster Series Silent Partners Brings Florida Mobsters to Netflix
Genovese capo Fat Dave Iacovetti flew south and fleeced Florida in mob series Silent Partners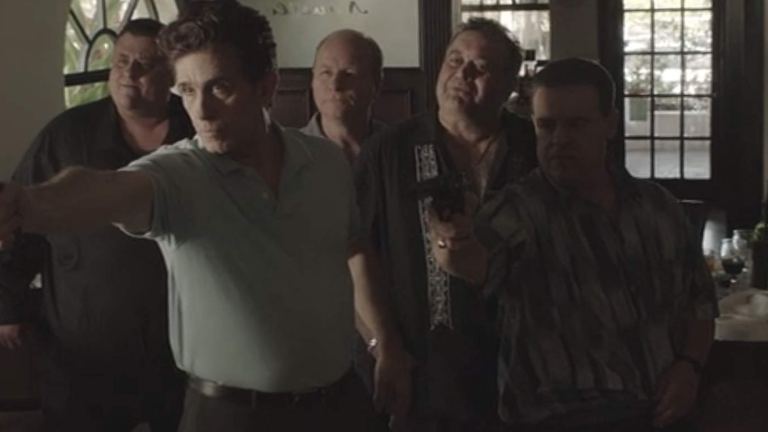 Martin Scorsese's mobster movie swan song The Irishman will not spell the death knoll for gangster films as long as independents continue to mine lesser known criminals. The film Mob Town told the story of the 1958 mafia summit in Apalachin, N.Y., which brought organized crime to national attention. The upcoming series Silent Partners brings a Genovese family unit to series on the same service that brought Robert De Niro and Al Pacino's mob pairing. "Netflix is excited about the project and the addition of Nick Villalonga," Gary Pastore (The Sopranos) told Den of Geek.
read more: The History of the Real Goodfellas
Pastore, who played Genovese Crime family boss Matty "The Horse" Ianniello in HBO's The Deuce and Albert "the Lord High Executioner" Anastasia in both The Irishman and Mob Town, plays David R. "Fat Dave" Iacovetti who, like Robert De Niro's character in Casino, made book in Las Vegas and found untapped illegal potential in Florida. "Fat Dave was based on a true character in the Gambino Family that moved to Florida in the late 70s to start his criminal empire in Florida," Pastore told us. "He pretty much stayed under the radar letting his sizable crew take the heat and the hits. He was eventually arrested in the late 80s on racketeering charges."
Born in New York City, Fat Dave was a Capo in the Gambino Crime Family. He and five other men were convicted of transporting and disposing of more than $40,000 worth of American Express Co. stock in 1970. In 1988, Iacovetti and four other Gambino family members were pinched for running a racketeering, extortion and loan-sharking ring in Broward County, Florida.
read more – The Sopranos' Jamie-Lynn Sigler On Heading to Mob Town
Director Jokes Yanes shot Silent Partners in Fort Lauderdale. It is set in the 1980s, and also stars Joseph Donofrio (A Bronx Tale) as Dave Jr., Nick Vallelonga (Green Book), Saul Stein (The Deuce), Ronnie Marmo (General Hospital), James Russo (Django Unchained, Donnie Brasco), Antoni Corone (We own the Night), Mike Marino, London Grace and series co-creator Barry Jay Minoff (Death House). The series is produced by Ciro Dapagio, known for the web series The Mob King.
further reading: The Sopranos: Most Memorable Hits
Fat Dave allegedly worked with Gambino biggie Joseph Armone, and associates Charles Bottiglieri and Eugene Vardis on a scam the cops called "Operation Family Affair." Their phones were tapped for seven months until it was proved the group made loans at a 5 percent a week vig and made threats if it wasn't paid. Iacovetti got 10 years in federal prison. 
In another entrepreneurial venture, some of his Rhode Island and Florida associates ran a company called Ocean International which sank after running up $300,000 in unpaid bills. A seafood supplier who came to collect had to negotiate what he was owed with a machine gun on the table across from him. He didn't collect. The bust out ended when the suspects vanished after a May 1987 buying binge. Iacovetti was arrested after he told undercover detectives Ocean International was looking for stolen shrimp to sell.
There is no word yet on a Silent Partners release date.
Culture Editor Tony Sokol cut his teeth on the wire services and also wrote and produced New York City's Vampyr Theatre and the rock opera AssassiNation: We Killed JFK. Read more of his work here or find him on Twitter @tsokol.
Read and download the Den of Geek Lost in Space Special Edition Magazine right here!