Features
The Friends Cast's Best Post-Friends Roles
The cast of Friends had the roles of their lifetimes in the classic NBC comedy. After Friends signed off, however, things got interesting.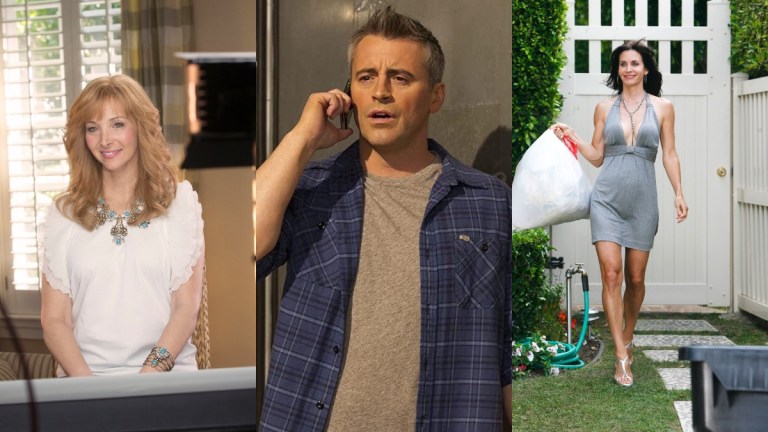 Early on in HBO Max's long-awaited Friends reunion special "The One Where They Get Back Together," series co-creator David Crane reveals the producing team's initial vision for the show. 
"We were really intrigued with the idea of doing a true ensemble. It's not like there's a lead and they have friends. No, it's just about the friends. We're following all of their stories equally."
Friends would never have worked if Crane, Marta Kauffman, and Kevin Bright hadn't gone six for six in the casting of the titular friends. One or two solid choices wouldn't do it. Neither would four or five. It had to be all six. 
As evidenced by the fact that there's now a reunion special more than 15 years after the show has gone off the air (and one that each member of the cast was reportedly paid a staggering $2 million to attend), Friends found the right six actors for the job. David Schwimmer (Ross Geller), Lisa Kudrow (Phoebe Buffay), Jennifer Aniston (Rachel Green), Matt LeBlanc (Joey Tribbiani), Courteney Cox (Monica Geller), and Matthew Perry (Chandler Bing) all shared an impeccable chemistry. Not only that, but each was able to carry moments of the show when needed.
As former Friends guest star and interviewee in the special Reese Witherspoon notes: "Friends has this magic because each character is so distinct that they could hold a television show by themselves."
Of course, nothing lasts forever – not even one of the most successful sitcoms of all time. Though Friends continues to find new fans via streaming, the show concluded for good in 2004 and its central sextet's careers carried on. Since "The One Where They All Get Back Together" got everyone in the proper mood for reminiscing, let's reminisce about the best role for each of the cast once their iconic run on Friends concluded.
The only rule for eligibility here is that the actor's role has to have come after Friends wrapped entirely. This disqualifies otherwise stellar work like Schwimmer in 2001's Band of Brothers and Aniston in 1999's The Iron Giant. The role in question also has to have been in a movie or TV series, which hurts Perry a bit as he's had some good jobs in theater and videogames.
Fittingly enough, however, each of the Friends' actors best post-Friends role happened to come on a television show.
Matthew Perry – The Odd Couple
Aaron Sorkin's Studio 60 on the Sunset Strip is absolutely Perry's most prominent role after Friends. In fact, it might be among the most prominent roles that any Friends castmember has had since the show signed off. Unfortunately, Studio 60 on the Sunset Strip ended up being a bit of a cringe fest.
Perry has a promising role as a conservative talk show host coming up in Adam McKay's next film. For now, his best post-Friends role is likely one of his two recent network sitcom attempts: sports talk radio host Ryan King in NBC's Go On or Oscar Madison in CBS's The Odd Couple. Let's go with the latter because he had good chemistry with co-star Thomas Lennon (who turned up in the Friends reunion special as well).
Matt LeBlanc – Episodes
LeBlanc has not been quite as prolific as his Friends peers since the show concluded. After his character's spinoff Joey failed at NBC, LeBlanc took a bit of a break from the TV world. When he returned though he did so with unquestionably his best post-Joey role.
In Showtime's Episodes, LeBlanc plays a fictionalized version of himself cast in a role that doesn't suit him. The show's British creators are attempting to update their concept for an American audience and have been saddled with the former Friends star by a studio that really doesn't get their whole deal. LeBlanc won a Golden Globe for this role and was nominated for four Emmy awards.
Jennifer Aniston – The Morning Show
Aside from some guest appearances on TV here and there, Aniston threw herself into the film world after Friends wrapped up with roles in projects like The Switch, Horrible Bosses, We're the Millers, and more. It wasn't until she returned to television in 2019, however, that she found her best post-Rachel Green acting opportunity.
Alongside her Friends sister Reese Witherspoon, Aniston is the star of Apple TV+'s drama The Morning Show, playing morning show host Alex Levy. When her cohost is fired amid a sexual harassment scandal, Alex works to secure her role as the top news anchor while dealing with Witherspoon's ascendant reporter Bradley Jackson. Aniston was nominated for an Emmy and won the Screen Actors Guild award for the role. 
Courteney Cox – Cougar Town
Cougar Town may be saddled with one of the silliest names in all the TV canon, but it's really a lovely sitcom – maybe the best traditional sitcom a Friends actor has been involved with after Friends, in fact. As created and run by Bill Lawrence (Scrubs, Ted Lasso), Cougar Town started as a one-note concept that found Cox's character freshly divorced and prepared to date younger men (you know, like a mountain lion).
The show quickly changed gears, however, and became a charming hangout comedy that highlighted the chemistry and strengths of its cast. At the center of it all was Cox's pitch perfect depiction of Jules Cobb: an optimistic woman who loves her friends and giant goblets of wine. Cox is also set to reprise one of her major characters from the Friends era when Gale Weathers returns in 2022's Scream.
David Schwimmer – The People vs. O.J. Simpson: American Crime Story
At first glance, it's a bit strange that David Schwimmer was part of FX's The People O.J. Simpson. It's even stranger that the character he was chosen to play was the Juice's friend and lawyer Robert Kardashian, white streak in his hair and all. All the memery and mockery at Ross Geller's presence as the Kardashian paterfamilias in the first American Crime Story is understandable but it belies what is a pretty great performance!
Who knows if Schwimmer's Bob Kardashian bears any resemblance to the real version. But as a character, he's a crucial, consistent presence in the miniseries' 10 episodes as a man who just wants to see the best in his friend for as long as he logically can. Since Friends, Schwimmer has also lent his voice to the Madagascar film series, and co-starred in Sky One comedy Intelligence. 
Lisa Kudrow – The Comeback
Lisa Kudrow has kept busy in the 15+ years since Phoebe Buffay rode off into the sunset with Paul Rudd. The actress has been a mainstay in television and film, but it's the former medium where she made her biggest post-Friends mark. Kudrow co-created 2004 HBO mockumentary The Comeback and stars as the lead Valerie Cherish. The Comeback was an insider comedy about the entertainment industry before that became a trendy topic on television throughout the mid aughts. It's also one of the best mockumentaries ever.
Valerie Cherish is a B-list sitcom actress trying to recapture her fleeting fame. To that end, she gets a bit role as "Aunt Sassy" on a sitcom called "Room and Bored" and agrees to have her acting comeback documented in a reality series called "The Comeback."  The Comeback is an incisive satire of the entertainment industry that reaches Office levels of cringe-comedy. Through it all, Kudrow is perfect as the aging actress who is equal parts patient at all the indignities thrown her way and difficult when she wants to be. The show had a well-received second season in 2014.