Features
"Why am I Watching This?" Firefly Lane and the Compulsion of Newness
Almost a year into lockdown, with seemingly endless choices of things to watch, some of us just crave something, anything, new.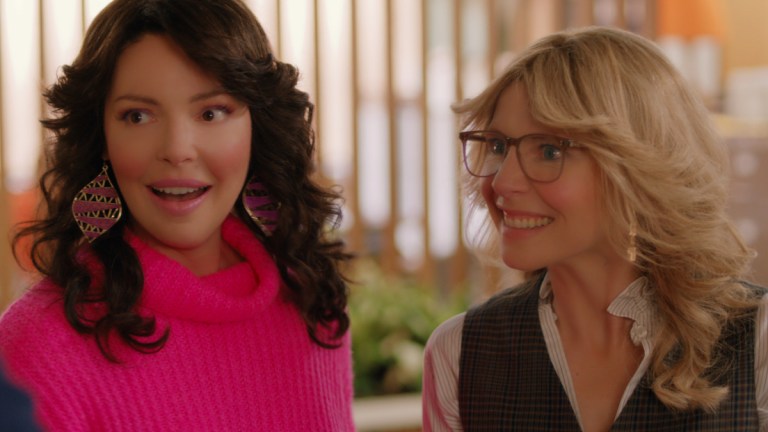 The weekend before last, I found myself bingeing the entire series of Firefly Lane. Not for work. Not because anybody asked me to. Just because it was new.
The series has been trending on Netflix for some weeks now and it appears to be very popular with viewers – more so than with critics – which is great, and no disrespect to anyone who loves the show. However, I personally thought it was quite bad. This isn't a review and I'm not here for a debate on the merits – we are living in a world in crisis so anything that brings anyone joy is gold in my book.
Firefly Lane, however, did not bring me joy and yet I still felt compelled to sit through the entire thing. I also watched the whole of Emily in Paris – I liked it while fully acknowledging its trashiness. I binged the whole of Netflix's weird Egyptian horror Paranormal, devoured a couple of seasons of A Discovery of Witches and even had a good crack at Fate: The Winx Saga – I couldn't finish that one but I may go back.
This, despite never having seen Game of Thrones, The West Wing, The Sopranos, Seasons 3-5 of The Wire and countless other classics.
2020 saw a lot of us doing TV catch ups and comfort re-watches. I have watched Schitt's Creek and Russian Doll three times apiece, all of The Chilling Adventures of Sabrina and The Good Place twice and rewatched the whole of Buffy the Vampire Slayer and Mad Men. Even new things I sometimes go back to. I watched Gangs of London twice, and I am tempted to go back and do Succession again.
In these times when so many of us are stuck indoors staring at the same walls day in day out newness has become increasingly important. And not just 'new to you' but actual newness.
In part it's about shared experience. We can't go to the cinema anymore, there's no equivalent of the big movie release that many people see at the same time, so the best equivalent is a flagship Netflix show. Even if your friends and family aren't watching the same show, at least people will be talking about it online.
There are many, many streaming channels, serving a wealth of new and old shows and while you'd have to be seriously minted to afford them all, it can be incredibly difficult to navigate the enormous volume of content available. It can be overwhelming and so there is a massive comfort in just watching 'the thing that Netflix has told you to watch'. It's far better than the nightmare scrolling which inevitably leads to watching nothing at all or just resigning and putting on Friends eps.
So many shows are several seasons in, so even just finishing something feels like a real achievement – Firefly Lane: tick! Done! Did you enjoy it? No, not much, but at least it's finished – though I admit this might be unique to me and related to the job. And to be fair, there have been some brilliant shows on over the last year. I've binged some crackers including The Queen's Gambit, Bridgerton, The Undoing, I Hate Suzie, I May Destroy You, and as many true crime documentaries as I could squash into my eyes.
Another reason why to some of us newness – particularly with new limited series – is so important is that major universes like Star Wars, Star Trek, The Walking Dead and the Marvel and DC TV shows are now so incredibly sprawling that it takes dedication and work to keep up and it's frankly intimidating. I love WandaVision and have seen all 23 of the MCU movies but I still feel like I need a translator to fully get it (thank god for my colleagues at Den of Geek…). So there's nothing like a brand new show to make you feel like your weekend hasn't been wasted. There's something unconscionable about flicking through endless first episodes never quite settling on anything.
There's a comfort too in knowing that things are still being made. That even though most of us are stuck inside, the idea that somewhere people are making things and the world will open up again is hopeful.
When the world returns to normal – or rather a new normal exists – it will be fascinating to see how our viewing habits have changed. Will we dive back into cinemas or will we cleave to the comfort of home ents? Will we crave weekly shows which bring us together in short bursts over marathon binges, or will we have become so sick of TV that we reject it altogether?
And how have your habits changed? Are you a binger or a week-by-week person? Do you need newness or are you more comfortable with the familiar? Have you gone right off TV and movies altogether? Let us know in the comments!