Features
Fear the Walking Dead: Strand's Shocking Turn Explained by Colman Domingo
Has Strand turned to the dark side in Fear the Walking Dead season 6 episode 2? Here's what Colman Domingo told Den of Geek.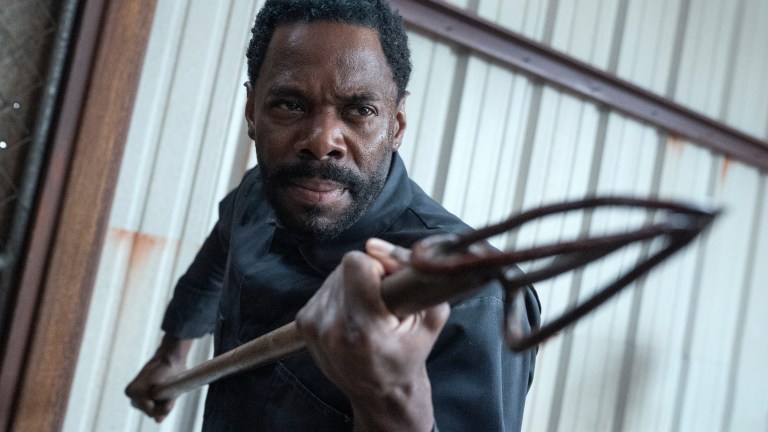 This Fear the Walking Dead article contains spoilers.
Fear the Walking Dead season 6 is underway, with each episode featuring mostly self-contained stories. "Welcome to the Club," the second episode of the season and the first episode directed by Morgan actor Lennie James, focuses on Strand (Colman Domingo) and Alicia (Alycia Debnam-Carey) adjusting to their new life of servitude on Virginia's (Colby Minifie) tightly-run settlement.
"I think this season is more of an anthology…we get to get deeper into more character and conflict," Domingo tells Den of Geek of the new season structure. "I think last year we were taking on big swings, with a bigger story putting everyone on the path in some way following a leader. Now that they've been disbanded, we have to figure out who we are as a separate part of a larger [movement]."
Strand is a survivor, and he's proven over the course of the show that he'll go to any lengths to save his own hide (making bad deals, betraying friends, piloting a goddamn hot air balloon), and we see how his survival instinct comes into full view in "Welcome to the Club" when he chooses to join Virginia's group of Rangers and break away from Alicia. After trying things "Alicia's way" in a failed attempt to escape the Pioneers, sacrificing a fellow prisoner to save himself in the process, Strand seems to have had enough of being a good guy.
But is there more to Strand's turn that meets the eye? While he won't say whether Strand has ulterior motives (he always does), Domingo insists that Strand is never, ever careless with what he says—or doesn't say.
"[People say], 'Well, Strand lies.' I mean no, he doesn't. He's never lied," asserts Domingo. "I have to hold that to be true and say if he's going to lie, it has to be a big moment because the things that I know about him is that he may not tell you everything that you need to know, but he's not going to lie."
In Domingo's mind, Strand is methodical and even ethical in his decision-making.
"It's case by case, it's very mathematic," says Domingo of Strand's methods. "That's the thing I have always loved about this character. And I sort of fight for that. When you've been playing a character for six seasons, you have some ownership, and you work with the writers."
Longtime Fear the Walking Dead fans may not be so surprised by Strand's apparent turn. At the close of last season, after Strand cuts a deal with Virginia in exchange for Alicia's safety, Strand and his ultimate frenemy Daniel (Ruben Blades) have a telling exchange, which seems to foreshadow what will be in store for Strand's character arc this season. As the group was being broken up by Virginia's people in the season 5 finale, Salazar pleads with Strand: "Remember who you are."
"[Daniel] knows all that Strand is," says Domingo. "Strand's true self has been buried a little bit for a few seasons. I think he's been trying to seek out his better angels and go against his own instincts and got with the ideology of a larger group, although he's always been an individual making individual acts that he believed were right."
Cut off from most of his friends, Strand is forced to revert to his old way of doing things in order to work his way up the ranks of Virginia's army. While Strand may have initially signed up to serve Virginia as a way to destroy the group from within, Domingo teases that his character could also start to believe in Virginia's message.
"I think the presence of Ginny has a lot to do with [his change of heart]," says Domingo. "He saw something. I think there was a little spark and he was like 'Oh, that makes sense to me.' The way she's doing things and the way she is operating is calling to his inner self. She's very mathematical like him, and he's utilitarian. He's always been that way."
As one of the longest tenured characters on the show, we've seen Strand go through many changes. Compassion and self-preservation have always been at odds within him, but Domingo believes that Strand is settling into a place where he's finally found balance.
"It's been interesting to me to see all these different versions of Strand," says Domingo. "I personally feel this is leading to the ultimate version of Strand, and now we've peeled away that sweet onion and we see what's at the core and what makes him tick. He's building himself up with all of these things that have kept him alive: being part of the group, being an individual, being a survivor, and I think now, he's becoming the ultimate version of himself. He's a bit more ferocious. He's like, 'If you're going to come at me, come at me hard, cause I am coming for you.'"
Read more about Fear the Walking Dead season 6 here.