News
Fear the Walking Dead Season 6 Returns with Big Morgan Moment
Morgan reconnects with someone from his past in Fear the Walking Dead Season 6 Episode 8. Watch an exclusive clip of the moment here!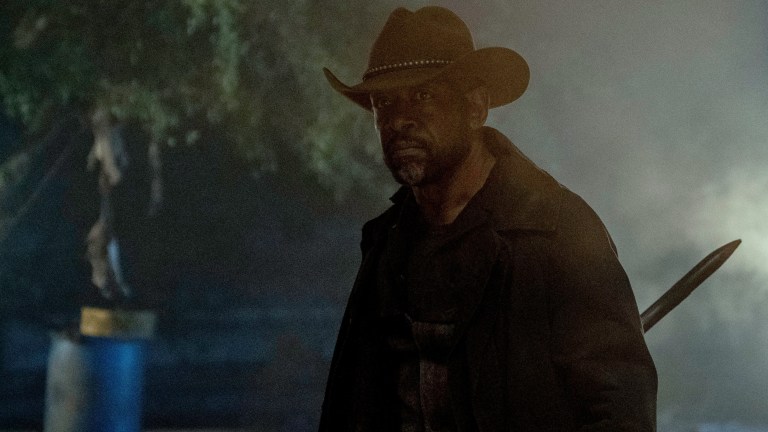 This Fear the Walking Dead article contains spoilers.
Fear the Walking Dead season 6 has been one of the darkest seasons of the show so far. Our heroes have been separated, some left for dead while others were forced to join Virginia and her cruel group of Pioneers who want all the survivors they meet to fall in line or die.
When Morgan stood up to Virginia in season 5, it ended very badly for him. Not only was his group broken but so was his spirit. But season 6 has been all about putting those pieces back together for Morgan. After a deadly encounter with a bounty hunter in the first half of the season gave him a new lease on life, Morgan has been busy plotting the downfall of the Pioneers, one strike at a time.
By the midseason finale, it seemed Morgan had his winning card: Dakota, Virginia's rebellious sister who doesn't agree with her older sibling's methods. At first, Morgan planned to trade Dakota for the rest of his group but was convinced to instead take her with him to the secret place he's building for his people. But Morgan doesn't know that Virginia has something up her sleeve, too.
As we learned in the final minutes of "Damage from the Inside," Virginia has her own trump card, which will significantly complicate things for Morgan and his friends in the midseason premiere. "The Door" will deliver its biggest Morgan moment of the season when he reconnects with his love interest Grace, whom we learned at the end of season 5 might be carrying his baby.
Watch the exclusive clip below to see Morgan's reaction to hearing Grace's voice for the first time in a long time:
While we don't know what exactly is in store for Morgan and Grace for the rest of the season, the synopsis for the remaining episodes paint a bleak picture:
"As Morgan's (Lennie James) bid to free the remaining members of the group becomes bolder, Virginia (Colby Minifie) grows increasingly desperate to find her sister and protect the settlements from forces working inside and outside her walls. The second half of Season Six reveals the impact of what living under Virginia's control has done to each person in this group, who once saw themselves as a family. New alliances will be formed, relationships will be destroyed, and loyalties forever changed. When everyone is forced to take sides, they discover the meaning of, 'The End is the Beginning.'"
Despite his new lease on life and more laissez-faire attitude regarding beheadings, the odds are still pretty stacked against Morgan. Virginia controls a whole army of rangers, a fleet of vehicles, and even the oil fields that power said vehicles, while all he has are a few friends and a vision for a new settlement hidden behind a dam. Virginia's people are a Savior-level threat, and this time, Morgan doesn't have a whole army behind him like Rick did on The Walking Dead season 8.
The second half of Fear the Walking Dead season 6 will also introduce three new characters played by John Glover (The Good Wife), Nick Stahl (Terminator 3: Rise of the Machines), and Keith Carradine (Fargo).
Fear the Walking Dead season 6 returns this Sunday, April 11 at 9 pm ET on AMC.
Keep up with all of our Fear the Walking Dead coverage here.