News
Fear the Walking Dead Season 6: Alicia and Strand Make a Friend in Episode 2 Clip
Fear the Walking Dead season 6's second episode, "Welcome to the Club," airs this Sunday on AMC, and the network has provided Den of Geek with an exclusive clip.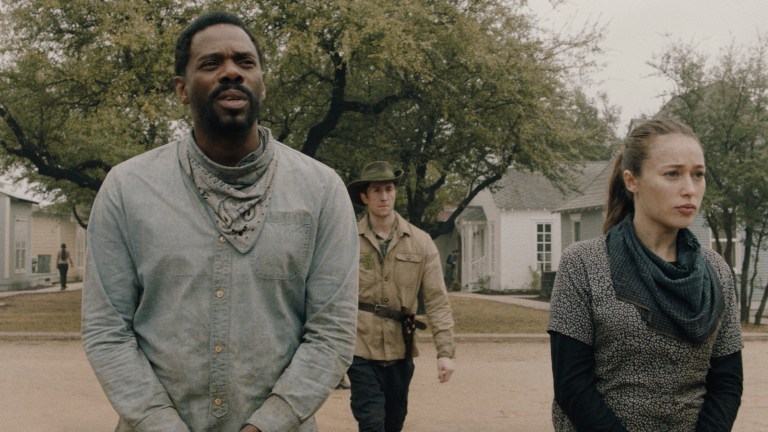 This season, Fear the Walking Dead has adopted an anthology story structure, with last Sunday's season premiere focusing on the very-much-alive Morgan, who just barely survived the wrath of axe-swingin', baked bean-eatin' bounty hunter Emile LaRoux, hired by none other than the trailblazing Virginia (Colby Minifie). Needless to say, by the end of the episode it looks like Morgan's fighting spirit is rejuvenated, and he's dead set on wresting his people from Ginny's grasp.
This Sunday's episode focuses on Alicia (Alycia Debnam-Carey) and Strand (Colman Domingo) as they struggle to navigate Virginia's thriving settlement, where they've been delegated less-than-desirable societal roles, to put it mildly.
In the new clip, Alicia and Strand are escorted in handcuffs down the dirt roads of Lawton. They meet an ostensibly friendly teenager named Dakota, who claims to know who they are and bears a striking resemblance to a certain red-headed boss lady. Watch the clip below.
The episode's official synopsis reads: "Virginia forces Alicia and Strand to clear an unusual walker threat, where an encounter with a new ally gives Strand an idea that could be the key to their freedom."
It stands to reason that Dakota would be the "new ally" the synopsis eludes to. Could she in fact be Virginia's blood? Sure looks that way, but we'll find out for sure on Sunday. Alicia and Strand seem to get along nicely with her from the get-go, but virtually no one we meet on the show is exactly who they appear to be on the surface.
Recently, Domingo told Den of Geek that we'll be seeing the "ultimate" version of Victor Strand emerge this season. It was hinted at last season that Strand may be considering working with or for Ginny in some capacity, and according to the synopsis, he's got a big idea rattling around that crafty mind of his. The handcuffs in the clip certainly indicate that he isn't exactly thriving in Lawton. But if he chooses to help Ginny's in her mission to expand her operations, it could drive a serious rift between him and his old friends.
Also of note is that Sunday's episode was directed by Morgan himself, Lennie James, who recently spoke with Den of Geek about his experience getting behind the camera for the first time.
Fear the Walking Dead season 6 episode 2 airs on Oct. 18 at 9 p.m. ET on AMC.