News
Fear the Walking Dead Reveals Morgan and Grace's Future Daughter
Grace sees the future in the opening minutes of Fear the Walking Dead season 6 episode 12, "In Dreams."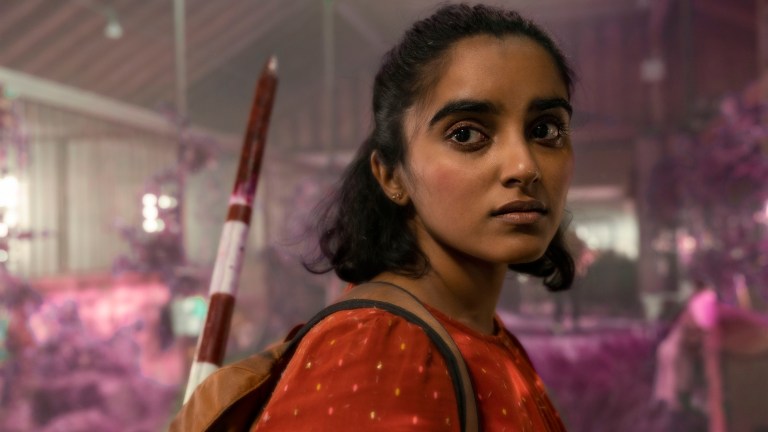 Morgan has had to walk a very hard path in Fear the Walking Dead season 6. Left for dead by Virginia and later hunted by an axe-wielding murderer, the veteran hero of the zombie apocalypse had to find a reason to live. It wasn't easy. His friends taken and scattered, lead poisoning slowly killing him, and all hope for building a better world gone, it truly seemed like this would be the end of the line for Morgan.
But everyone loves a good redemption story. The first half of season 6 was all about Morgan and his friends finding the strength within themselves to continue living despite being separated and alone. Ultimately, even the terrors they suffered under Virginia's rule weren't enough to tear our heroes apart.
With a new lease on life and a more laissez-faire attitude towards chopping people's heads off, Morgan has been building a new place for his friends to live, somewhere where they can truly begin to build a new, better world and be safe from future villains like Virginia. With new enemies already rising up, it'll be interesting to see if the walls of this new settlement actually hold.
In the meantime, this Sunday's episode, "In Dreams," takes us on a wild trip. Just listen to this synopsis: "Grace wakes up with a case of amnesia and sees what has become of her friends after she has been gone for years, and she struggles to put the puzzle pieces together on what has transpired."
If that sounds trippy, wait until you see the big twist in the opening minutes of the episode, which we can exclusively reveal below:
Meet Athena, Morgan and Grace's daughter from the future…at least in this dream sequence, which also features Old Man Morgan, who is now the leader of a large and seemingly impenetrable settlement complete with sentries. If you recall, the big twist at the very end of season 5 was that Grace was pregnant with Morgan's child. Unfortunately, Grace was taken away by the Pioneers just as Morgan learned the truth. Needless to say, Morgan has been trying to get back to Grace ever since.
But "In Dreams" takes us 16 years into the future, a wild time jump that seems to show a future that could be…except for one obvious alteration: neither Morgan nor Athena know who Grace is. Worst of all, Grace can't remember her own name, either. But she remembers Morgan. The clip ends with Morgan leading Athena and Grace into the settlement, where it sounds like we'll find future versions of some of our other favorite characters. (Might John Dorie be alive in this alternate future?)
Whatever is going on in this episode, it does look like "In Dreams" is one of the most ambitious episodes of Fear the Walking Dead yet. We'll find out for sure when the episode airs this Sunday at 9 pm ET on AMC.