Features
Fargo Season 4 Finale Post-Credits Scene Explained
Fargo season 4 connects some dots for the show's continuity in an unexpected, but appreciated post-credits scene.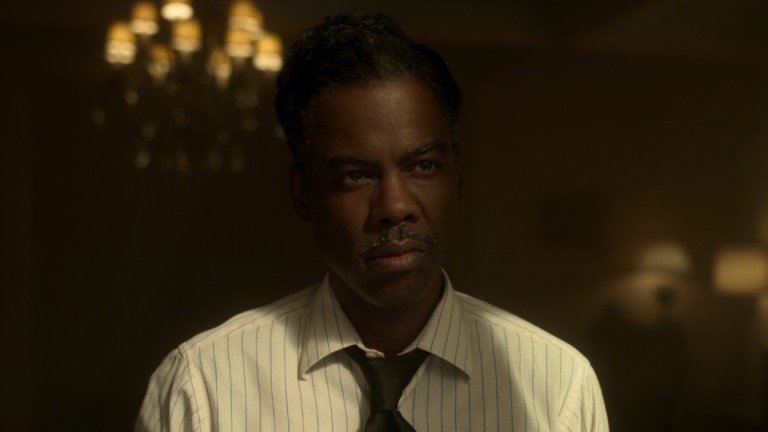 This Fargo article contains spoilers for the season 4 finale.
Fargo season 4's finale, "Storia Americana," wraps up an uneven season of FX's crime series about as effectively as one could have hoped. The hour is thematically consistent, if a little short (which may have had something to do with the final two episodes' abbreviated COVID-19 production schedule). In true Fargo fashion, the season ends with plenty of our main characters dead. Josto Fadda (Jason Schwartzman) is killed for not properly realizing the power of his own family (and for a simple misunderstanding with killer nurse Oraetta Mayflower), while Loy Cannon (Chris Rock) is killed for underestimating the power of another family.
All in all, "Storia Americana" tells a rather complete story…or storia. But then, Fargo showrunner and this episode's writer Noah Hawley decides to give viewers one more post-credits scene for the road. The post-credit scene in "Storia Americana" brings back a beloved actor and character from the show's second (and best) season, and ties him into the loose Fargo continuity in a rather effective way. Here is what you need to know about the post-credit scene from this season 4 finale.
Midway through the Fargo season 4 finale credits, the black screen slowly gives way to a cracked asphalt road somewhere out in the American Midwest. Then the camera pans up to find a car driving down that lonely highway. Sitting in the backseat of that car is none other than Mike Milligan (Bokeem Woodbine). Mike was one of the central antagonists from Fargo season 2 – a charismatic and talkative enforcer sent by the Kansas City mob to deal with the Gerhardt family, Fargo's most notable crime syndicate in the '70s. Driving the car is Gale Kitchen (Brad Mann) who served as Mike's bodyman alongside his brother Wayne Kitchen (Todd Mann).
As Mike looks out the window, a scene of Loy Cannon's son Michael a.k.a. "Satchel" walking down the road after escaping the Faddas fades in and is displayed beside Mike's face. The implication here is clear. As many viewers have long-suspected, Michael "Satchel" Cannon grows up to be Mike Milligan. It turns out that being traded from one crime family to another, experiencing that new family trying to murder you, only to return home to one's birth father just in time to watch him die is a compelling formula for how to create a murderer.
Fargo, bless it, was never shy about dropping clues to Satchel's ultimate fate. In the first minutes of season 4's premiere, the show reveals that one of Kansas City's earliest gangs is the Irish crime family known as "The Milligan Concern." This set off some alarm bells for Fargo fans, who are presumably always thinking about Mike Milligan. They knew a guy named Milligan, and he came from Kansas City after all!
Of course, the Milligan Concern was not long for this world, edged out first by a Jewish gang, and then by an Italian one. The name lived on, however, in the form of Patrick "Rabbi" Milligan (Ben Whishaw). Rabbi Milligan is so-named because he was traded by his Irish family to the Moskowitz Syndicate. After a few years, Rabbi helped his old family take out his new one and the Moskowitzes were annihilated. Then, when the Fadda Family came to town, Rabbi's father humiliated him by trading him again instead of his younger brother. Rabbi then helped the Faddas take out his own family, including him personally executing his own father.
Throughout the series Rabbi Milligan proves to be a valuable companion to Satchel Cannon, after Satchel himself is traded to the Fadda Family. If there's anything that Rabbi knows, it's what it feels like to be traded as part of a power-sharing agreement between two crime families. Rabbi and young Satchel a.k.a Mike Milligan grew close, and when the order came down from Josto to kill Satchel, Rabbi saved the boy's life and the pair hit the road together. Rabbi saved Mike's life once again, but in the process was carried off by a tornado (because Fargo). This sent Mike out on the road alone with only his motel terrier buddy Rabbit for company.
Perhaps Mike had eyes on returning to a "normal" life when he finally arrived home and reconnected with his father. But any hope of that ended with Zelmare Roulette's (Karen Aldridge) knife. Mike then presumably found his way into the life of crime like his father. Unlike his father, however, he was unable to establish his own crime family. As the Fargo season 4 finale makes clear, the days of boutique little crime families are coming to an end. The Italian mafia has infiltrated just about every meaningful aspect of organized crime in every major city. Any other crime syndicates will serve at the Italian mob's pleasure. And it would seem that that's just what Mike Milligan does. 
The adult Mike Milligan is a highly proficient negotiator, diplomat, and killer. The Kansas City mob is happy to work with him because he gets things done…and can deftly recite Lewis Carroll's "Jabberwocky" from memory. Earlier on in Fargo season 4, a character named Joe Bulo was introduced to Josto. Joe Bulo is actually a character in Fargo season 2 (played by Brad Garrett), and it is he who convinces the Kansas City crime family to send Mike Milligan north to shore things up with the Gerhardts. It now seems clear that Joe Bulo being introduced this season was no accident and it is he who helps transition one-time Fadda family member Mike "Satchel" Cannon deeper into the crime world. And when Mike enters into that world, he adopts the name of Rabbi Milligan, the man who saved his life over and over again.
Each season of Fargo is distinct and is intended to be appreciated on its own merits. Through four seasons now, however, the show has filled out its modest canon here and there. Season 2 previously revealed that Dodd Gerhardt's helper Hanzee Dent (Zahn McClarnon) received plastic surgery to become Fargo mob leader Moses Tripoli. Season 3 also had some tenuous ties back to season 2, including the existence of Mr. Wrench. It's this Mike Milligan reveal though that proves once and for all just how deep the Fargo rabbit hole can go.