Reviews
Fargo Season 4 Episode 3 Review: Raddopiarlo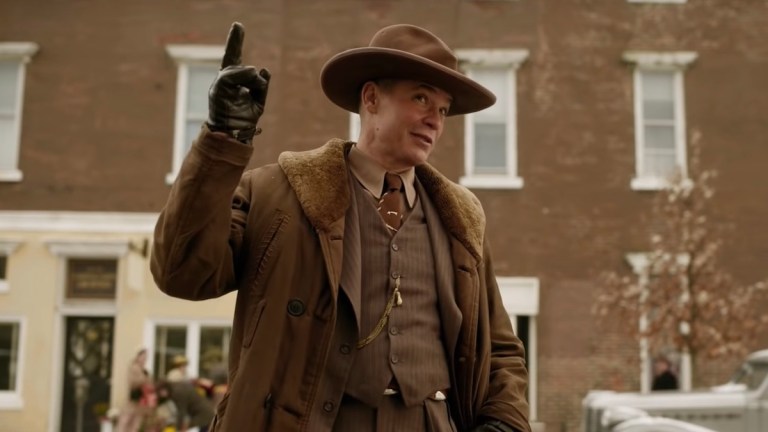 This Fargo review contains spoilers.
Fargo Season 4 Episode 3
If Fargo's two-episode premiere felt something like a change of pace for the series — a new setting, traditional gang conflict backdrop, and a somewhat more serious tone — "Raddopiarlo" feels like a classic Fargo installment. Between the introduction of smooth-talking U.S. Marshall Dick "Deafy" Wickware, the abundance of showy monologues, and a hilariously botched heist, this jam-packed episode managed to turn up the heat in the budding war between the Faddas and the Cannons while throwing in some interesting wrinkles. Not everything is working quite as it should, but the show is still plenty entertaining.
I'm never going to say no to Timothy Olyphant as a cocky, brash lawman, and he certainly doesn't disappoint in his first appearance this season as Deafy. Deafy is quick to establish his Mormon faith and his get-shit-done attitude. As a Mormon, Deafy is another "Other" in this American tale, as it was technically illegal to be a Mormon in the state of Missouri after the 1838 Mormon War. A state executive order said you could kill Mormons in the state of Missouri until 1976, but chomping on carrots with a cool confidence, Deafy doesn't seem too afraid. Like others in the story, he then goes on to make disparaging remarks about the Italians and others, not realizing that they're all in the same boat.
Deafy is in town to look for Zelmare and Swanee after their escape from prison, as inmates reported Zelmare talking about her sister and the trouble she was in prior to her escape. He's assigned to work with Odis, who is annoyed he can't stay on the socialite murder case and protect the Faddas, but when the pair make a surprise visit to the Smutny home, they aren't able to locate the hiding fugitives. Deafy's presence is sure to shake things up, and I wouldn't be surprised if he finds himself in the middle of the Fadda-Cannon conflict at some point.
Speaking of that conflict, the family consiglieres Doctor Senator and Ebal Violante meet up at a diner to discuss the disagreement over the slaughterhouses. Despite some more clunky, repetitive dialogue about what it means to be American, this is great scene due to Glynn Turman's measured yet powerful performance. Ebal knows that Donatello didn't grant permission for the Cannon's to take the slaughterhouse, and Doctor Senator knows that he knows, yet both men understand the realities of the situation and realize that they're helpless to fight over the same opportunities they can afford to grab.
Meanwhile, Gaetano creates unnecessary chaos in the Fadda family home. After quickly placing a scare on Rabbi and Satchel as Rabbi explains his history to the Cannon boy, Gaetano runs into his brother and criticizes his strength and ability to lead the family. Gaetano is close to being over the top with his menacing, borderline psychotic behavior, but it's so much fun to watch. Not content to allow the Cannons to get a leg up on his family, Gaetano makes a plan to take out Loy's son Lemuel, against Josto's wishes for no killing. After witnessing Rabbi earlier in the episode, he insists Constant take Rabbi with him on the job to prove his loyalty to the family.
In the episode's tensest section, Rabbi realizes while in route to the hit what he's being asked to do and immediately questions whether it was Josto's orders. Urged by his morals and his understanding that he should not be acting against the actual boss' wishes, he purposely botches the hit and tells Constant that he plans on letting Josto know that he's taking orders from Gaetano. It's gripping television and Ben Wishaw continues to make Rabbi the season's most compelling POV character.
Speaking of hits gone poorly, Zelmare and Swanee decide to try to rob the Cannon safehouse, thinking that it will aid Dibrell with her debt. Unfortunately for the outlaws, Swanee digs into the pie left by Oraetta right before they leave on their mission. Like clockwork, the two women bust into the Cannon safehouse and Swanee immediately starts getting sick. Swanee's vomiting and Zelmare's lack of focus causes some of the Cannon men to try to fight back, which causes bullets to fly and Zelmare and Swanee to escape with less than anticipated. This season felt the most like Fargo's past, as it's clear this unrelated heist will be blamed on the Faddas and have massive implications in their escalating feud. My only critique is that this section could have had more chaos and carnage.
Finally, in what feels like a completely unrelated show, Oraetta lands a job at Dr. Harvard's hospital, schmoozing and sweet talking the vain man with ease. Outside the hospital, Josto is doing his regular stakeout, just waiting to take his chance to off Dr. Harvard, and Oraetta spots him again assuming that he's interested in her. The two share some more drugs and a very odd moment of intimacy. It's clear Oraetta has eyes for Josto, and Josto seems pretty drawn in by Oraetta's unique energy. I like Oraetta's brand of evil, I'm just not quite sure how it fits with the series moving forward, especially when it seems that more relevant characters like Ethelrida, Satchel, Zero, and others are getting short shrift.
While not flawless, this episode was absolutely stuffed with compelling action, even if we can do with a little less speechifying. While I enjoyed Chris Rock in the premiere, I feel like he's pulling his natural charisma back a little too far in this episode. Jason Schwartzman appears to have the opposite problem, being just a tad too anachronistic to the point of seeming miscast. However, I'm still onboard with the latest season of Fargo and I'm curious to see how the Cannon's respond to the threats, real or perceived, as well as how Josto will deal with the power grab that's being attempted by his brother.