Reviews
Fargo Season 4 Review (Spoiler-Free)
Fargo is more preoccupied with the implications of the American dream than ever in a chaotic, yet solid fourth season.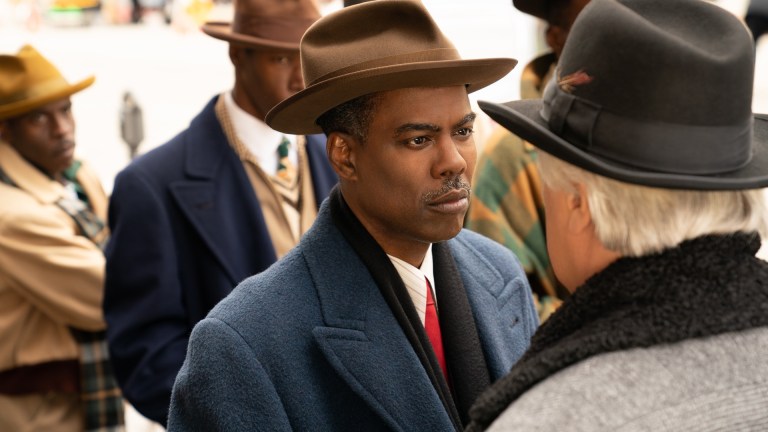 This Fargo review contains no spoilers.
Time has become an odd thing to track throughout the coronavirus pandemic, but it still seems hard to believe that it's been over three years since the last season of Noah Hawley's Fargo wrapped on FX. Fargo season 3 was often ponderous, existential, and meandering. It also routinely gave off a vibe that Hawley was growing tired of the Midwest, Coen-worshipping box that he had placed himself in. Perhaps time away from the anthology series allowed Hawley to return with a bit more energy, but also a narrower focus. Instead of a twisty-turny story fueled by happenstance and bad luck, Fargo season 4 is a '50s-set, pulpy tale of two warring Kansas City gangs. Some may call this season's story timely, but it would be relevant in any era of American history. This is a tale of immigrants, race, and what it means to be an American.
Gone are V.M. Varga's long-winded musings about perception shaping reality and in their place are several characters spouting off dialogue like "You know why America loves a crime story? Because America is a crime story." If you drank every time a character waxed about America, Americans, or American values, you'd be drunk before the first commercial break. It wouldn't be helpful to be drunk, because there are a lot of characters to keep track of, each with a gloriously ridiculous name.
The themes may be more simplistic, but the sprawling ensemble cast includes the Italian crime syndicate the Fadda Family, anchored by brothers Josto (Jason Schwartzman) and Gaetano (Salvatore Esposito, from the Italian series Gomorrah) and the Cannon Limited gang headed by Loy Cannon (Chris Rock) and his right-hand man Doctor Senator (character actor Glynn Turman). There's also the Fadda family's Irish wildcard Rabbi Milligan (Ben Whishaw) and slightly off nurse Oraetta Mayflower (Jessie Buckley, recently seen in I'm Thinking of Ending Things) sporting the Minnesota accent to remind you which show you're watching. Oh, and don't forget twitchy corrupt cop Odis Weff (Jack Huston), arrogant U.S. Marshall Dick "Deafy" Wickware (Timothy Olyphant), fugitive lesbian couple Zelmare Roulette (Karen Aldridge) and Swanee Capp (Kelsey Asbille), and local morticians Dibrell (Anji White) and Thurman (Andrew Bird) Smutny, along with their precocious 16-year-old daughter Ethelrida (E'myri Crutchfield). Keeping up?
The sprawl of the cast feels unwieldy at first, until the conflict between the Fadda and Cannon families heats up. However, promising characters like Ethelrida and Rabbi Milligan then begin to feel underused. That's the problem with introducing so many compelling characters; someone is going to feel shorted. The season begins with the Fadda and Cannon families swapping their youngest sons to keep the peace, and those boys living in dramatically different households from what they're used to could have anchored the entire season. Instead, they are little more than props that motivate our other lead characters. At one point in the premiere, Loy introduces the premise of the credit card as a way to further his criminal enterprise and legitimize black buyers, but the season barely revisits the idea. The season feels streamlined at times to its benefit, but at other times to a fault.
For most audiences, this will be their first time seeing Rock in a predominately dramatic part and he rises to the occasion despite never really exceeding expectations. Schwartzman is dependably funny, as is Olyphant in a familiar, though satisfying role. But the real standouts are Esposito and Buckley. As Gaetano, Esposito fumes and bugs out his eyes like a young Vincent D'Onofrio, let off the leash and fully menacing. Buckley is the chaotic wolf in sheep's clothing, hiding sinister intentions behind a five-point vocabulary and the Minnesota Nice demeanor. Both actors pop off the screen and grab your attention every time that they appear.
Fans of Fargo's propulsive, drum-heavy score and use of split-screen will be relieved to see those elements return, and Season 4's simmering gang war creates more tension than years past. Still, the heavy-handedness of the season's themes coupled with the density of the plot makes the latest installment of Fargo feel too slight and like too much at the same time. Hawley still can unexpectedly zig where you expect him to zag, and the scope of his story here is impressively ambitious, but season 4 never quite coalesces into something that feels whole, despite remaining fun, stylish, and chock-full of compelling characters. Clearly Hawley needed to get out of Minnesota to recharge his batteries, but maybe it's time to leave the Coen sandbox for good.