Features
Endeavour Series 8 Recap: Morse's Downward Spiral, Joan & Jim's Romance, and Sam Thursday
Endeavour's drinking took him to the brink in Series 8. As Series 9 arrives, here's a recap of his struggles, Joan and Strange's romance, and Fred and Win's missing soldier son Sam. Spoilers.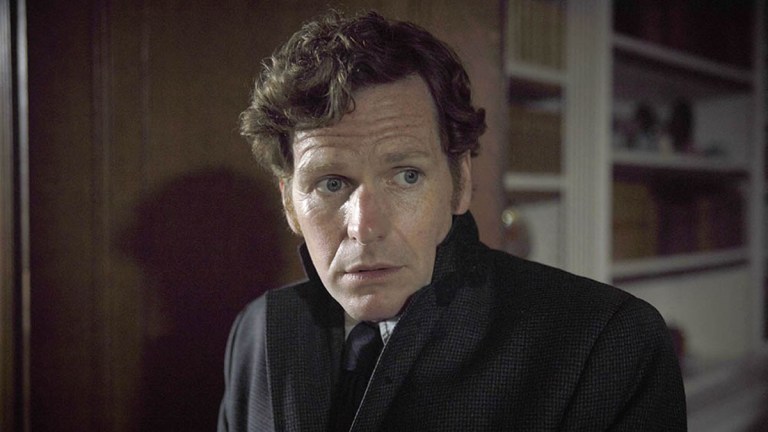 Warning: contains spoilers for Endeavour Series 8
It's been happening gradually for years; the bright-eyed, teetotal young constable we met in Endeavour's 1965-set pilot has been turning into the cynical misanthrope drinker we recognise as Inspector Morse. In Series 8, that transformation leapt ahead, taking Endeavour to the brink.
The previous year's operatic love tragedy had left Endeavour grieving, bitter and alone. In Venice in December 1970, his lover Violetta had died in his arms after taking a bullet her husband Ludo intended for him. If it wasn't for Fred Thursday, who'd rushed to Italy to save his bagman and shot Ludo, Morse would have died too. Back in Oxford, Endeavour drank to cope with the guilt. He drank alone, neglecting his work and disguising his hangovers by calling in sick.
DCI Thursday and Ch. Supt Bright saw through the lies and worried about their man. Fred told Bright that after the Venetian ordeal, Morse "walks a step slower" and had "lost some of his bounce." One thing's for sure, said Fred, he was no longer the kid that got off the coach from Carshall-Newtown.
Jim Strange and Joan Thursday
Nor was Endeavour the same man who'd caught Joan Thursday's eye over daily morning hellos as he picked her father up for work. Joan had been absent for Series 7, only the off-screen recipient of the heart-felt letter of apology Morse had sent after falling out with Fred. In Series 8, she was back from Stevenage, living in Oxford with a housemate, and working as a Welfare Officer.
It was Joan's work that threw her into the path of DS Jim Strange. While Endeavour was on a downward spiral, his former housemate Strange was on the way up. A case brought Strange to Joan's place of work, where he extended her an invitation to a dinner dance at his Masonic lodge, clearly expecting to be rebuffed. Joan though, older and wiser and recognising Jim's upright reliability, accepted.
The dance went well and Jim proved himself a gentleman when, out of Joan's earshot, he curtly told off a cabbie who'd described her in sexist terms. Jim was clearly smitten and treated Joan well. A second date to see The Carpenters at the Royal Albert Hall happened off-screen, and by the finale, it was Jim's shoulder that Joan cried on when her younger brother Sam went missing from army duty in Northern Ireland.
Endeavour's Drink Problem
While Joan and Endeavour clearly still held an attraction to one another and there was plenty left unsaid between them, his drinking concerned her – as well it should. While she was out at the dinner dance, Morse had turned up fall-down drunk at her door. By the Series 8 finale, it was clear that Jim's upstanding comfort, not Morse's bitter unpredictability, was what Joan needed.
That was far from the only time Morse drank himself insensible in Series 8. In episode 3 'Terminus', the team investigated the passengers of the No. 33 bus in a murder case. Not being able to trace "a drunk, medium height, medium build, clerk-type" who had fallen down the bus stairs, Fred realised the man in question was Endeavour. Ever the concerned father-figure, Fred told Morse to seek help and to "break the habit before it breaks" him. Fred's dad had been "a devil for the drink," he told Morse, and he'd hate to see him go the same way. Thursday offered the details of a rehab centre Morse could attend. Endeavour rejected the offer and told Fred he didn't need help.
A hellish night spent trapped in a snowed-in mansion where his fellow bus passengers were being murdered one by one taught Endeavour that yes, he did need help. By the next morning, he accepted Fred's offer and agreed to take leave to deal with his drink problem. "As long as you need," said Fred.
Series 9 starts several months later in the spring of 1972, when Morse has returned from his "cure" – explained to the rest of the station as an extended holiday in the West Country.
Sam Thursday Goes AWOL
Win and Fred Thursday have really been through it over the years, with his delayed retirement due to having been swindled out of their savings by his brother Charlie, her depression, and Joan's troubles in Leamington Spa, not to mention the bullet Fred coughed up after the Series 2 finale, or the death of his wartime love. In the Series 8 finale, even worse is threatened when their son Sam, a soldier in the British Army serving in Northern Ireland, goes AWOL.
Fred's reaction to the news that Sam has gone missing – perhaps killed, perhaps off with a local girl, perhaps traumatised by his friend being killed by a sniper right next to him – is to stay busy. Fred refuses Bright's offer to go to N.I. or stay at home and focuses on the murder case at hand. Win heavily resents his evasion and in her worry over Sam, blames Fred for their son ever having joined the army in the first place. It's a bad time all round, and by the finale, there's still no news as to what's happened to Sam, but at least Fred decides to return home where he should have been all along.
Northern Irish Footballer Troubles, the Cabbie Murders, and the Masked Ball Murders
Series 8 started with two apparently unconnected cases in 'Striker' – an Oxford college secretary killed by a parcel bomb at work, and a death threat against a Northern Irish star player in the Oxford Wanderers football team. In the end, they turned out to have been connected and the manager of the team was responsible for the bomb that killed the young woman. She'd blackmailed her don after hearing him collude with the football manager to sell the team's ground – a parcel of land historically owned by the college – for development. To stop her from talking, the manager had planted the bomb thinking it would be blamed on far-left Terrorist group The Angry Brigade. The death threat to Oxford Wanderers Jack Swift had come courtesy of his childhood friend George Sellars, a Northern Irish loyalist who killed Swift's footballing colleague John Paul Martinelli after he had a post-match fumble with Sellars' abused wife.
Episode 2 'Scherzo' was partly just that – a light and playful interlude, this one riffing on 1970s sex comedies with a nudist colony setting – combined with a darker story about an estranged father murdering the men involved in an illegal distribution network for blue films in which his daughter had performed. A Welsh cab dispatcher killed the men – a cabbie, a priest and the head of Jim Strange's Masonic lodge, and was brought to justice. More crooks though, walked free in the form of the corrupt police who'd been running the racket. Commander Len Drury who oversaw 'the Dirty Squad' (Obscene Publications) was rumbled by Fred, who told Drury and his cronies in no uncertain terms never to step foot on patch again – a threat they returned.
The final story 'Terminus' revolved around two sets of murders at Tafferton House – one years earlier at a masquerade ball, and one in November 1971 when the house was abandoned. It turned out to be a conspiracy between the surviving relatives and friends of the unstable young man found responsible for the original killings, for which Morse found himself at the centre (the No. 33 is his regular bus home). They'd sought justice on the cabal who took advantage of their lad's cleverly devised system for picking pools winners.
Series 9 and the Return of Old Faces
What can we expect for Endeavour's ninth and final series? In the first film of three, 'Prelude', Morse investigates the death of an orchestra leader while Fred uncovers an unsettling connection to a past case when 'London business' turns up once again in Oxford… It's the beginning of the end.
Endeavour Series 9 starts on Sunday February 26 at 8pm on ITV1 and ITVX in the UK. It will air on PBS Masterpiece at a later date.