News
Endeavour Series 8 Promises 1971 Football Glitz, an IRA Threat and Morse Battling Inner Demons
The new three-part Endeavour series kicks off on ITV on Sunday the 12th with football-themed episode 'Striker'. Here's a taste of what to expect.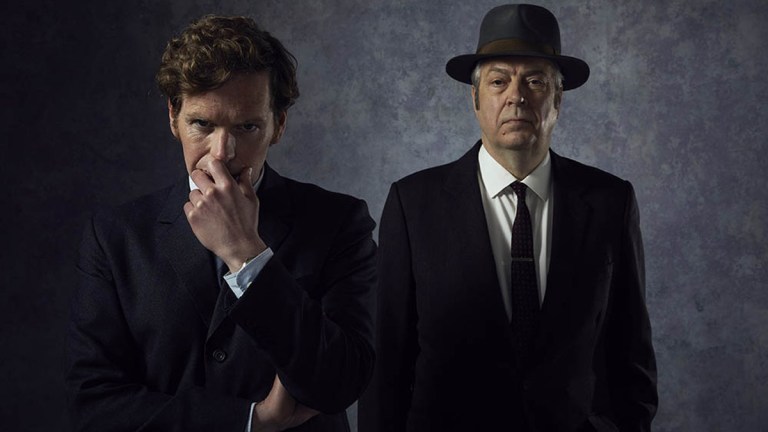 Morse's plan to transfer to another force has either been scrapped or put on the back burner in series eight, which finds the detective in Oxford and the Castle Gate team tackling "the most challenging of cases so far," according to the official press release. The three-part new series picks up at the start of 1971, just after series seven's dramatic conclusion which saw Morse's latest doomed lover take a bullet for him and die in his arms. He certainly can pick 'em.
The loss of the scheming Violetta Talenti, and the bad blood between Morse and Thursday have taken their toll on Endeavour in series eight, which will see him "crestfallen and rarely without a scotch in-hand" and once again struggling with his inner demons. Not that it looks like there'll be much time for Morse to dwell on his guilt, tasked as he'll be with acting as personal bodyguard to Jack Swift (Julian Moore-Cook), a professional footballer who's received a death threat from the IRA.
That case will unfurl against a backdrop of "glitz and glamour" in the world of 1970s football, which is equally home to some harsh truths, says ITV. The case will expose "the true cost of success and celebrity, and with it, a deep-rooted division that is soon reflected much closer to home." Perhaps we'll see a continuation of series six's racism plotline.
Confirmed as returning for the series are all the regular cast including (obviously!) Shaun Evans as Endeavour Morse, Roger Allam as DCI Fred Thursday, Anton Lesser as CS Bright, Caroline O'Neill as Win Thursday, Sean Rigby as DS Jim Strange (we knew that stabbing couldn't keep a good man down), James Bradshaw as Dr Max DeBryn, Abigail Thaw as journalist Dorothea Frazil and Sara Vickers as Joan Thursday (good news for those hoping for a resolution to series seven's heartfelt letter).
The first episode of the three, 'Striker' sees the team investigating a college bombing with possible IRA links, while later cases will have Morse investigate the murder of a local cab driver and family man, and Morse and Thursday working independently to solve the murder of a college don. The former mentor and protégé's relationship will be further strained, says ITV, when Thursday discovers that Endeavour's personal issues have had serious ramifications on his work. Those hoping for a rapprochement between the two might be cheered by (potential spoiler) the promise that "When Endeavour finds himself in a desperate situation, Thursday races against time to save him."
The series looks set to take place over the course of a single year, much like the previous run, and intriguingly for fans, will also welcome "a surprise visit from Endeavour's own past". Here's the official synopsis for series eight, episode one 'Striker', written by Russell Lewis:
It's the start of 1971. Though wearied from the events of the past year, there's no chance of 'light duties' at the CID – crestfallen and rarely without a scotch in-hand, Endeavour finds himself right back in the thick of it. An explosive murder at an Oxford college has potentially far-reaching political ramifications. Meanwhile, the IRA have made a threat against the life of the Oxford Wanderers' star striker and Endeavour is tasked with the duty of acting bodyguard.
Endeavour series 8 starts on Sunday the 12th of September at 8pm on ITV1. Come back here afterwards to read Gem Wheeler's spoiler-filled review.