Reviews
Dragon Ball Super: Super Hero Review – A New High for Dragon Ball
Dragon Ball Super makes a satisfying cinematic return that embraces the anime's super-powered past and puts some neglected heroes in the spotlight.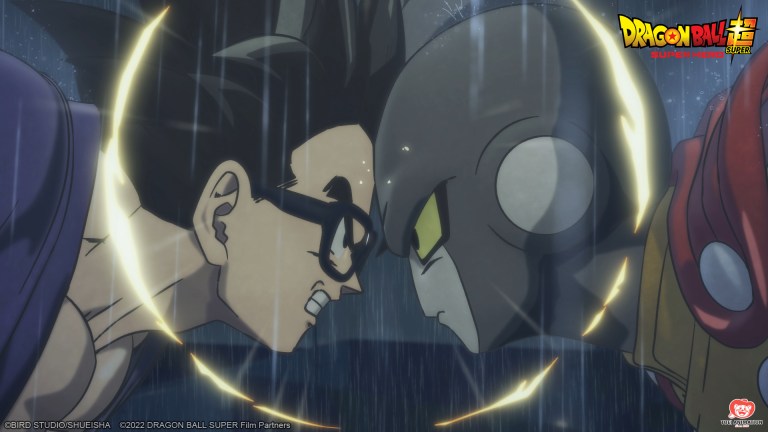 This Dragon Ball Super: Super Hero review contains no spoilers.
"You have the potential to become the most powerful being on Earth. You need to believe in yourself and release that power!"
Dragon Ball is a totemic anime series that's practically synonymous with heightened animated battles. The anime has exploded to the point where there are nearly 300 hours in the franchise's combined works and there's still no end in sight. Dragon Ball adventures are never in short supply, but the series has struggled to top the heights of its previous cinematic spectacle, Dragon Ball Super: Broly. This new movie, Dragon Ball Super: Super Hero, is easily the biggest event in the series since Broly's release four years back. However, it also uses this time away to cultivate a poignant story that improves upon Broly and might just be the best Dragon Ball movie in the franchise, period. Dragon Ball Super: Super Hero is the confident, triumphant return that the characters and series have desperately needed and the result is a rejuvenated Dragon Ball story that's ready to break new ground.
The Red Ribbon Army represents one of the first real evils that emerge in Dragon Ball and their villainy becomes a generational hurdle for the heroes to overcome in each series. This is ripe territory for Super Hero to embrace as the ancestors of past tyrants attempt to reclaim their brutal birthrights through destructive manipulation. Dragon Ball movies can be sparse when it comes to story due to the pretense that everyone just cares about the combat. That being said, Super Hero feels bigger than past efforts and it reflects the franchise's full history rather than some self-contained villain and battle. There's such a lived-in feeling to the huge world that Super Hero shows off.
The repetitive nature of previous Dragon Ball movies puts a lot of pressure on the featured villains. One of the stronger elements in Super Hero involves the deluded perspective of Red Ribbon, which culminates in Gamma 1 and 2 viewing themselves as heroes who are the world's only hope to stop the megalomaniacal efforts of Capsule Corporation. The Gamma Androids have so much personality and are considerably more entertaining and complex than standard Dragon Ball movie antagonists. Super Hero also introduces other fascinating supporting figures, like Piccolo's temporary Red Ribbon partner, who feel like they'd be absent in other Dragon Ball endeavors.
Dragon Ball Super: Super Hero isn't afraid to let its world breathe whereas past movies sometimes make it feel like the heroes are the only people on the planet. Nearly 15 minutes pass in Super Hero before any standard Dragon Ball characters even emerge. This introduction is content to flesh out the Red Ribbon Army and provide some compelling backstory and development since the events of Dragon Ball Z's Cell Saga, a period from the franchise in which Super Hero is highly indebted. It's a serious change of pace for the series when Dragon Ball's perennial protagonist, Goku, doesn't show up until the movie's half-hour mark and proceeds to mostly sit out this adventure. It cannot be expressed enough how helpful it is for Dragon Ball to get further away from Goku and Vegeta in an effort to better share the love with its powerful, diverse cast. It's an effective structure that the films should use moving forward. Bring on the Krillin- and Tien-centric movies next.
Most of the conflict in Super Hero is predicated on figuring out how Gohan can properly get his groove back–something that the character's fans have been waiting for ever since his ascension to Ultimate Gohan. Super Hero explores some fresh, insightful ideas that stem from Gohan's ambivalence towards training because he's gotten so used to how Goku and Vegeta always step up to save the world. Meanwhile, Gohan's reached a point where he can barely stand upright in his old weighted clothing.
Gohan has no problem with the domestication that he's experienced, but Super Hero finds strength when it's filtered through the context of his daughter, Pan, who's never witnessed her father fight before. Pan functions as an effective audience surrogate for someone who's never seen Dragon Ball. By the end of this endeavor both she and the audience understand why Gohan might very well be Earth's greatest hero.
Pan serves as a valuable catalyst for the return of Gohan's killer instinct, but her teamwork with Piccolo is another adorable asset of this movie. Piccolo's proactive nature throughout Super Hero is consistently satisfying and his infiltration of Red Ribbon is one of the most fun and suspenseful Dragon Ball sequences in a long time. It feels so different from the rest of the series. Gohan, Piccolo, and Pan all flourish as a team, as well as individuals, and hopefully Pan's growth under these mentors doesn't get overlooked in the movie's wake.
The major fights in Dragon Ball Super: Super Hero–as well as the unprecedented transformations that come out of them–do a lot of the heavy lifting in the movie, but this isn't purely a hyperbolized slugfest. It's significant that Super Hero effortlessly balances action, comedy, and emotion between its complex characters. Furthermore, the fallout of the film's final battle also hints towards an exciting future for the series and it's appreciated that Super Hero doesn't wipe the slate clean before the credits roll. A growing feud between Red Ribbon and a newly-empowered Capsule Corp. holds a lot of potential, as does an increased focus on Androids and artificial warriors.
A consistent perk with the Dragon Ball feature films is that TOEI Animation is able to deliver upgraded aesthetics that put the standard anime series to shame. Audiences have shared many reservations with the glossy CG aesthetic that Dragon Ball Super: Super Hero has turned to in contrast to the more traditional look for Broly. CG anime movies are not inherently broken, but they're a challenging style to properly execute. There were some warranted concerns over the look of Super Hero, but the movie's animation is surprisingly gorgeous and looks so much better when it's in motion as opposed to distilled to production images.
The movie's action sequences and energy explosions are wonderful. There's a fiery fight between Gohan and the Gammas that's set during a raging rainstorm that's a clear visual climax. There are also so many scenes that travel through different environments and pop because of how much work is put into their distinct looks. Super Hero doesn't just recycle through old assets and locations. A five-minute conversation that's set in an idling vehicle during heavy traffic becomes considerably more interesting due to the meticulous attention to background details. Similarly, there's nothing awkward about the movie's voice acting. Super Hero features the anime's regular crew who have been voicing these characters for decades, as well as some new performers who fit right in, whether it's Charles Martinet's performance as Magenta or Johnny Yong Bosch's powerful turn as the new voice of Broly.
Dragon Ball Super: Super Hero is a passionate burst of energy that's likely to leave a strong impression on both die-hard Akira Toriyama enthusiasts as well as complete newcomers to the action franchise. It does everything right by Dragon Ball standards when it comes to the movie's story, the characters that it showcases, and the return of a certain forgotten foe for the film's final conflict. It's full of the franchise's signature action sequences, yet it's a movie that leaves its audience inspired by the importance of family as the ultimate superpower. Dragon Ball Super: Super Hero is a celebration of what's made Dragon Ball great for more than 35 years, but it also leaves the franchise in a place that's more liberated than ever before.
Dragon Ball Super: Super Hero will be available in limited theaters in both subbed and dubbed versions on August 19th