News
Doom Patrol News, Reviews, and Episodes Guide
A Doom Patrol live-action TV series is now playing on the DC Universe streaming service. Here's everything you need to know.
The weirdest team in all of comics is arriving with a live-action TV series from DC TV mastermind Greg Berlanti. The Doom Patrol were first introduced on the Titans TV show, and will spin off into its own 13-episode series on the DC Universe digital service.
Picking up after the events of Titans, Doom Patrol will find these reluctant heroes in a place they never expected to be, called to action by none other than Cyborg, who comes to them with a mission hard to refuse, but with a warning that is hard to ignore: their lives will never, ever be the same.
Following the same ethos from the original comics, the Doom Patrol will take on a mission that's just too weird for the Justice League. The team was created by Arnold Drake, Bob Haney, and Bruno Premiani.
Here's everything you need to know…
Doom Patrol Episodes
Here's your complete guide to Doom Patrol episodes, with links to all our reviews underneath each.
Doom Patrol Episode 1: Pilot
The Doom Patrol meets Mr. Nobody in the series premiere.The Doom Patrol meets Mr. Nobody in the series premiere.
air date: 2/15/19
read our review of the first Doom Patrol episode here.
Doom Patrol Episode 2: Donkey Patrol
With Cyborg, the Doom Patrol venture into the Donkeyverse.
air date: 2/22/19
read our review of "Doom Patrol Patrol" here.
Doom Patrol Episode 7: Therapy Patrol
The team comes together for some self-led group therapy.
air date: 3/29/19
Doom Patrol Episode 8: Danny Patrol
Meet Danny, a sentient, gender queer teleporting street!
air date: 4/5/19
Doom Patrol Episode 9: Jane Patrol
Jane retreats into the treacherous Underground in her mind.
air date: 4/12/19
read our review of "Jane Patrol" here.
Doom Patrol Episode 10: Hair Patrol
The Beard Hunter infiltrates Doom Manor for Niles.
air date: 4/19/19
Doom Patrol Episode 11: Frances Patrol
Cliff travels to Gator Country to reconnect with his daughter.
air date: 4/26/19
read our review of "Frances Patrol" here.
Doom Patrol Episode 12: Cyborg Patrol
Silas Stone makes a plan with the Doom Patrol to free Vic.
air date: 5/3/19
Doom Patrol Episode 13: Flex Patrol
The Doom Patrol try to help restore Flex Mentallo.
air date: 5/24/19
read our review of "Ezekiel Patrol" here.
read more: Behind the Weird Scenes of DC Universe's Doom Patrol
Listen to the Sci Fi Fidelity podcast discussion of Doom Patrol:
Subscribe: Apple Podcasts | Spotify | Stitcher | Acast | RSS
Doom Patrol Trailer
Here are all the Doom Patrol trailers and teasers.
Doom Patrol Release Date
Doom Patrol will arrive on DC Universe on Friday, Feb. 15.
Doom Patrol Cast
Doom Patrol is a re-imagining of DC's most beloved group of outcast superheroes: Robotman, Larry Trainor/Negative Man (played by Dwain Murphy but voiced by Matthew Bomer!), Elasti-Girl (April Bowlby), and Crazy Jane (Diane Guerrero), led by modern-day mad scientist Dr. Niles Caulder. The Doom Patrol's members each suffered horrible accidents that gave them superhuman abilities — but also left them scarred and disfigured.
read more – Titans Season 2: Everything You Need to Know
Traumatized and downtrodden, the team found purpose through The Chief, who brought them together to investigate the weirdest phenomena in existence — and to protect Earth from what they find. Part support group, part superhero team, the Doom Patrol is a band of super-powered freaks who fight for a world that wants nothing to do with them.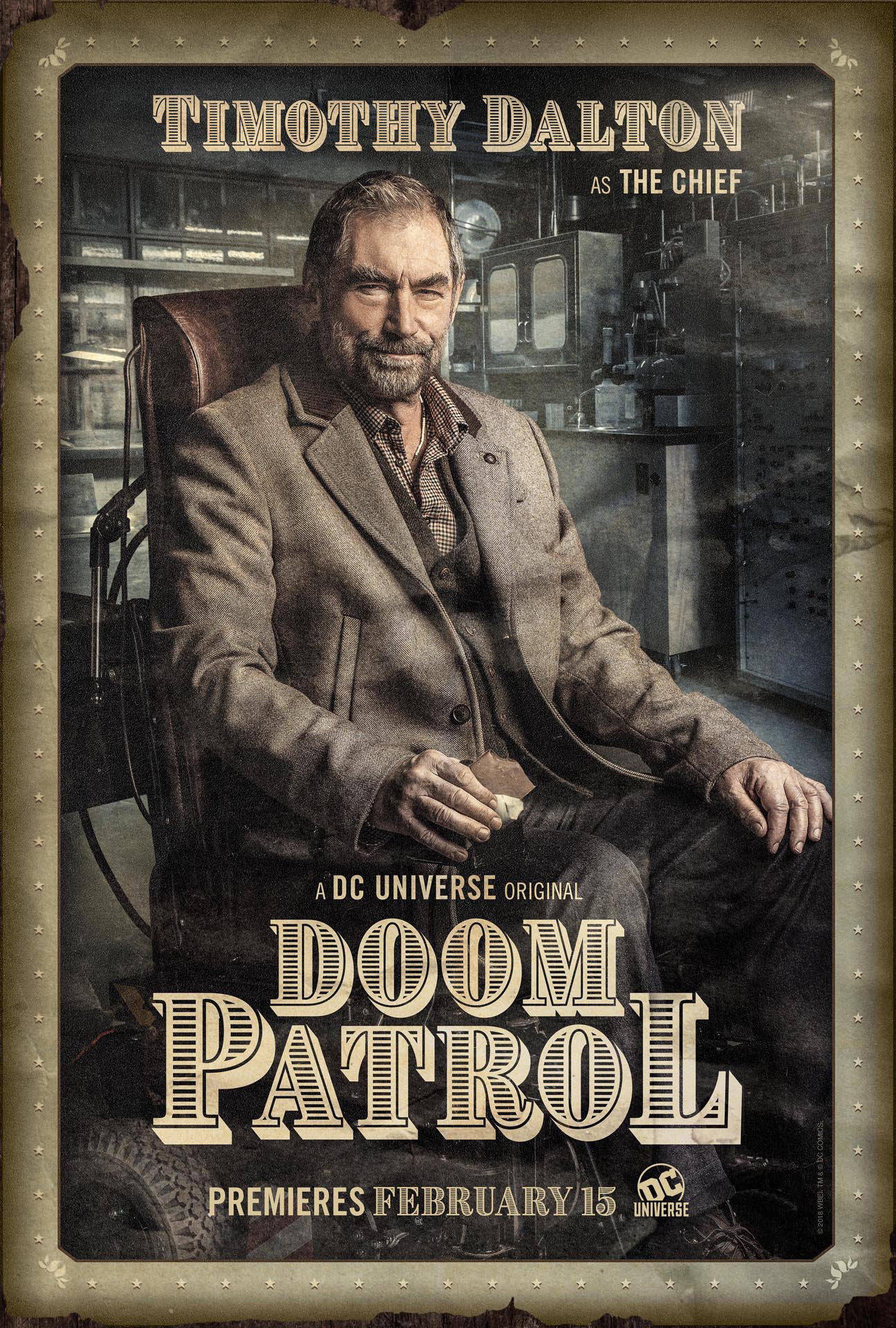 Timothy Dalton is set for the starring role as Dr. Niles "The Chief" Caulder. We have more details on his arrival right here.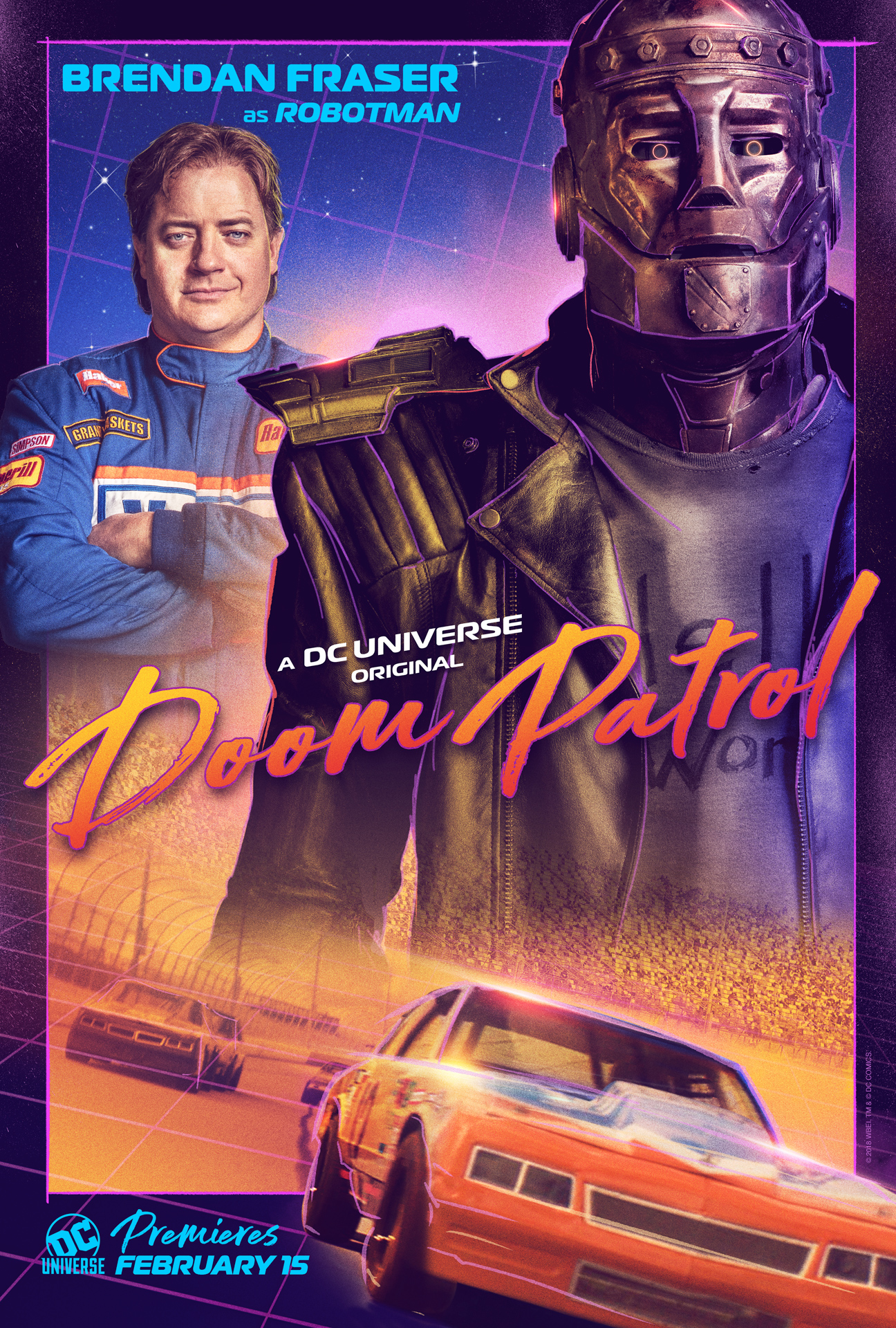 Brendan Fraser (The Mummy) is the voice of Cliff Steele/Robotman. Riley Shanahan will handle the motion capture/performance elements for when the character is on screen, but Fraser will also play the role in flashback scenes. Deadline has the official character breakdown as: 
A former race car driver, Cliff Steele was in a horrific accident that left his body uninhabitable. Cliff's brain was saved by the mysterious Dr. Niles Caulder and he lives on in a powerful robotic body.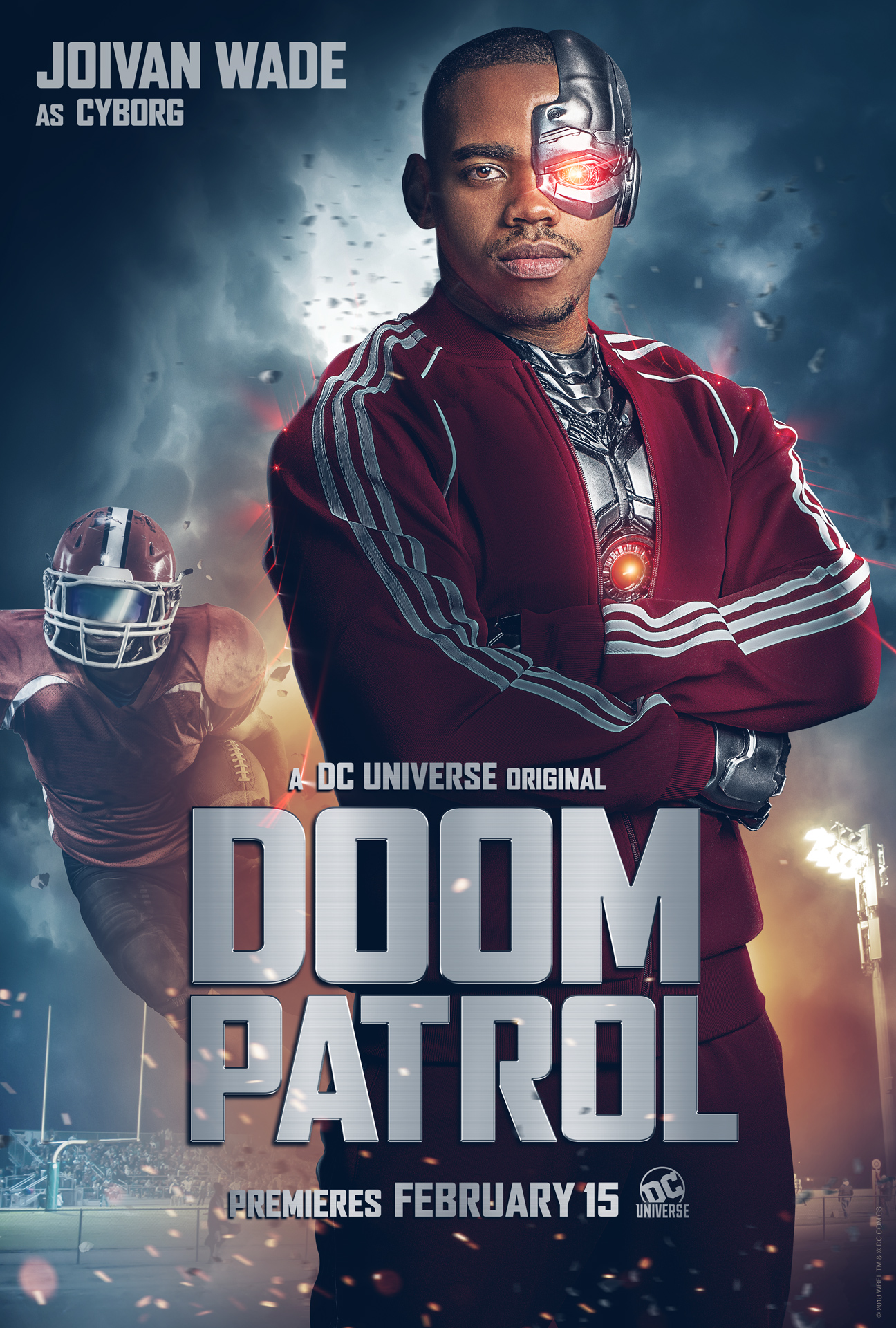 The series will also feature Cyborg, who will be played by Joivan Wade (The First Purge). According to the character description, "Vic Stone is the charming and sarcastic half-human, half-machine superhero known as Cyborg. Vic may be connected to every computer on the world, but he struggles to maintain the connections that make him human. Desperate to gain acceptance from the outside world, Vic harnesses the curse of his cybernetic body and uses his powers as the ultimate hero for the digital age."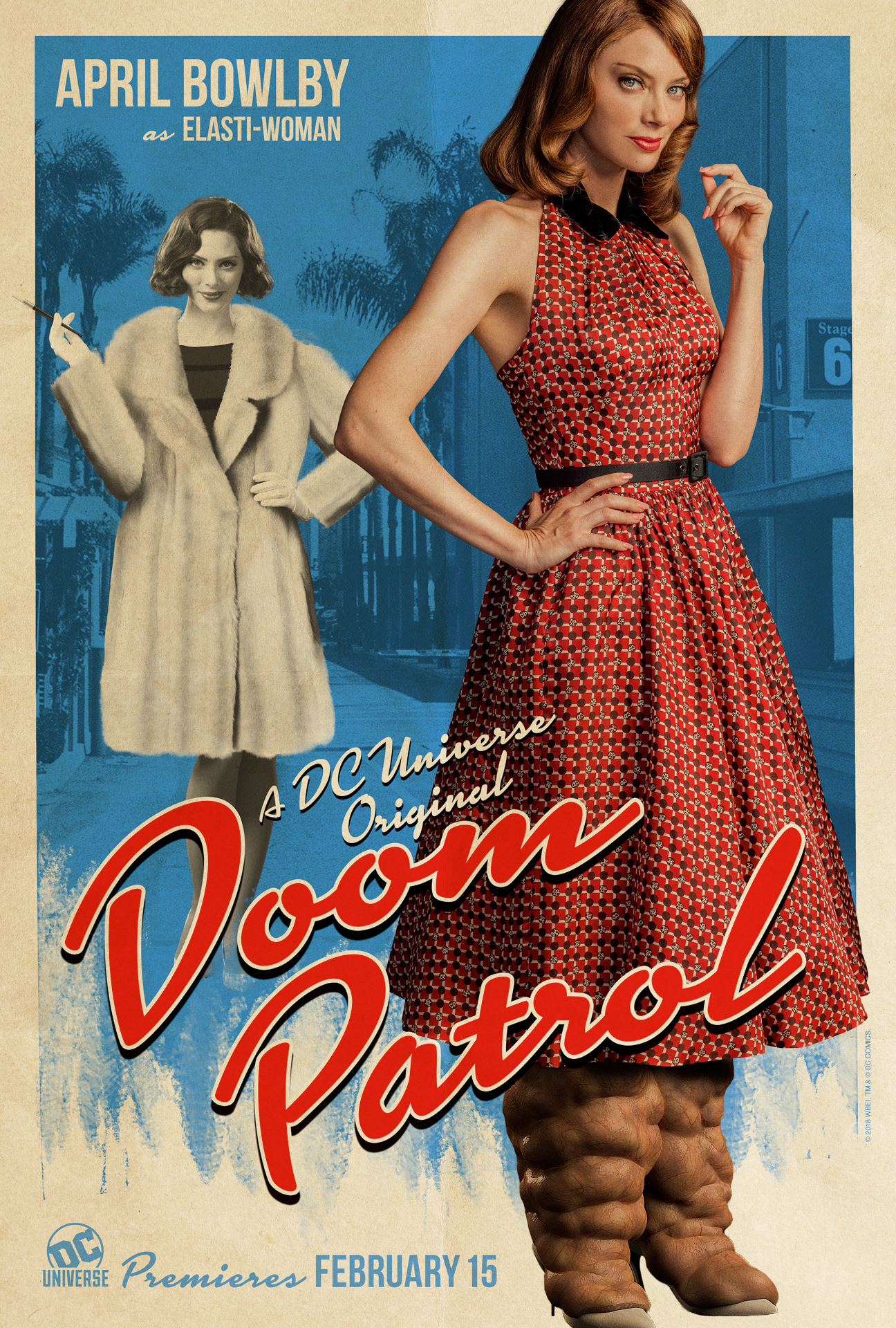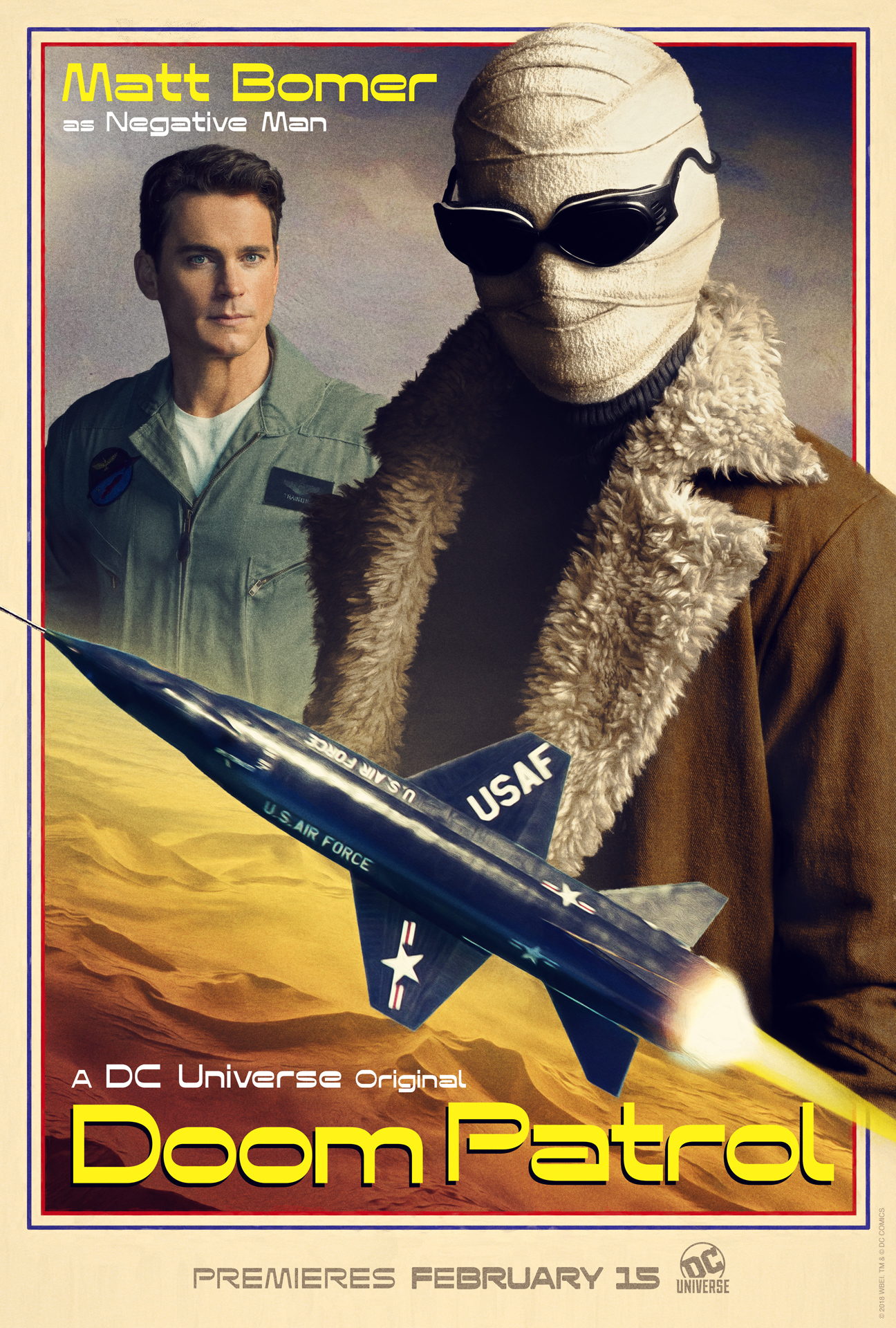 Matt Bomer is Negative Man.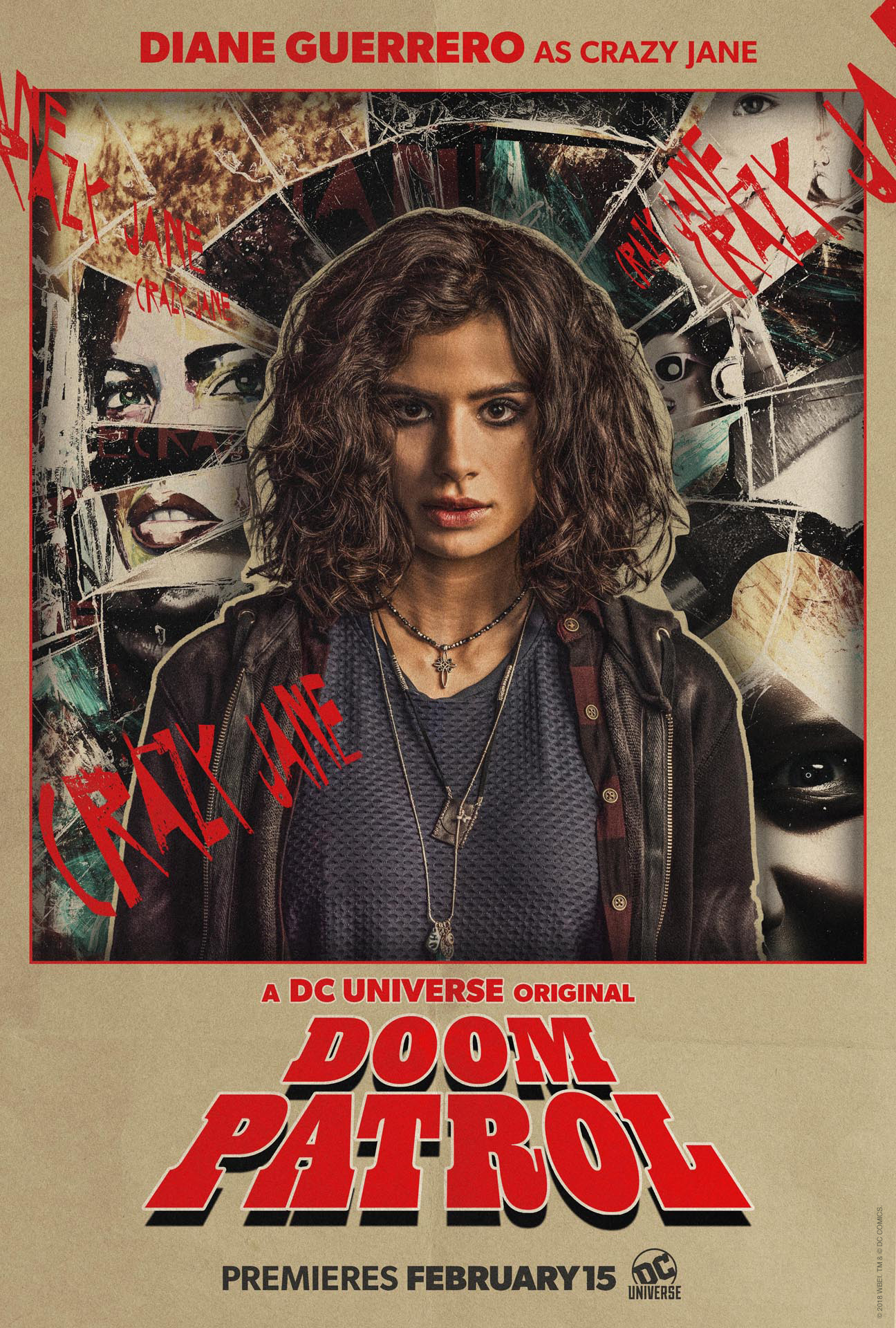 And Diane Guerrero is Crazy Jane.
Doom Patrol is written by Supernatural's Jeremy Carver, who will also exec produce with Berlanti and DC Entertainment president Geoff Johns.
Doom Patrol Villain
Alan Tudyk (Rogue One: A Star Wars Story, Powerless, Firefly) recently joined the Doom Patrol cast to play the appropriately charasmatic role as signature comic villain Eric Morden, a.k.a. Mr. Nobody, according to Deadline.
While Mr. Nobody – introduced in Doom Patrol #86, dated March 1984 – may be a wacky-looking rogue who, in Deadpool-like fashion, brandishes humorous witticisms and one-liners, his abilities are unworthy of ridicule. His origin story starts as Eric Morden, an egotistical criminal who enjoys the affectation as a "one-man crime wave." However, he bites off more than he can chew in Paraguay when exposed to a hidden ex-Nazi scientist's experiment, which changes him into something resembling surrealist art, armed with the ability to drain the sanity of his victims. Cavorting as the virtual man known as Mr. Nobody, Morden continues his crimes and gains followers with his eccentric ideology.
Wel'll keep you updated as we learn more!
John Saavedra is an associate editor at Den of Geek. Read more of his work here. Follow him on Twitter @johnsjr9. 
Joseph Baxter is a contributor for Den of Geek and Syfy Wire. You can find his work here. Follow him on Twitter @josbaxter.