Features
Doctor Who: Perfect 10? How Fandom Forgets the Dark Side of David Tennant's Doctor
David Tennant's Doctor rivals even the great Tom Baker for popularity. Ten's reputation for fun and enthusiasm though, doesn't tell the whole story about this well-written, well-acted character.
As recently as September 2020 David Tennant topped a Radio Times poll of favourite Doctors. He beat Tom Baker in a 2006 Doctor Who Magazine poll, and was voted the best TV character of the 21st Century by the readers of Digital Spy. He was the Doctor during one of Doctor Who's critical and commercial peaks, bringing in consistently high ratings and a Christmas day audience of 13.31 million for 'Voyage of the Damned', and 12.27 million for his final episode, 'The End of Time – Part Two'. He is the only other Doctor who challenges Tom Baker in terms of associated iconography, even being part of the Christmas idents on BBC One as his final episodes were broadcast. Put simply, the Tenth Doctor is 'My Doctor' for a huge swathe of people and David Tennant in a brown coat will be the image they think of when Doctor Who is mentioned.
In articles to accompany these fan polls, Tennant's Doctor is described as 'amiable' in contrast to his predecessor Christopher Eccleston's dark take on the character. Ten is 'down-to-earth', 'romantic', 'sweeter', 'more light-hearted' and the Doctor you'd most want to invite you on board the TARDIS. That's interesting in some respects, because the Tenth Doctor is very much a Jekyll and Hyde character. He's handsome, he's charismatic, and travelling with him can be addictively fun, but he is also casually cruel, harshly dismissive, and lacking in self-awareness. His ego wants feeding, and once fed, can have destructive results.
That tension in the character isn't due to bad writing or acting. Quite the contrary. Most Doctors have an element of unpleasantness to their behaviour. Ever since the First Doctor kidnapped Ian and Barbara, the character has been moving away from the entitled snob we met him as, but can never escape it completely.
Six and Twelve were both written to be especially abrasive, then soften as time went on (with Colin Baker having to do this through Big Finish audio plays rather than on telly). A significant difference between Twelve and Ten, though, is that Twelve questions himself more. Ten, to the very end, seems to believe his own hype.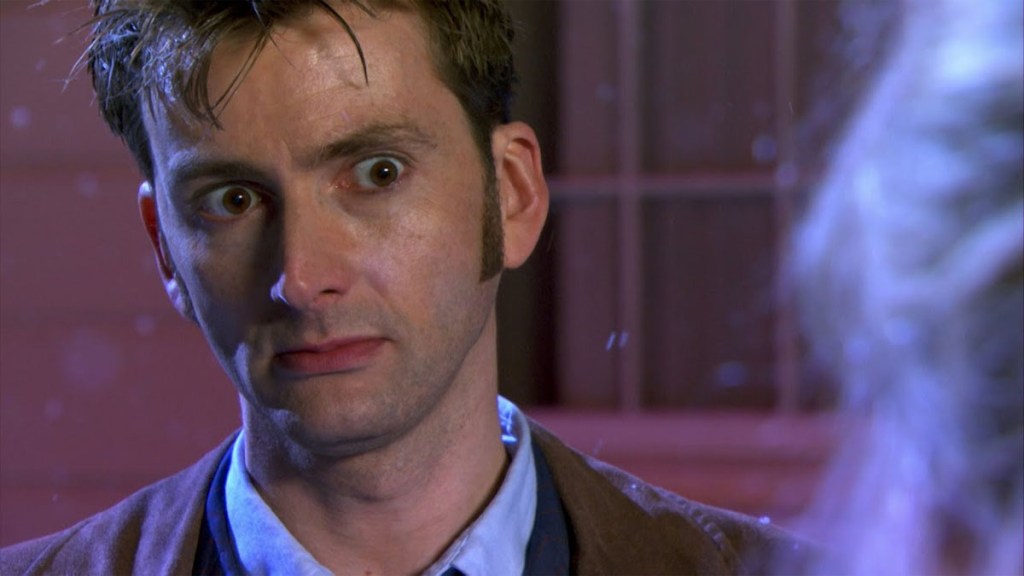 The Tenth Doctor's duality is apparent from his first full appearance in 2005's 'The Christmas Invasion'. Having quoted The Lion King and fearlessly ambled through the Sycorax ship in a dressing gown, he seems the picture of bonhomie, that lighter and amiable character shining through. Then he kills their leader. True, it was in self-defence, but it was lethal force that may not have been necessary. Then he immediately topples the British Prime Minister for a not dissimilar act of aggression. Immediately we see the Tenth Doctor's potential for violence and moral grey areas. He's still the same man who considered braining someone with a rock in 'An Unearthly Child'.
Teamed with Rose Tyler, a companion of similar status to Tennant's Doctor, they blazed their way through time and space with a level of confidence that bordered on entitlement, and a love that manifested itself negatively on the people surrounding them. The most obvious example in Series 2 is 'Tooth and Claw', where Russell T. Davies has them react to horror and carnage in the manner of excited tourists who've just seen a celebrity. This aloof detachment results in Queen Victoria establishing the Torchwood institute that will eventually split them apart. We see their blinkers on again in 'Rise of the Cybermen', when they take Mickey for granted. Rose and the Doctor skip along the dividing line between romance and hubris.
Then, in a Christmassy romp where the Doctor is grieving the loss of Rose, he commits genocide and Donna Noble sucker punches him with 'I think you need somebody to stop you'. Well-meaning as this statement is, the Doctor treats it as a reason to reduce his next companion to a function rather than a person. Martha Jones is there to stop the Doctor, as far as he's concerned. She's a rebound companion. Martha is in love with him, and though he respects her, she's also something of a prop.
This is the series in which the Doctor becomes human in order to escape the Family of Blood (adapted from a book in which he becomes human in order to understand his companion's grief, not realising anyone is after him), and is culpable for all the death that follows in his wake. Martha puts up with a position as a servant and with regular racist abuse on her travels with this man, before finally realising at the end of the series that she needs to get out of the relationship. For a rebound companion, Martha withstands a hell of a lot, mostly caused by the Doctor's failings.
Series 4 develops the Doctor further, putting the Tenth's Doctor's flaws in the foreground more clearly. Donna is now travelling with him, and simply calls him out on his behaviour more than Rose or Martha did. Nonetheless the Doctor ploughs on, and in 'Midnight' we see him reduced to desperate and ugly pleas about how clever he is when he's put in a situation he can't talk himself out of.
Rose has also become more Doctor-like while trapped in another reality, and brutally tells Donna that she's going to have to die in order to return to the original timeline (just as the Doctor tells Donna she's going to have to lose her memories of travelling with him in order to live her previous life, even as she clearly asks him not to – and how long did the Doctor know he would have to do this for? It's not like he's surprised when Donna starts glitching). Tied into this is the Doctor's belief in his own legend. In 'The Doctor's Daughter' he holds a gun to Cobb's head, then withdraws it and asks that they start a society based on the morals of his actions. You know, like a well-adjusted person does.
What's interesting here is that despite presenting himself as 'a man who never would', the Doctor is a man who absolutely would. We've seen him do it. Even the Tenth Doctor, so keen to live up to the absolute moral ideals he espouses, killed the Sycorax leader and the Krillitanes, drove the Cybermen to die of despair, brought the Family of Blood to a quiet village and then disposed of them personally. But Tennant doesn't play this as a useful lie, he plays it as something the Doctor absolutely believes in that moment, that he is a man who would not kill even as his daughter lies dead. It's why his picking up a gun in 'The End of Time' has such impact. And it makes some sense that the Tenth Doctor would reject violence following a predecessor who regenerated after refusing to commit another double-genocide.
In the series finale 'Journey's End', Davros accuses the Doctor of turning his friends into weapons. This is because the Doctor's friends have used weapons against the Daleks who – and I can't stress this enough – are about to kill everyone in the entire universe. Fighting back against them seems pretty rational. Also – and again I can't stress this enough – the Daleks are bad. Like, really bad. You won't believe just how mindbogglingly bad they are. The Doctor has tried to destroy them several times by this point. Here, there isn't the complication of double-genocide, and instead the very real threat of absolutely everyone in the universe dying. This accusation, that the Doctor turns people into weapons, should absolutely not land.
And yet, with the Tenth Doctor, it does. This is a huge distinction between him and the First Doctor, who had to persuade pacifists to fight for him in 'The Daleks'.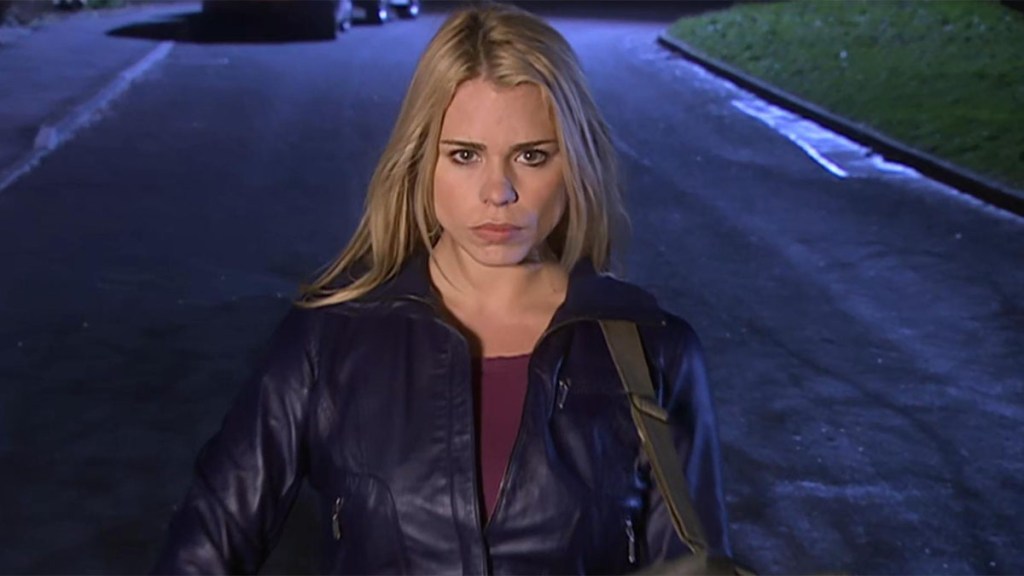 In 'The Sontaran Strategem' Martha compares the Doctor to fire. It's so blunt it almost seems not worth saying, but it's the perfect analogy (especially for a show where fire is a huge part of the very first story). Yes, fire shines in dark places, yes it can be a beacon, but despite it being very much fire's entire deal, people can forget that it burns. And fire has that mythical connection of being stolen from the gods and brought to humanity. The Time Lord Victorious concept fits the Tenth Doctor so well. Of all the Doctors, he's the most ready to believe in himself as a semi-mythic figure.
Even when regenerating there's a balance between hero and legend: the Tenth Doctor does ultimately save Wilfred Mott, but only after pointing out passionately how big a sacrifice he's making. And then he goes to get his reward by meeting all his friends, only to glare at them from a distance. His last words are 'I don't want to go', which works well as clearly being a poignant moment for the actor as well, but in the context of Doctor Who as a whole it renders Ten anomalous: no one else went this unwillingly. And yet, in interviews Russell T. Davies said it was important to end the story with 'the Doctor as people have loved him: funny, the bright spark, the hero, the enthusiast'.
It's fascinating then, that this is the Doctor who has been taken to heart by so many viewers because there's such an extreme contrast between his good-natured front, his stated beliefs, and his actions. He clearly loves Rose and Donna, but leaves them with a compromised version of happiness. They go on extraordinary journeys only to end up somewhere that leaves them less than who they want to be, with Russell T. Davies being more brutally honest than Steven Moffat, who nearly always goes the romance route. Davies once said to Mark Lawson that he liked writing happy endings 'because in the real world they don't exist', but his endings tend towards the bittersweet: Mickey and Martha end up together but this feels like they're leftovers from the Doctor and Rose's relationship. The Tenth Doctor doesn't, as Nine does, go with a smile, but holding back tears.
It's a testament to how well written the Tenth Doctor is that the character has this light and shade, and with David Tennant's immense likeability he can appeal to a wider audience as a result. It's not surprise he wins all these polls, but I can't help but feel that if the Doctor arrived and invited me on board the TARDIS, I'd want it to be anyone but Ten.