News
Doctor Who Series 13 Cast: Game Of Thrones' Grey Worm Actor To Play Action Hero 'Vinder'
Move over Captain Jack, there's a new gun-toting action hero in Doctor Who series 13, played by Game of Thrones and Broadchurch actor Jacob Anderson.
All week long, the official Doctor Who channels have been teasing a surprise guest for this weekend's Comic-Con@Home panel. While many were expecting to see a returning favourite or revived character from series past, the answer turned out to a brand new addition for series 13: Game of Thrones and Broadchurch actor Jacob Anderson.
Anderson will play new character Vinder in series 13. He'll be a recurring role, and was described on the panel as a fun, adventurous action hero who'll have his own spaceship. In a pre-recorded introductory video, Anderson revealed:
"Not only did I get to go on the TARDIS and press all the buttons and flip all the levers and the switches but I got my own ship, and my own ship had its own world of buttons and levers and switches that you could actually press and you could actually play with. I was like, 'I'm home, this is where I always wanted to be'. I had lots of very amazing days working on this."
And this is how the new character will look: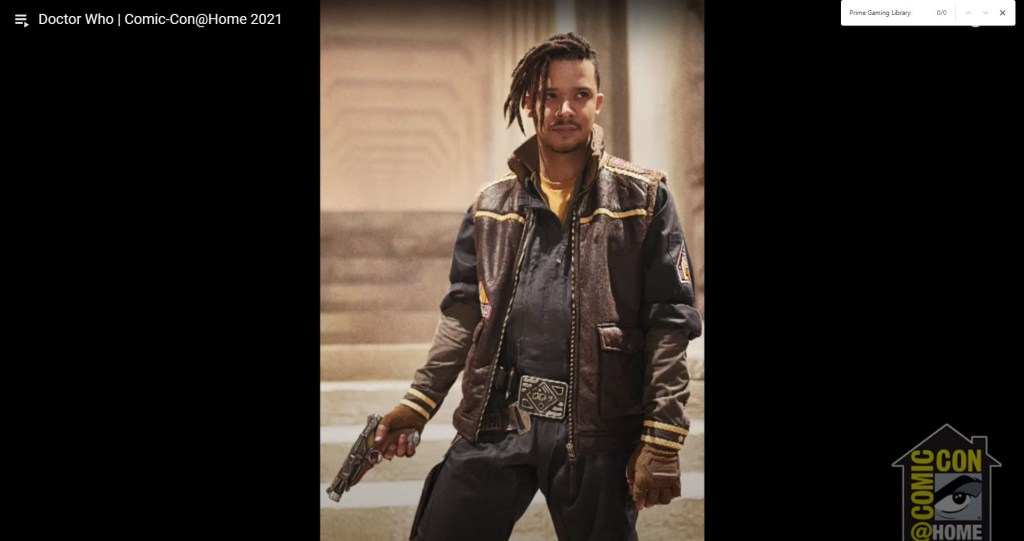 Anderson is currently best recognised for playing fierce warrior and general to the Unsullied army, Grey Worm on HBO's Game of Thrones. Before that, he appeared alongside Jodie Whittaker on Chris Chibnall's ITV crime hit Broadchurch in the role of Dean Thomas, boyfriend to Beth and Mark Latimer's teenage daughter Chloe. The actor is also a musician who performs under the name Raleigh Ritchie. In early July, he appeared as a guest on fellow Doctor Who series 13 actor John Bishop's podcast, Three Little Words, co-presented by Line of Duty actor Tony Pitts. On the podcast, Anderson discussed his love of film and music with Pitts, and made an impassioned defence of geeks everywhere, which you can listen to here.
Chibnall describes Anderson as having humanity and warmth as well as the ability to play the action hero. "He makes you root for him and he breaks your heart. He's got the whole range. Mandip Gill, who plays Companion Yaz, was similarly filled with praise for her new co-star, feeling lucky that Anderson had spent a decent amount of time on set. "Most of the characters, unless they're companions, are not recurring, whereas with his character, he's been here quite a lot hasn't he? We've had a really good chance to get to know each other."
Speaking to panel moderator Melanie McFarland, Doctor Who executive producer Chris Chibnall teased "a number of amazing guest actors" across series 13, adding, "quite a few of them recur across multiple episodes, which is very unusual for this show."
That's down to series 13, which will comprise eight episodes, having a different structure to his and Whittaker's previous runs: "The big thing we're going to be doing this year is it's all one story, so every episode is a chapter in a bigger story." Filming under Covid conditions, continued Chibnall, gave the production two choices: "We could go 'we're just going to do lots of tiny episodes in one room with no monsters' or we can throw down the gauntlet and go we're going to do the biggest story we've ever done. We're going to go to all kinds of places!"
Skip to 37:00 in this video to see the first official teaser for the new series, too:
Doctor Who series 13 will air on BBC One later this year.