Features
Doctor Who: Russell T Davies Is Coming Back As the New/Old Showrunner. Allons-y!
Get excited. Russell T Davies, Julie Gardner and Jane Tranter are returning to run Doctor Who for the 60th anniversary and "series beyond".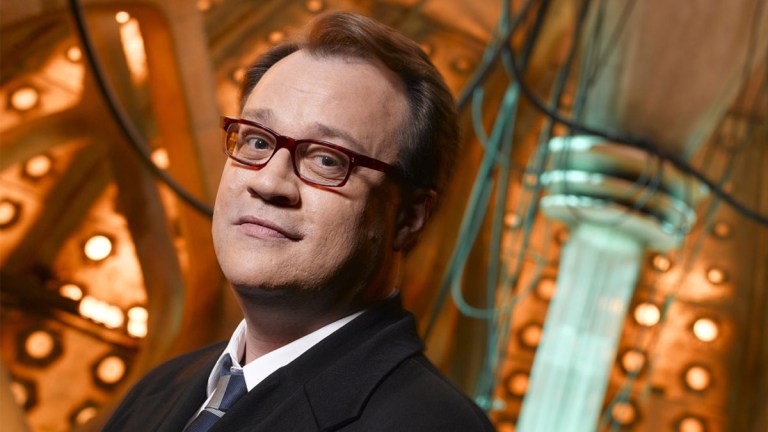 This is largely unprecedented. Doctor Who has never had a Showrunner/Script Editor return to the show in the same role before. The nearest similarities are when Barry Letts returned in an Executive Producer role in 1979 (but that was in an advisory capacity to new producer John Nathan-Turner) and when Robert Holmes returned to the show in the mid-Eighties.
Here, though, Russell T. Davies is returning to an Executive Producer role alongside Julie Gardner and Jane Tranter (who were also integral to the show's success when it returned in 2005). As showrunner, he'll have much more impact than Letts and Holmes did upon their return.
Before we get to speculation about what this means for Doctor Who, let's look at some facts. Whatever you think of RTD's take on the show, it was huge. The audience figures, especially for the Christmas Specials he established, were massive. The Audience Appreciation Index scores were solidly high. The show reached a critical, commercial, and pop cultural peak equivalent to Dalekmania and the heights of the Seventies. David Tennant's Tenth Doctor became a new visual shorthand for the show, the first Doctor since Tom Baker to reach this level of recognition.
Viewing figures have declined since Series 8 in 2014, and though the way television is consumed has changed since 2005 (and Doctor Who is established internationally) there was an increase for Jodie Whittaker's first series in 2018 that the 2020 series failed to maintain. Audience Appreciation scores have also decreased somewhat.
In more intangible measures, Doctor Who felt like it reached further peaks of cultural significance on its fiftieth anniversary in 2013, and with Jodie Whittaker's casting as the first female Doctor. Doctor Who, for a variety of reasons, no longer has a series produced every year and it has been sixteen years since the show returned in 2005. The initial surge of enthusiasm that was topped up with occasional events and relaunches has inevitably dried up over the years.
In my opinion, just because the show's writing isn't for me at the moment is not necessarily a problem. The problem is that under Chris Chibnall Doctor Who went from Series 11's lack of continuity references, no returning monsters, and attempts to widen the show's storytelling to Series 12's retcon of the entire continuity, bringing back Gallifrey and the Master to do so. Much as I like a lot of Steven Moffat's writing, we were back to the more inward-looking show that wasn't reaching out to new viewers in the way it had done in 2005.
Davies' version of Doctor Who was unashamedly populist. It reveled in cultural references like never before, it was funnier than it had ever been, it focused on plausibly real people more than ever before. Much as I enjoy what Andrew Cartmel did with Doctor Who in the late Eighties, the show was a long way off Jackie Tyler being a regular character. What Davies did shook up Doctor Who while still retaining the core of the series' appeal – a genius and his friend(s) go on adventures – in a way that challenged fan's preconceptions of what Doctor Who could be.
The context for Davies, Tranter, and Gardner is different this time, but I assume part of the reason for their return is the hope that they can bottle lightning again. Let's ignore The Hobbit trilogy and focus on how this could happen. In Den of Geek's Series 14 wishlist article we mentioned getting children to play at Doctor Who games in the playground and looking outward to audiences the show isn't reaching. Davies has managed this consistently throughout his career and there's no reason to think he can't manage this again. Plus, he's an even better writer now, and he was no slouch in 2005.
There are aspects of RTD's writing that I didn't enjoy, and I'm sure some commentators will express similar opinions, but I think that at the moment it's more important that Doctor Who engages people who aren't us. I had hoped for someone like Davies, but I certainly did not expect someone quite so Actually Him to take the job of showrunner. The main drawback here is that it seems like there was no one new to whom the BBC would entrust the show. Ultimately, RTD's return feels like it must be purely transitional rather than long-term.
There is also the factor of nostalgia at play: audiences who have left the show might be tempted back. The hope is that RTD might be able to keep some of them. For viewers who have kept watching, we can now look forward to seeing what parts of the 2005-2010 approach are kept: will we see the return of the Present Day/Historical/Futuristic episodes opening the series? The first two-parter being a bit more light-hearted and the second heralding the run of darker episodes before the finale? Are we going to get a series every year, and can we expect a Marvel Cinematic Universe-style expanded universe?
Expectations will be high, as will pressure, but the announcement notes that the trio are back not just as a one-off (the 60th anniversary special and "series beyond"). Hopefully this will keep the show alive until the BBC are ready to allow a new voice to author it. Nonetheless, suddenly I feel excited about Doctor Who again.
Allons-y!
Read more about Doctor Who series 13 here.