Features
Doctor Who: a tribute to the design work of Michael Pickwoad
Following the passing of Production Designer Michael Pickwoad, we celebrate his inestimable contribution to modern Doctor Who...
Michael Pickwoad's first Doctor Who story was A Christmas Carol, a story that asked its Production Designer to help realise a faux-Dickensian city, flying sharks, and Matt Smith sweeping the special chimney.
Doctor Who had moved to high definition at the start of the previous series, coinciding with a new production team of Steven Moffat, Piers Wenger and Beth Willis. After longstanding Production Designer Edward Thomas moved on, Pickwoad took over the role until Moffat left as showrunner in 2017. In this time he oversaw the design of a new TARDIS interior, several sonic screwdrivers, Peter Capaldi on a tank, and a nuclear submarine.
The Production Designer role first appeared in Doctor Who credits in 1996 for the television movie, but since 2005 has been present in the television series. Previously, costume, set and effects designers were allocated individual stories, feeding back to the director and the permanent producer. Now the Production Designer oversees every designed aspect of the show, liaising with all of those departments.
The demands of the role, then, are about more than visuals. You also have to be able to work with people in a stressful environment. For Doctor Who there are greater demands than on many shows, in that there are very few standing sets and each episode is usually set in a different location. Also, those locations can vary from an Ice Fair on the Thames in 1814 to a deep-space mining station in the far future, with different cast and varying crews on each story.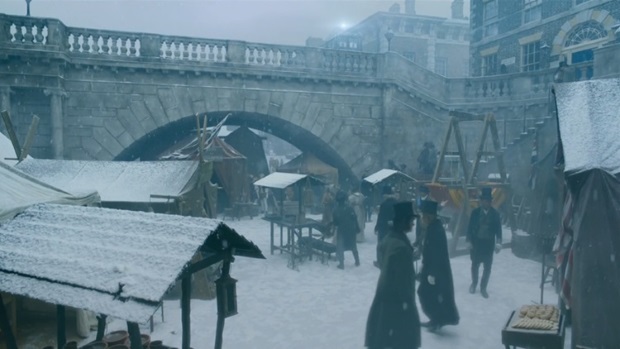 Let's examine the Ice Fair on the Thames from 2017's Thin Ice. Written by Sarah Dollard and made as part of the second production block of Series 10, this meant a different producer and director to the last two episodes (The Pilot and Smile). The main setting for the episode is the frozen river Thames in the early nineteenth century. While watching the episode it didn't ever occur to me to consider whether it was filmed on set or on location.
The Ice Fair, as seen in the video below, was a set, but convinced utterly as an outdoor location (he also produced the sets for Class, which many assumed was simply filmed at a school). As a collaboration between departments, the fact that it passes unremarked is both testament to its brilliance and somewhat unfair. A job done well in this context means that it doesn't draw attention, and most of us aren't watching Doctor Who with a view to examining the realisation of sets, costume and visual effects. Without a grounding in these skills, the best gauge we have is the contrast between on set videos and the finished product.
On set: 
Episode trailer: 
Joni Mitchell once sang, in her Alan-Partridge-baiting hit Big Yellow Taxi, that they paved paradise and put up a parking lot. More relevantly, she also said "you don't know what you got 'til it's gone", and it isn't until the passing of Michael Pickwoad that I became aware of how good at his job he was. I work in admin and write occasional things about geeky stuff I like, and beyond knowing how to use the drop shadow function on GIMP haven't really got any strong visual aesthetic.
Yet, watching Doctor Who from A Christmas Carol through to Twice Upon A Time with a view to how the programme looks, the quality level is undeniably high. Considering its budget and demands, the show under Michael Pickwoad's eye has consistently looked… well, 'good' seems too slight a word here. It has frequently excelled itself with very few blemishes, overseen by a man who reacts to a scene set at a medieval castle courtyard – involving the lead actor entering on a tank (while playing a guitar) – by querying the type of tank the script specified.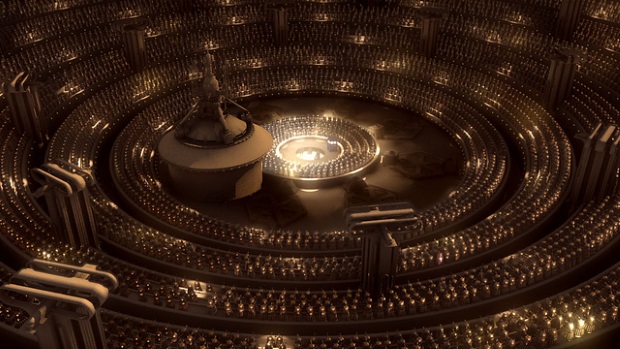 Consider some of the visuals we've seen in his time on the show: the size and scale of the Dalek Parliament, the immediately evocative barn in a Gallifreyan wilderness, the Azbantium wall, Mr Sweet, the Minotaur's hotel, the submarine sets of Cold War. A lot of people have worked on these, designing, building and operating, and it's not just a demonstration of talented designers and makers, but of an ability to collaborate and make things work. Passion and care also fed into the mix; Pickwoad timed his departure so as to not see his TARDIS set, which he continually refined, being dismantled.
And what a TARDIS set. On a purely practical level, it had space to roam (and oh, how Capaldi roamed that set), multiple levels, and was a gift to lighting designers. Indeed, the change in personalities from Eleven to Twelve was conveyed more by lighting as it was additional furniture. The design combined so much of Doctor Who's history (aspects of every TARDIS design are echoed in it), honouring the past yet distinguishing itself from what had gone before.
Raise a well-designed glass to Michael Pickwoad, who brought a sense of realism to a complete lack of realism, building sets from Earth's past, present and future and from across all of time and space. With a career dating back to 1968, ranging from Withnail & I to The Prisoner remake, from Hawk The Slayer to Lost In Austen, Michael Pickwoad probably did pave paradise and put up a parking lot.