Features
Dispatches from Elsewhere Finds Clara and Her Divine Nonchalance
Dispatches from Elsewhere's enigmatic Clara, Cecilia Balagot, discusses her grand series debut.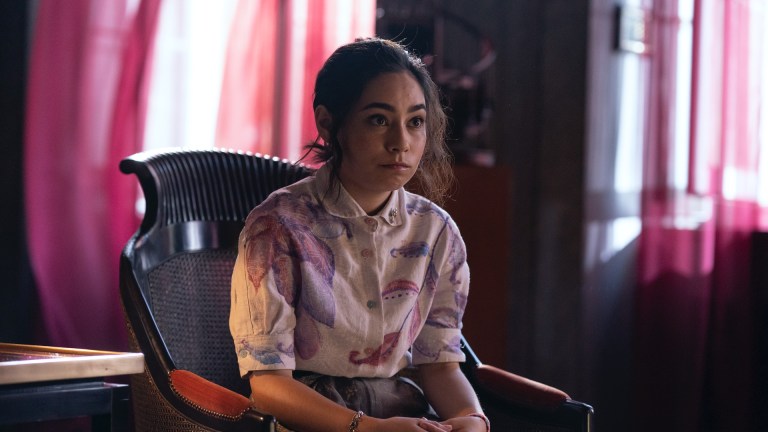 The following contains spoilers for Dispatches from Elsewhere episode 5.
Through four episodes of AMC's trippy Dispatches from Elsewhere, our core four heroes have been tasked with an important mission. According to a helpful film reel at the Elsewhere Society, participants in this grand alternate reality game must track down Clara, the young architect of Divine Nonchalance and the key to spreading Elsewhere's principles of beauty and whimsy throughout the world. 
Problem is that Clara has been AWOL and neither the Dispatchers nor the audience have actually gotten confirmation that she's even real…until now. Episode 5, "Clara," officially introduces the mythical character played by Cecilia Balagot to the show via flashbacks, an exhaustive diary, and an eerily lifelike portrait. On a show that's already so superbly cast with Jason Segel, Eve Lindley, Sally Field, and Andre Benjamin making up the leads, how did producers go about finding someone with enough gravity to be those characters' ultimate pursuit? Through a simple audition it turns out. 
"I sent in a tape and did a little bit of coaching. I got an email saying they wanted me to send another tape, and that Jason Segel was going to call me and give me notes," Balagot says. "So we went on this call and he told me about the project and his vision for Clara. I think we talked a little about Fight Club too, which is my favorite movie."
Balagot is a young actress best known for her recurring role as Isadora Smackle on Disney's Boy Meets World spinoff, Girl Meets World. Though she and her career are young, Balagot proves to be a shrewd choice in playing the larger-than-life Clara. 
As episode five reveals, Clara is the progenitor of this whole story in some respects. As a misfit girl growing up in Philadelphia's Fishtown, she decides to inject some vibrant color into her dull world. Clara uses some blue paint to create a metaphorical (or maybe literal…it's never fully clear on this show) window to Elsewhere. There she makes some friends, Mateo, Kimber, and Sanjay, and together they do their best to introduce some divine nonchalance into a colorless world. 
Playing Clara means that Balagot had to reckon with her own definition of what "divine nonchalance" means.
"I think Amy Winehouse said it best when she said, 'that silent sense of content.' That's what Divine Nonchalance is to me; a quietness of heart and mind, just being."
On a more practical level, playing Clara also means getting to don several fantastical costumes, including an inspired Amelia Earhart-esque get up first seen in The Elsewhere Society's training video.
"The costume designers on this show are some of the most creative and brilliant artists I've ever met," Balagot says. "When they told me they wanted me to wear vintage button-ups, knickers, and boots, I got so emotional because I wouldn't have to wear a dress or film in heels!"
While much of Clara's story exists in an unspecified past, the character does get to show up in the series' present in a couple of fascinating ways. The first is through an uncannily realistic portrait painted on the wall ("like the murals in Fishtown," Jason Segel's character Peter notes). Though initially inert, the portrait begins to speak to narrate Clara's story. That level of verisimilitude requires a near photorealistic portrait, which Dispatches from Elsewhere was all too happy to provide. 
"They took a still of me and printed it to look painted," Balagot says."I was so obsessed with how creepy it was I asked around for it all day until props finally gave it up. I flew it home and TSA thought it was very weird."
Though Clara doesn't get to interact with the full cast (just yet), in episode 5 Balagot does get to play Peter's conscience as she accompanies him to work and convinces him to send The Beach Boys' "Good Vibrations" to everyone's playlist for the Spotify-like music streaming service he works for. 
"Definitely a quirky bunch," Balagot says of the cast. "I loved working with Jason, he is so easy to play off of and it made me more excited to take risks and to really be the Clara that he saw."
Surely there will be more risks to be taken in the episodes to come for Clara and Dispatches from Elsewhere. Now that the character has entered the story, all that's left is to rescue her from the clutches of Octavio and the Jejune Institute. Unless everything is not as it seems…and that's always a good bet on Dispatches from Elsewhere.