News
Disney+ New Releases: November 2021
We have a list of the new Disney+ movies and shows arriving in November 2021 including Hawkeye, The Beatles: Get Back, and more!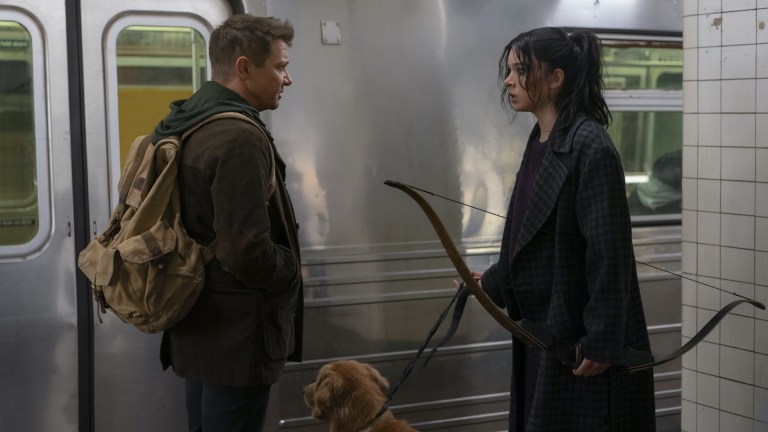 With its list of new releases for November 2021, Disney+ is continuing its dream of always having one big ticket Marvel series running on its servers.
After the interesting and entertaining animated effort Marvel's What If…? wrapped up its run in early October, Hawkeye is set to pick up the Infinity Gauntlet and run with it with two episodes premiering on Nov. 24. This live-action series features Jeremy Renner reprising his role as expert marksman Clint Barton a.k.a. Hawkeye and encountering the next generation of heroes in the form of Hailee Steinfeld's Kate Bishop. Also there will be a dog…and Christmas!
Christmas cheer is something of a running theme on Disney+ this month, with many holiday offerings making their way to the streaming service. Chief among those options is the latest installment in the Home Alone franchise, Home Sweet Home Alone, premiering on Nov. 12. Don't sleep on the weird holiday classic Jingle All the Way on Nov. 5 though.
Disney is also hosting its own "Disney+ Day" this month on Nov. 12. This will be highlighted by a special presentation from Marvel Studios and the premiere of a Boba Fett documentary Under the Helmet. And if all that weren't enough, none other than the Beatles themselves close the month out with a three-night engagement. Peter Jackson's documentary The Beatles: Get Back premieres on Nov. 25 with new installments arriving on Nov. 26 and 27.
Wednesday, November 3
New Library Titles
– Amphibia (S3, 5 episodes)
– Dino Ranch (S1, 7 episodes)
– Photo Ark (S2)
– Storm Rising (S1)
Disney+ Originals
– Doogie Kamealoha, M.D. – Episode 109 "Scutwork"
Friday, November 5
New Library Titles
– Alvin And The Chipmunks: Chipwrecked
– Jingle All The Way
– Jingle All The Way 2
– Prep & Landing: Operation Secret Santa (Short)
– Santa Buddies
– The Search For Santa Paws
– Snow Buddies
– Space Buddies
– X-Men: First Class
Wednesday, November 10
New Library Titles
– Mickey Mouse Funhouse (S1, 7 episodes)
Disney+ Originals
– Doogie Kamealoha, M.D.
Friday, November 12 — Disney+ Day
New Library Titles
– Feast (Short)
– Frozen Fever (Short)
– Get A Horse! (Short)
– Jungle Cruise
– Shang-Chi And The Legend Of The Ten Rings
– All-New Short From The Simpsons
– Paperman (Short)
– Tangled Ever After (Short)
– The Little Matchgirl (Short)
– The Ballad Of Nessie (Short)
– Tick Tock Tale (Short)
Disney+ Originals
– Ciao Alberto (Short)
– Entrelazados (All Episodes Streaming)
– Home Sweet Home Alone
– Marvel Studios' 2021 Disney+ Day Special
– Olaf Presents – Disney+ Day Premiere Season 1
– The World According to Jeff Goldblum – Disney+ Day Premiere Season 2
– Under The Helmet: The Legacy Of Boba Fett (Documentary Special) – Disney+ Day Premiere
Wednesday, November 17
New Library Titles
– Disney's Magic Bake-Off (S1, 3 episodes)
– Life Below Zero: Next Generation (S3)
– Minnie's Bow-Toons: Party Palace Pals (S1, 4 episodes)
Friday, November 19
New Library Titles
– A Muppets Christmas: Letters To Santa
– Adventure Thru The Walt Disney Archives
– Puppy For Hanukkah
– The Pixar Story
Wednesday, November 24
New Library Titles
– Becoming Cousteau
– PJ Masks (S5, 3 episodes)
– Port Protection Alaska (S4)
– Puppy Dog Pals (S4, 2 episodes)
– Secrets Of The Zoo: Tampa (S2)
Disney+ Originals
– Hawkeye – Two-episode premiere
Thursday, November 25
Disney+ Originals
– The Beatles: Get Back – "Part 1"
Friday, November 26
New Library Titles
– Duck The Halls: A Mickey Mouse Christmas Special
– Ernest Saves Christmas
– Ice Age: A Mammoth Christmas
Disney+ Originals
– The Beatles: Get Back "Part 2"
Saturday, November 27
Disney+ Originals
– The Beatles: Get Back "Part 3"