News
Crossing Swords Release Date, Trailer, Cast, Story, and More News
The team behind Robot Chicken brings their stop-motion animation sensibilities to the Middle Ages in Crossing Swords.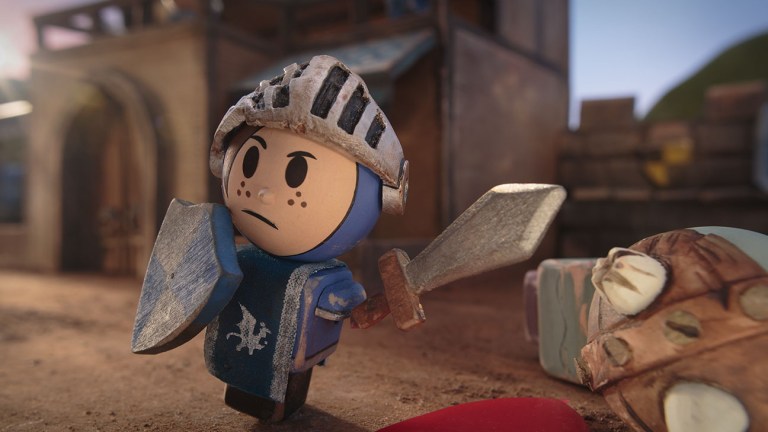 Recent shows like Game of Thrones, Miracle Workers, and Disenchantment have done a good job of removing the idealized sheen of our culture's idea of the Middle Ages. Yes, there were beautiful queens, noble knights, and plenty of chivalry to go around. But there was also war, disease, famine, and more horse poop than you could possibly conceive of. Now Hulu's Crossing Swords is set to explore the dark side of the medieval world even further.
Crossing Swords is a stop-motion animated comedy from John Harvatine IV and Tom Root (executive producers on Adult Swim's Robot Chicken). Harantine IV and Root will write all of Crossing Swords' episodes while Harantine IV also serves as director. As revealed in the first teaser, the animation style on the show will be similar to Robot Chicken's as all characters will resemble claymation LEGO people (though certainly not actual LEGO people due to extensive copyright law). Still, these blocky folks look like they're prepared to go through sheer hell in a land of comic violence and unwarranted nudity. If nothing else, Crossing Swords will prove that Hulu has the market cornered on penis-related titles, following its comedy Pen15.
Here is everything we know about Hulu's Crossing Swords.
Crossing Swords Release Date
Crossing Swords will premiere all 10 of its episodes on Hulu on June 12. Mid-June could mark the beginning of the coronavirus-induced summer drought of entertainment, giving everyone some extra incentive to check this out.
Crossing Swords Trailer
The full trailer for Crossing Swords has now arrived. "This kingdom is corrupt as hell," young knight Patrick opines as the king looks into an execution as a tried-and-true morale booster.
Those wondering what Crossing Swords whole deal will be needn't look further than this first trailer released by Hulu. This will truly be a NSFW production featuring gallons of blood and tiny clay male genitalia. 
Crossing Swords Cast
Nicholas Hoult (X-Men: First Class, Mad Max: Fury Road) will provide his voice to the lead character of Patrick, a good-hearted peasant who discovers his beloved kingdom is run by crooks and morons. The rest of the cast is made up of Adam Ray, Tara Strong, Tony Hale, Luke Evans, Seth Green, Alanna Ubach, Adam Pally, Yvette-Nicole Brown, Maya Erskine, Breckin Meyer and Wendi McClendon-Covey.
Crossing Swords Story
The official plot description of Crossing Swords provided by Hulu highlights the show's realistic (if stylized) take on Monarchal culture:
Patrick is a good hearted peasant who lands a coveted squire position at the royal castle however his dream job quickly turns into a nightmare when he learns his beloved kingdom is run by a hornet's nest of horny monarchs, crooks and charlatans. Even worse, Patrick's valor made him the black sheep in his family, and now his criminal siblings have returned to make his life hell. War, murder, full frontal nudity—who knew brightly colored peg people led such exciting lives?
Stay tuned for everything else we uncover about Crossing Swords prior to its June premiere!