News
Creepshow Animated Halloween Special Coming to Shudder in October
Kiefer Sutherland and Joey King will star in The Creepshow Halloween Special, based on stories from Stephen King and Joe Hill.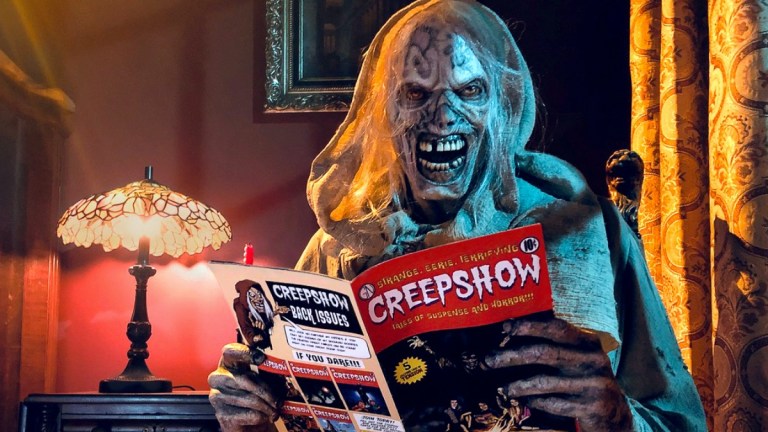 What's spooky season without a little Creepshow?
Thankfully AMC's horror streaming imprint Shudder agrees and has greenlit an animated Creepshow Halloween special. The aptly titled Creepshow Halloween Special will star Kiefer Sutherland (24) and Joey King (The Act) and will be based on stories from horror writing father-son duo Stephen King and Joe Hill.
The special will be directed by Creepshow showrunner and Walking Dead gore expert Greg Nicotero. It will premiere on Shudder on Oct. 26. 
"Halloween wouldn't be complete without Creepshow, so with the help of the father and son team of Stephen & Joe as well as a fantastic animated format, we get to continue the tradition and spirit of Halloween," said Nicotero.
The fully-animated special will feature two stories, in keeping with the format of Creepshow's first season on Shudder. "Survivor Type" is based on a short story from Stephen King and was developed for TV by Nicotero. Sutherland will provide his voice to play a man stranded on a beach who is dedicated to survive at all costs. "Twittering from the Circus of the Dead" is based on a short story from Joe Hill, adapted by Melanie Dale, and stars Joey King as a teen whose family road trip "includes a visit to the gravest show on Earth." Octopie animation studio will have animation on both stories.
The burgeoning Creepshow TV franchise is based on the 1982 horror anthology film of the same name directed by George A. Romero and written by Stephen King. The film featured five original horror stories within the frame narrative of a horror comic book. The first season of the show premiered on Shudder and included 12 stories spread out over six episodes. The show was renewed for a second season shortly after the first premiered but production remained in a holding pattern for quite awhile due to the COVID-19 pandemic. As of earlier this month, however, production resumed and Shudder began to unveil cast members for the second season including Anna Camp (Pitch Perfect), Josh McDermitt (The Walking Dead), and Adam Pally (The Mindy Project).
"Although season 2, now in production, has been delayed due to Covid, Greg and his team were still able to pull off this fantastic special so everyone will be able to enjoy a little bit of Creepshow during Halloween season," said Craig Engler, Shudder's General Manager.
There is no announced release date for season 2 yet, but Creepshow season 3 has also been confirmed.