News
Talking Strange: Bigfoot Hunt, Kesha Gets Spooky, and Conjuring House Sold
In this week's paranormal news, the haunted Conjuring House sells for scary money, Kesha hunts ghosts, and a scientist speaks out on on evil aliens...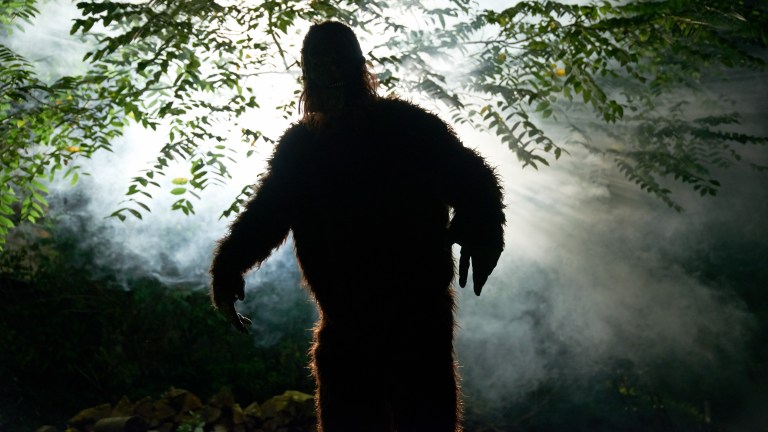 Aloha, Spooky Nerds!
Every week it seems I read of more strange things afoot that are delightfully odd and potentially unexplained in nature. While Den of Geek wouldn't presume to try and convince you to believe, or not, in unusual phenomena, we do enjoy exploring the topic so much we have the weekly paranormal pop culture Talking Strange podcast and video series hosted by yours truly (and available on Apple Podcasts, Spotify, and YouTube)
After all, mysterious encounters, peculiar sightings, bizarro experiences make for great stories and incredible debate fodder. How people talk about, and reflect upon, these tales — regardless of whether they consider them fact, fiction, lore, or legend — is what makes them worthy of media commentary as much as, if not more so, the potential veracity of the phenomena itself.
And there are so many strange things happening throughout the week that I will be collecting some of my favorite items from the entertainment of the unexplained in this weekly space at Den of Geek. The focus of this column is not to validate, nor debunk, supposed paranormal and supernatural activity, but to instead highlight the especially notable and nerdy news for you to use from the intersections of the paranormal and popular culture.
Let's dive in, shall we?
Ghost Rider Turns 50
The flame-headed Marvel superhero who is not the Human Torch debuted 50 years ago on May 30, 1972 in Marvel Spotlight #5 (cover dated August 1972). Although there had previously been characters named Ghost Rider, this one was a Spirit of Vengeance who rode a sweet motorcycle, and was created by editor Roy Thomas, writer Gary Friedrich, and artist Mike Ploog. The human behind the skull was Johnny Blaze, a stunt rider who trained in secret and made a deal with Satan (aka Mephisto) to save his adopted father — and who was then saved by his girlfriend (and sort of adopted sister) Roxanne Simpson. Unfortunately, he was bonded with the demon Zarathos, and cursed to pursue the wicked and send them to Hell. CBR has a nice little anniversary writeup on the super supernatural hero.
Evil Alien Civilizations in the Milky Way?
A new paper, published by conflict resolution PhD student Alberto Caballero at the University of Vigo in Spain, speculates there are about four "hostile extraterrestrial civilizations" in our galaxy. Caballero acknowledges there are limitations to his thought experiment, which involves analyzing how many invasions humans have conducted in the last century, and is based on how many potentially habitable exoplanets there are out there — and the probability that a METI (Messaging to Extra-Terrestrial Intelligence) signal from Earth might reach one of the baddies.
The researcher estimates only about one malicious E.T. civilization will have the likelihood of interstellar travel. Caballero's paper is not meant to be alarmist. Rather the author — who also wrote the peer reviewed "An approximation to determine the source of the WOW! Signal" about the 1977 radio signal received from space — encourages scientists to take METI seriously because the chance our signal will reach evil aliens is very low. And that does not at all sound like famous last words uttered by a cocky scientist in a sci-fi horror flick.
(Source: Vice)
The Conjuring House Sells for $1.52 million
The Rhode Island farm house at the center of one of the most successful horror movies, and one of the most well-known modern ghost stories, has sold for $1.52 million, 27 percent above its asking price. The 3,109 square feet home in Burrillville, along with the surrounding 8.5 acres of land, was the setting for a harrowing nine years for the Perron family, who claimed they experienced intense paranormal activity.
The story also involved famous paranormal investigators Ed and Lorraine Warren, and was adapted into the James Wan-directed The Conjuring in 2013. The film grossed $319.5 million on a $20 million budget and launched a franchise.
In 2019, Jenn and Cory Heinzen bought the home for $439,000, and rented it out for paranormal tourism events before deciding to put it on the market for $1.2 million. They've now sold it to Boston real estate developer Jacqueline Nuñez, who's had a longtime fascination with the unexplained, and even went on a ticketed daytime tour of the house before deciding to purchase it. The Heinzens have requested she not live there full time out of concern for the effect of paranormal activity on a person, to which Nuñez agreed (although that's not in writing). The new owner said she will not develop on the land, but will grow it as a business for the paranormal community. It sounds like a lot of dead presidents just might be summoned as a result.
(Source: The Providence Journal)
Vampires Break Record for Dracula
A group of 1,369 bloodsucking cosplayers gathered at Whitby Abbey in North Yorkshire, England to celebrate the 125th anniversary of Bram Stoker's Dracula — and set a Guinness World Record for Largest Gathering of People Dressed as Vampires. The previous record was 1,039 in Doswell, Virginia in 2011. Whitby Abbey has significance in the 1897 gothic horror novel because the vampire count comes ashore in England in the form of a dog, and runs up the 199 steps to the abbey's ruins and the adjoining graveyard.
Stoker was also quite taken with Whitby, and may have discovered the name of his vampire antagonist here. And the town most certainly embraces that legacy. As far as the vampire gathering goes, they did inexplicably appear together in a group photo.
(Source: The Yorkshire Post)
Jack Osbourne Hunts Bigfoot with Jason Mewes, Plus Kesha's Spooky Bucket List
Jay is trading Silent Bob for Bigfoot and Jack Osbourne. Travel Channel announced this week that actor Jason Mewes (Clerks, Mallrats, Jay and Silent Bob Strike Back) would be joining Osbourne — paranormal enthusiast, producer, and host of The Osbournes Want To Believe and co-lead investigator on Portals To Hell — for a two-hour "wild backcountry hunt for the legendary creature" on Sunday, June 26. Titled Jack Osbourne's Night of Terror: Bigfoot, the special features the pair exploring Idaho's Priest Lake region, as well as consulting Sasquatch researchers. Sounds like a lot of snootchie bootchie footsie.
Meanwhile, musician Kesha is joining discovery+ for Conjuring Kesha, a supernatural exploration series launching Friday, July 8, where the pop superstar seeks to "expand her understanding of the universe, journeying deep into the heart of darkness, all while checking off her paranormal bucket list."
Over the course of six episodes, and with guests such as comedian Whitney Cummings, she ghost hunts at Trans-Allegheny Lunatic Asylum in Tennessee, pursues Bigfoot at California's Mount Shasta, and films inside an Odd Fellows lodge. Paranormal "pop" culture, indeed.
(Source: Travel Channel)
This Week on the Talking Strange Podcast
Roz Hernandez, comedian, semi-retired drag queen, and host of the podcast, Ghosted! By Roz Hernandez talks about her love of Celebrity Ghost Stories! and wonders why we haven't yet found Bigfoot. Listen below:
Until next time: Be kind, stay spooky, and keep it weird.