News
Community Movie: Gillian Jacobs Says 'We're All Down'
Britta actress Gillian Jacobs says she thinks the whole Community cast would "be down" for a movie.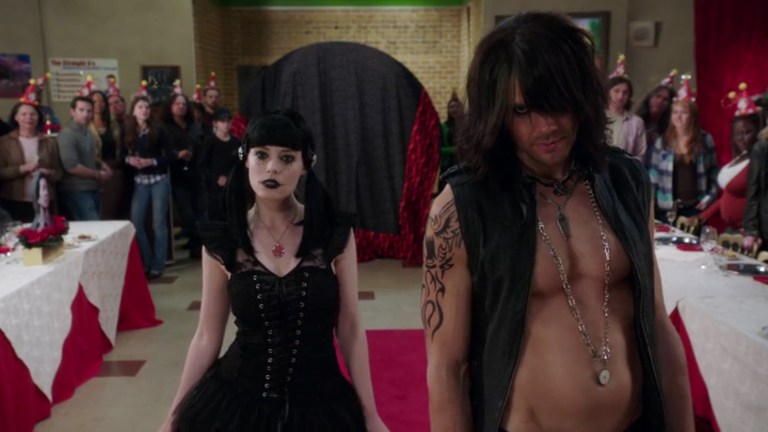 It never was quite the same. While Community was given a brief reprieve from death when NBC cancelled the cult classic sitcom in 2014, the sixth and final season of Community on Yahoo Screen was not the same show. How could it be? While Season 5 featured Donald Glover for roughly half its length, season 6 would also say goodbye to Yvette Nicole Brown and much of the network TV budget that, even when diminished, gave creator Dan Harmon a lot of mileage for his high-concepts. Plus, there was the loss of Chevy Chase/Pierce Hawthorne… Yet the final season still featured most of the original cast and a go-for-broke sensibility. It's something star Gillian Jacobs appreciated in 2015, and that she still treasures today.
She said as much while talking with EW, as well as why she thinks the cast would be interested in "the movie" the series was teasing, initially as a joke, since season 2.
"I think we're all down for it," Jacobs told EW. "It just requires a script and a budget. [Laughs] So I think if there was a movie, we would all do it." The mention of 'all' likely sets some fans' hearts aflutter, as it appears to suggest the interest of Brown and Donald Glover. Indeed, the latter's Troy Barnes infamously left best pal Abed Nadir (Danny Pudi) behind in season 5, exiting for a yearlong cruise around the world on the Childish Tycoon sailboat, never to return. However, Jacobs stops short of saying she has explicitly talked about it with her former castmates.
"I don't want to speak for everyone," Jacobs continued. "I would do the movie, absolutely. I feel very lucky to have gotten that pilot. I mean, I get so sentimental when I talk about this stuff because, for all of us, this could've gone a different way. I could have not gotten the part. I think it was a real special combination of people and time."
It also seems enough time has passed since the show's demise in 2015—and its first season from way back in 2009—that all involved are appreciative of its growing legacy. After more than a decade since its premiere, the sitcom NBC tried to repeatedly kill still makes front page news when it premieres on Netflix. A quirky blend of Harmon's meta-textual, cynical humor and heartfelt optimism, its popularity has endured whereas sitcoms with much bigger audiences from 10 years ago (and more recent end dates) have faded from the cultural memory. Even Glover, who reportedly grew bored with the series by season 5, was happy to join his castmates for a nostalgic table read of a script from that season earlier this month.
Whether this will translate to finally getting that elusive movie, which has been a mantra for Community fans since 2011—remains to be seen. But no matter what it's pretty remarkable that we're still talking about it.
You can go here to read more about Jacobs' thoughts on that final season and how Britta evolved from Jeff's love interest in season 1 to one of the most eccentric members of the ensemble by season 3 and onward.