News
Community Cast to Reunite for Table Read on YouTube
The original Community cast and Dan Harmon are getting back together for a table read to benefit COVID-19 relief.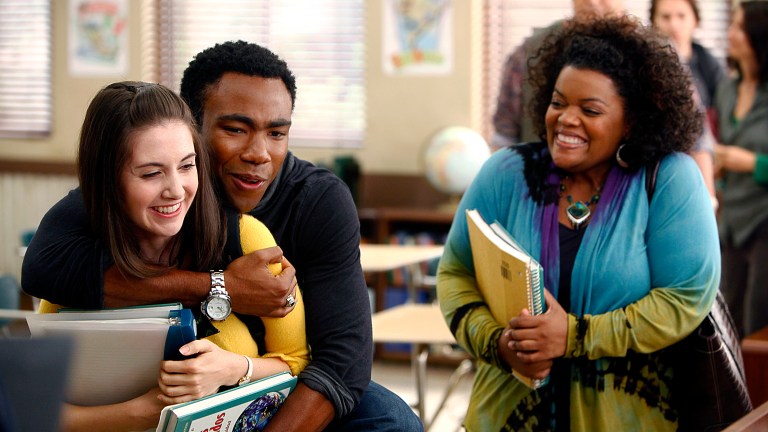 Man, they'll do just about anything other than the #AndaMovie won't they? But still, there's good news to report from the Community world nearly five years after the beloved cult comedy left the air. 
According to Variety, The Community cast (including the usually very busy Donald Glover a.k.a. Childish Gambino) will reunite for a virtual table read on Monday, May 18 at 5 p.m. ET on the official Sony Pictures Community YouTube page. The event will be in support of COVID-19 relief efforts and fans will be asked to contribute to two charities: José Andrés' World Central Kitchen and Frontline Foods. 
Stars Joel McHale, Gillian Jacobs, Danny Pudi, Yvette Nicole Brown, Alison Brie, Jim Rash, Ken Jeong, and Glover are all set to join the table read alongside creator and original showrunner Dan Harmon. That's everybody from the original cast! Yep, everybody. Not one soul missing. Not even one cranky septuagenarian who definitely would have brought this whole thing to a screeching halt. 
The episode that the gang will be reading from is season 5's "Cooperative Polygraphy," which first aired on January 16, 2014 on NBC as part of the show's penultimate season (and technically final one on television before it jumped to Yahoo! Screen). "Cooperative Polygraphy" is an interesting choice as it's a bottle episode where the whole crew gathers in the Greendale Community College library after Pierce Hawthorne's (Chevy Chase) funeral to find out what portions of his estate the old man bequeathed unto them. The episode is notable for setting up the plotline in which Glover's character Troy would leave the show. It also guest starred Walton Goggins as the executor of Pierce's estate. Sadly, Goggins won't be a part of the table read.
The table read will be followed by a Q&A and fans can submit their questions on social media using #AskCommunity and tag @CommunityTV. Community is the second NBC comedy recently to stage a sort of reunion for a good cause. The Parks and Recreation reunion special aired last week and raised $2.8 million for coronavirus relief.
Community occupies a very interesting place in TV history. Never a ratings juggernaut, the frequently metatextual comedy about a diverse group of students suffering through community college developed a hugely passionate fan following. Those same fans frequently demanded "Six seasons and a movie!" from the show, echoing a line from Abed Nadir (Danny Pudi) about one of his own favorite series, The Cape (which was somehow a real thing).
The series would eventually get those six seasons but in an incredibly convoluted fashion. Creator and showrunner Dan Harmon was fired following the show's third season for just generally being an ass (by his own admission). He would return after a strange and disjointed fourth season. Then the show was finally canceled after its fifth season, only to be revived at the now-defunct proto-streaming service Yahoo! Screen. All the while, Community continued to shed and gain cast members.
Through all the turbulence, however, Community always remained good television. All six seasons of the show are now available to stream on Netflix for those who want to catch up before the table read.