News
Classic Tokusatsu Series Will Stream on YouTube For Free
Fans of classic Japanese superheroes and mecha anime are about to get a ton of material to watch, as Toei is putting classic Tokusatsu on their YouTube channel for free!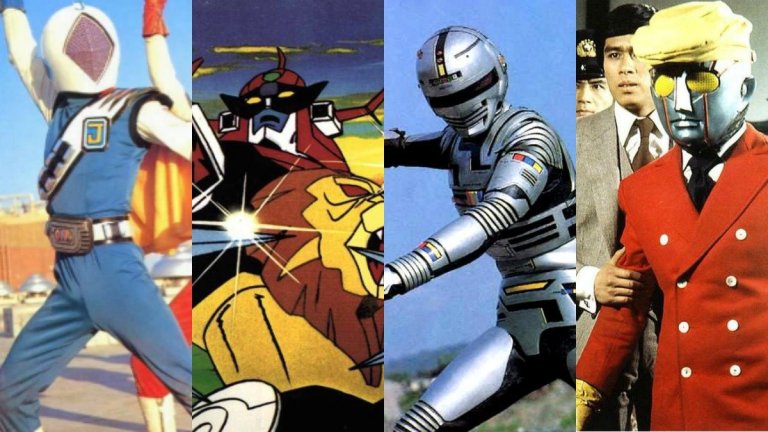 In a move that will shock and delight Tokusatsu fans, Japanese company Toei will be launching a global YouTube channel (excluding Japan) that will host 70 classic Tokusatsu series. Yes, you read that right, seventy shows. These shows will include classic seasons of Sentai (which later became Power Rangers in the US), a slew of Metal Hero shows (three of which became VR Troopers), several classic robot anime, and much more!
There's a big catch to this news however. At launch on April 6th the first two episodes of all 70 shows will be uploaded to YouTube and they will all be subtitled. However, going forward the channel will only upload one or two episodes of one or two shows every day and these will not have subtitles. Toei's website for this channel states that, "further episodes will be available in Japanese for now, but there could be frequent updates. We plan on making a public call for subtitles in any language."
That statement is a little vague but it sounds like Toei will either be crowd-sourcing subtitles from fans or at least seeing what languages have the most demand for subtitles. Hopefully the fans that provide these subtitles will be paid, especially if Toei runs ads on this channel.
So far here's the full rundown of all the shows we know will be on the channel. This is based on information from Toei's channel and the release graphic shared on social media.
Captain Ultra
Yoei Bugeicho,
JAKQ
Dear Robottie!
Message From Space
Space Cop Sharivan
Potrine
Chanzerion
Daltanius (Of special note, this series was almost adapted into Voltron!)
Daimos
National Kid
Suki Suki Majo Sensei
Robot 8-Chan
Space Cop Gavan
Jaspion
Magical Girl Chukana Paipai
Winspector
Gorenger
Voltes V
Daimos
Kikaida
Kikaida 01
B-Fighter
B-Fighter Kabuto
Inazuman
Robotak
Shin Kamen Rider (Movie)
Denjiman
Google V
Robot Detective K
Sun Vulcan
Battle Fever J
Dynaman
Jiraiya
Kaiketsu Zubat
Various Fushigi Comedy Series
And these are just the ones we can identify! Do you notice any other shows we didn't list? Let us know in the comments!
This isn't the first time Toei has made old Tokusatsu content available, however that was only on their YouTube channel. While some content on that channel is available to the whole world, they've been slowly releasing several older Tokusatsu shows but on a rotating basis. Only three or so episodes are available at any given time. That doesn't seem like what they'll be doing on this global channel but it's worth keeping in mind. If there's a show you want to watch be sure to check out the episodes ASAP!
This announcement comes right on the heels of Shout Factory announcing their own Tokusatsu streaming service, TokuSHOUTsu. That service and the Toei channel will be offering different programming and Shout's series are fully available and all subtitled.
Below is the release schedule for the first round of programming on the network.
Monday April 6, 2020: Episodes 1 and 2 of all 70 shows (with English subtitles)
Monday April 13, 2020: Episode 3 and 4 of NATIONAL KID (to be updated on Mondays)
Tuesday April 14, 2020: Episode 3 and 4 of SUKI SUKI MAJO SENSEI (to be updated on Tuesdays)
Wednesday April 15, 2020: Episode 3 and 4 of ROBOT 8-CHAN (to be updated on Wednesdays)
Thursday April 16, 2020: Episode 3 and 4 of SPACE COP GAVAN (to be updated on Thursdays)
Friday April 17, 2020: Episode 3 and 4 of JASPION (to be updated on Fridays)
Episode 3 and 4 of HARD GUMI (to be updated on Fridays)
Saturday April 18, 2020: Episode 3 and 4 of MAGICAL GIRL CHUKANA PAIPAI (to be updated on Saturdays)
Episode 3 and 4 of WINSPECTOR (to be updated on Saturdays)
Sunday April 19, 2020: Episode 3 and 4 of COMBATTLER V (to be updated on Sundays)
Episode 3 and 4 of GORENGER (to be updated on Sundays)
Which series are you most excited for? Let us know in the comments!