News
TokuSHOUTsu: Kamen Rider, Ultraman, and Super Sentai Coming to Streaming
TokuSHOUTsu will be the home to all kinds of Tokusatsu series, including the very first Kamen Rider!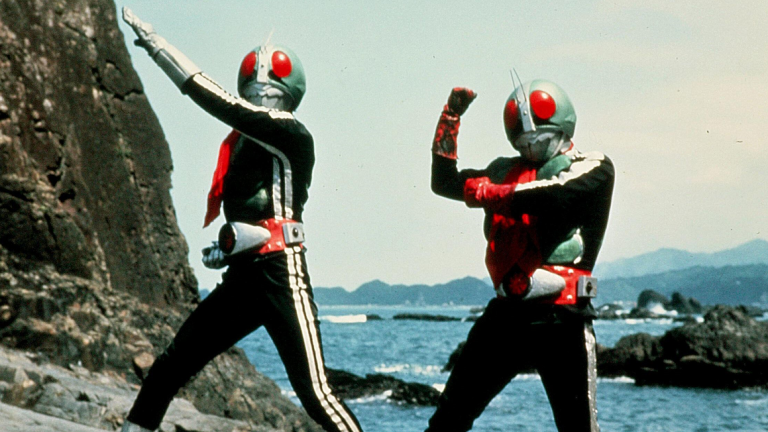 For a long time being a fan of Tokusatsu (Japanese super heroes) in America was not easy. While imports of Japanese anime quickly spread throughout fandom, trying to come across Tokusatsu programming was much harder. For years the only official releases were the adapted Power Rangers and a few scant episodes of the original Ultraman.
Slowly but surely though, Tokusatsu has slowly gained a foothold in America. Ultraman is being released from the very beginning in glorious Blu-ray sets, Super Sentai has a had a huge chunk of its series come out on DVD and streaming, and even obscure Metal Hero shows are getting the home media treatment.
If you thought those were great, you aren't ready for this. On March 17th Shout Factory will be introducing the 24/7 linear streaming channel TokuSHOUTsu on Pluto TV. Yes, that's right. An online channel dedicated exclusively to Tokusatsu programming. Even better? It'll be the exclusive streaming home for the legendary Kamen Rider series. Yep, the karate bug man franchise is finally coming, officially, to American streaming!
Out of all the Tokusatsu franchises Kamen Rider has had the most trouble being brought to America with the most notable release being an expensive DVD set of Kamen Rider V3. Now, TokuSHOUTsu will be home to the entire ninety-eight episodes of the very first Kamen Rider series and it will be fully subtitled.
Check out this exclusive preview clip!
Along with Kamen Rider the channel will be home to Ultraman Leo and twelve seasons of Super Sentai, including Jetman, Zyuranger, Dairanger, Kakuranger, Ohranger, Carranger, Megaranger, Gingaman, GoGoFive, Timeranger, Gaoranger, and Hurricaneger. If you need your fix of Tokusatsu, this channel will be providing everything you need and some new content as well!
The channel will also be home to Let's Talk Toku, a weekly talk show featuring guests from all corners of the Tokusatsu world. Extra programming for the channel will include Backlot which includes repurposed content from Shout! Factory's Tokusatsu DVD releases.
The launch day schedule for the channel will be as follows.
3 a.m. ET / 12 a.m. PT Kamen Rider
5 a.m. ET / 2 a.m. PT Ultraman Leo
7 a.m. ET / 4 a.m. PT Kamen Rider
9 a.m. ET / 6 a.m. PT Ultraman Leo
11 a.m. ET / 8 a.m. PT Ninja Sentai Kakuranger
1 p.m. ET / 10 a.m. PT Gosei Sentai Dairanger
3 p.m. ET / 12 p.m. PT Mirai Sentai Timeranger
5 p.m. ET / 2 p.m. PT Chojin Sentai Jetman
7 p.m. ET / 4 p.m. PT Kamen Rider
9 p.m. ET / 6 p.m. PT Ultraman Leo
11 p.m. ET / 8 p.m. PT Kamen Rider
1 a.m. ET / 10 p.m. PT Ultraman Leo
If you aren't able to watch the shows as they air they'll also be available for streaming on the Shout Factory TV channel or online at Shout Factory TV's website.
Check out the trailer for the service here…
Gene Pao, Shout! Factory's senior vice president, digital enterprises said that Shout! is proud to launch TokuSHOUTsu as, "the ultimate destination for fans to watch the best Tokusatsu content spanning more than 60 years."
Shin-ichiro Shirakura, producer of Kamen Rider, is excited that Kamen Rider, "will finally be available for all of our fans in North America."
It's been a rough road for Tokusatsu fans in the west but it looks like TokuSHOUTsu will be everything they've wanted and more. Who knows what could be coming in the future for the channel if it proves successful? What other shows could join the line-up? More Kamen Rider? Obscure 70's Toku? More Sentai? Ryukendo? The Rescue Force series? Anything is possible!
Whatever the case, if you enjoy giant robots and masked heroes, be sure you're there on March 17 when TokuSHOUTsu makes its glorious debut!