Reviews
Black Mirror season 5: Striking Vipers review – mature, provocative friendship drama
Black Mirror's Striking Vipers is a reflection on marriage, ageing and friendship. Spoilers and strong language in our review...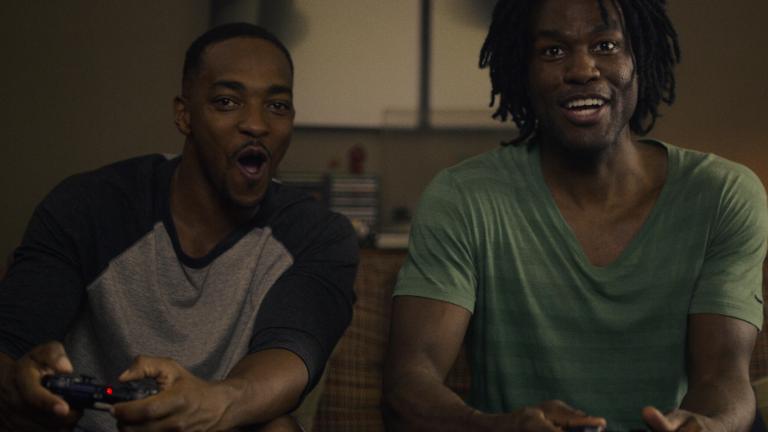 This review contains spoilers and swear words.
5.1 Striking Vipers
"I fucked a polar bear and I still couldn't get you out of my mind" isn't quite "You had me at hello," or "Nobody puts baby in a corner", but as on-screen protestations of love go, it's memorable.
It's also the sort of line that could only really exist in an episode of Black Mirror, not just because since pig met prime minister in its first ever episode, the series hasn't shaken off an association with bestiality, but because Black Mirror is one of the few TV shows in which somebody could actually fuck a polar bear.
Not actually, virtually. That's a key distinction in Striking Vipers, which sees old college buddies Danny and Karl (Anthony Mackie and Yahya Abdul-Mateen II) reconnect after a decade and, thanks to VR technology, stumble upon an unexpected side to their friendship, namely: they're the best sex of each other's lives.
The best virtual sex. In the flesh-and-blood world, Danny and Karl's relationships are heterosexual. Danny's married with a son, and Karl dates glamorous younger women. Using avatars Lance and Roxette (Ludi Lin and Pom Klementieff) in a virtual reality version of the Mortal Kombat-alike fighting game they played as roommates though, Danny and Karl blow each other's minds.
The whole situation blows their minds, as well it might. Is it cheating? Porn? Love? Does it mean they're gay? Bisexual? Do they desire each other in real life? It shakes their sense of sexual identity, sending a tremor through their friendship and Danny's marriage.
By the end of the hour, Danny has answers to some of the above and, with wife Theo (Nicole Beharie), arrives at a compromise to protect their marriage. Once a year, Theo is allowed a night of real-life sexual freedom, while Danny is allowed a night of banging Karl's brains out in a computer game simulation. It's a happy ending of sorts, a new kind of solution to a new kind of problem.
Not all of Danny's problems are new. Striking Vipers works so well as an hour of drama because it grounds its 'what if' sci-fi premise in a painfully familiar reality. Ageing, the demands of parenthood, the erosion of youthful agility and excitement in a monogamous sex-life … Danny's experiencing it all. When the videogame's burst of hyper-real colour and stylised violence arrives in his desaturated life, it's rejuvenating. As Lance, Danny gets everything back – energy, abs, joint mobility, virility. The VR game is a fountain of youth even before he's got inside Karl's knickers.
The episode prologue introduces the trio in their carefree twenties, when their time was spent out at the club, having impromptu sex, smoking weed and staying up all night playing videogames.
Cut to eleven years on, and a suburban barbecue that's nobody's dream of how to celebrate their birthday. Out of politeness, Danny's forced to make lacklustre conversation with a clone-husband while their kids play on the lawn. From his dad glasses to his polo shirt, his cubicle job to his dodgy knee, his evenings of Tetris and reading the same book to his son every night, Danny's life is one long sigh. Sex with Theo these days is about ovulation apps, not thrills. He loves his family, but where's the excitement?
Enter: Karl. At first sight, his bachelor lifestyle working at a music label in a swanky city pad with a model girlfriend might seem to be what Danny's missing, but in a few short scenes, that life is revealed to be just as unsatisfying. Karl's relationship is shallow, he's lacking a meaningful connection. When he unexpectedly finds it online with his oldest friend, he's unwilling to give it up and fights to keep it – hence the line about the polar bear.
What sells Striking Vipers are the performances, which are strong across the board, but especially from Anthony Mackie, who conveys Danny's complex interiority in very small ways, and Pom Klementieff, who is luminous playing Karl-as-Roxie. Director Owen Harris, who brought us the similarly reflective and relationship-focused San Junipero and Be Right Back, has successfully created two totally different textures for each world, and peopled them with a cast who fully commit.
It's a provocative episode that probes deeper than its premise initially suggests. What could have been an immature (and ultimately intolerant) way to gigglingly prod homophobia and mock 'macho' gay panic is instead a mature exploration of sexuality in early mid-life. Though not the main event, Theo's need for excitement in the desert of adult responsibility is also expressed in Nicole Beharie's beautifully acted anniversary dinner speech.
Get over the tittering homoerotic gag of a title, and Striking Vipers throws up sensible questions that virtual reality technology will soon make urgent. What does gender mean in virtual bodies? Is there a word for an otherwise straight man who has sex with another otherwise straight man, in the body of a woman, or a polar bear, or a cyborg, or a scorpion? Soon, we might need to know.
Read more about Black Mirror season five on Den Of Geek, here.